Being able to live and work in The Woodlands year-round is a great enjoyment for all of the staff at Visit The Woodlands. With a subtropical climate and plenty to do, we are always enjoying beautiful outdoor surroundings and activities. Today, we will share a few of our favorite things to do during the fall and winter months. We hope this helps as you plan your next trip to The Woodlands.
SEASONAL COLOR AND LEAVES
Ahhhhhh, fall is in the air and that means Fall Foliage in The Woodlands. Known for thousands upon thousands of trees (maybe millions), The Woodlands reveals glorious colors of tree leaves throughout its forested Town Center, along its 220+ miles of pathways, and 140 parks in one of America's top park systems. Brilliant colors of yellows, reds, auburns, greens, and more can be found along the winding pathways throughout The Woodlands. An added bonus? The numerous ponds, lakes, water features, and The Woodlands Waterway are all surrounded by the splendor of this time of year! So whether you're going by car, by bicycle, by foot, or by Trolley, checking out the Fall Foliage in The Woodlands.
Insider Tip: The Woodlands Waterway is gorgeous this time of year with the Fall Foliage…and then bright white lights illuminate at dusk, making for the perfect setting.
Nick Wolda, President
PUBLIC ARTS
My favorite thing about The Woodlands is the art. I didn't have the opportunity to experience art growing up but found I had an appreciation for it as I got older. When my husband & I moved to The Woodlands, we were excited to have so much public art that both us & our three boys could enjoy. We have instilled a love for the arts in our children & have even purchased pieces from The Woodlands Waterway Arts Festival and a few local artists.
Ashley White, Marketing Director
HOLIDAYS AT THE WOODLANDS RESORT
Every year, as the holidays get close, our family waits in great anticipation for the holiday festivities in The Woodlands. We pack our bags and jump in the car for a staycation at The Woodlands Resort, having check-ins with hot cocoa and Christmas trees on our minds the entire 15-minute ride. The Resort offers Christmas crafts, Scavenger Hunts, Yule Crack Up Holiday Dive-in Movies (Yes- that's in the pool), Breakfast with Santa, and so much more. This year, the Forest Oasis pool area is heated, which is a total game-changer for our stay. They even have a special promotion where guests can stay two nights and receive the third for free. I hope you and your family have a chance to experience the magic of the Christmas season at The Woodlands Resort and that the memories you create are as impactful as the memories our family has made there.
Josie Lewis, Director of Sales
HOLIDAY SHOPPING
After a rollercoaster year, I am happy to put on my "comfy" shoes, messenger bag and head out the door (using safety social distance precautions) to support local shops in The Woodlands. Personally, my favorite area to shop is The Woodlands Mall. There is a variety for gift giving that includes not only clothing, but it also has jewelry, shoes … oh so many shoe stores, electronics, or health & beauty stores. However, if you are undecided, you can buy a gift card online. While you are shopping at The Woodlands Mall, enjoy an amazing mouth-watering shake at Shake Shack in the new outdoor area. Perfect for relaxing after some "holiday shopping cardio"!
Sonia Guerrero, Administrative Analyst
DINNER AND CHRISTMAS LIGHTS
My favorite holiday activity is looking at Christmas lights. My son and I always drive through the Tangle Brush neighborhood of The Woodlands to see their display. Before turning on our favorite holiday music and looking at the beautiful holiday lights, we stop nearby at Lucky Café for dinner then by The Candy House for the perfect snack for when we drive through the magical Christmas light display.
Amber George, Communications Coordinator
CHRISTMAS COCKTAIL PARTY AT HOME
In years past, the month of December has meant it's time for our annual Christmas Cocktail Party and a house filled with our dearest friends. Unfortunately, like many events, our annual get-together has been curtailed due to the ongoing pandemic. Rather than cancel it altogether, my husband and I will be paring our offerings down to our "must-haves" and celebrating in style, just us two! Here are a few of my favorite tips to make your night at home feel just as luxurious as a night out on the town, all while keeping it effortless so you can enjoy the evening while also supporting our local businesses here in The Woodlands!
Stop by Sorriso Modern Italian Kitchen and pick up a bottle or two of their carefully curated retail wine offerings from Giorgio Ferrero's Sommelier Cellar. Their rich and savory charcuterie board is the perfect accompaniment to enjoy at home with your wine selection. And, be sure to order an authentic, rustic Margarita pizza to-go! Save yourself the work of gathering everything to make the perfect meal, let the Italian experts at Sorriso create the perfect plate, while you sit back and enjoy! No evening would be complete without a little something sweet, so drop by our friends at The Republic Grille for your choice of delicious desserts with a Texas flair! Santa will be very happy when he sees that you have left Tres Leche cake and milk for him under the tree! From their cobbler to their pecan pie, you are sure to find a treat to keep you on everyone's nice list. For the finishing touch to make your evening special, stop by Piney Rose Floral. They utilize only the freshest greenery, seasonal blooms, and artistic flair to create a one of a kind arrangement or tablescape customized just for you!
Ashley Fenner, Sales & Servicing Specialist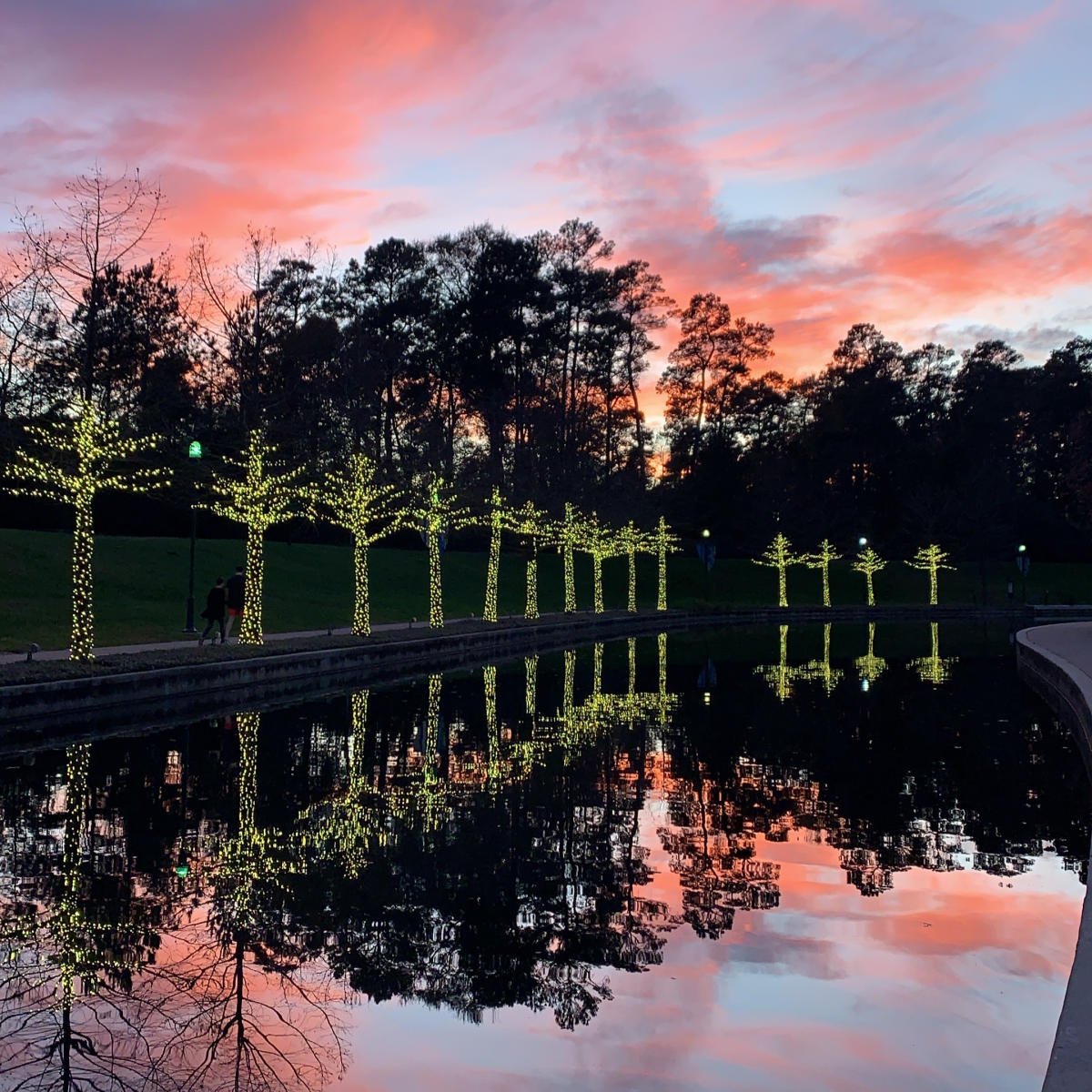 Photo by Laura Haces
WALKS ALONG THE WOODLANDS WATERWAY 
One of my favorite activities is walking along The Woodlands Waterway right before sunset. I love the outdoors and it calms me to be near the water, taking a stroll and having great conversations with friends and family. Right around that time, the lights on the trees turn on, and the sky and water fill with a beautiful pink/orange hue, making it magical.
Laura Haces, Tourism Specialist
Whether you choose to make The Woodlands your holiday travel destination this year or you are just in the planning stages for next year, our staff at Visit The Woodlands will be here every step of the way. You can contact us if you have any questions or request a Visitors Guide to see what The Woodlands has to offer year-round. We're open and ready whenever you are.