Are you visiting family this year for Thanksgiving in The Woodlands? Take the pressure of hosting off your loved ones, and let someone else do the cooking this year.  We are sure you will be thankful for a great meal, especially one that you and your loved ones will not have to clean up after enjoying. Check out our hotel properties that are going all out to welcome you this Thanksgiving!
The Woodlands Dining Room (The Woodlands Resort)
Escape to The Woodlands Resort for their annual Thanksgiving Brunch featuring traditional favorites. Enjoy golf course views of the resort while sipping on bottomless mimosas and bloody marys. Call 281-364-6250 to make your reservation.
11 a.m. to 4 p.m. $65 for adults, $35 kids ages 12-6, free kids 5 and under. MENU
Quick Tip: Take advantage of the $150 Stay & Save Package. Check out the offer details below:
Escape to The Woodlands Resort for rates as low as 150 dollars per night. Simply spend 150 dollars per day in onsite amenities including spa, dining, or activities to receive the reduced lodging rate. 150 dollars spend does not apply to Resort Fee, room upgrades, golf or tennis. Package includes access to: Wifi, lazy river and waterpark, fitness center, golf practice facilities, golf bag storage, shuttle to world-class shopping at Market Street and The Woodlands Waterway. Book now at woodlandsresort.com/special_offers.
Alongside traditional fare, you'll find a raw bar offering select oysters, shrimp cocktail, smoked salmon rillettes, and Spanish octopus salad. Save room for Chef Ryan's traditional and modern take on Thanksgiving Day Pastries. Call 281-364-6250 or reserve through OpenTable.
11 a.m. to 4 p.m. $95 adults, $50 kids 12-6, free kids 5 and under. MENU
Traveling and without a kitchen but still want to contribute to the family meal? Look no further!
Thanksgiving Take Away: Includes turkey, sides, and choice of homemade 12" pie. 4 People - $198 8 People - $396 12 People - $594 MENU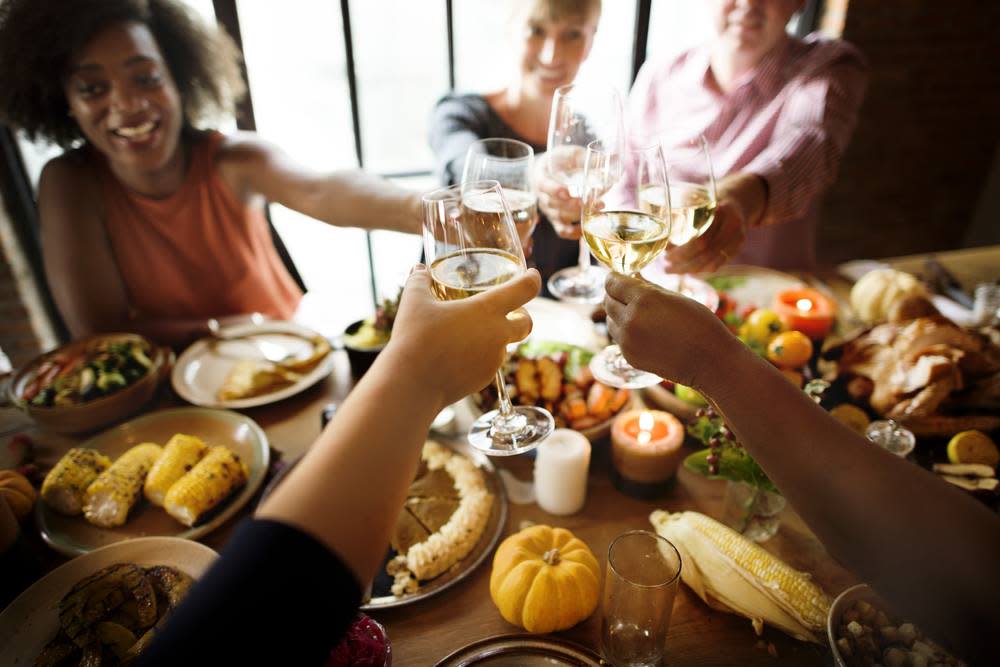 Embassy Suites at Hughes Landing Bring the whole family (and your appetite) to indulge in a delicious Thanksgiving dinner buffet and celebrate a "no dishes" Thanksgiving with Embassy Suites Hughes Landing!  Call 281-298-2900 today to reserve your table.
6 p.m. to 8:30 p.m. Adults: $39.95, Children 12 years and under: $14.95 MENU
Quick Tip: We are Thankful for our Military Families! Check out the Military Family Appreciation Month special rates below:
Enjoy exclusive savings for active & retired military veterans and their families on leisure stays. Guests with valid US or Canadian military ID including active duty, reserve, and retired service members and their spouses and families can enjoy a special discounted rate. Must present your current and valid military identification card at check-in. If you are making this reservation by phone, please call +1 800 Hilton Honors (446-6677) and request the "Military Family Rate" or Plan Code "MFR/PGMFR1" at time of booking. Additional restrictions apply. View Full Terms and Conditions at HHonors.com/military.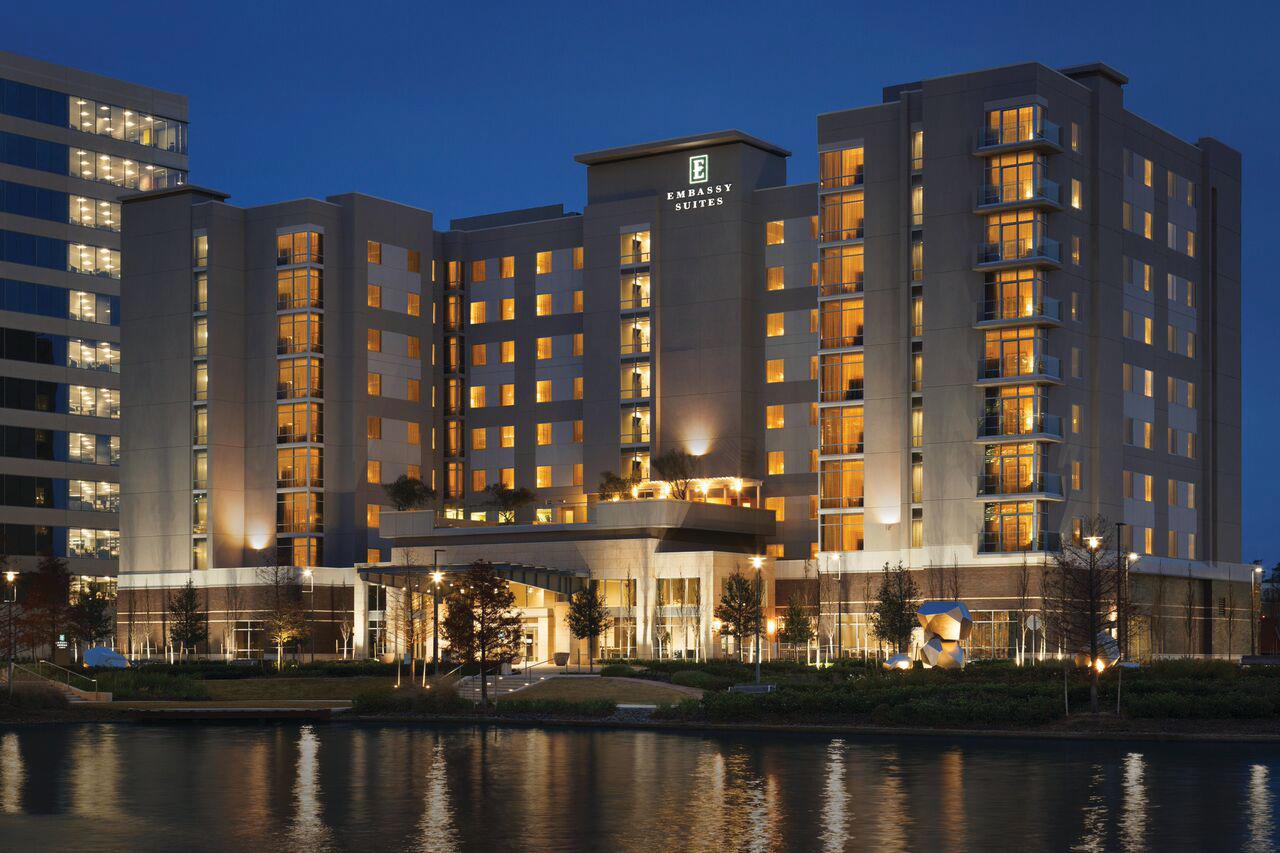 The Woodlands Waterway Marriott The holiday buffet at The Waterway Marriott is being offered at two seating times, and a 30-minute mimosa and bloody mary bar before each seating. It is also the only holiday buffet offering an extra special children's buffet! If your kids are picky eaters, they will be happy munching on dino bites, mini corn dogs, and the all-time classic, tator tots. Call 281-367-9797 to make your reservation. Reservation require a 72 hours cancelation policy.
Meal times:  Noon and 2pm Adults: $65.00, Children 12 years and under: $25.00, 5 years and under: FREE MENU
Quick Tip: Looking to extend your Thanksgiving break? Check out the Texas Weekend Promotion for Marriott Waterway- Loyalty Members. Marriott is currently offering a special Texas weekend rate offer.  Whether you're overdue for a weekend break or you need a place for your family vacation, check out our great locations and unparalleled service.  So go ahead, book that long-awaited weekend you've been dreaming of today.  Rewards members get the best rates – even on weekends!   Weekend Rates availability valid on Thursday – Sunday with a Friday or Saturday stay over required. Limited number of rooms are available for this promotion. PROMO CODE: M96 OFFER VALID: November 1-December 31, 2018
Restaurant Options:
Morton's Grille Treat your family to a traditional Thanksgiving feast featuring Morton's Oven Roasted Turkey Roulade stuffed with Savory Sage Cranberry Stuffing accompanied with Mashed Potatoes, Homemade Cranberry Chutney and Chef's Seasonal Vegetables. Pair your meal with a bottle of Stag's Leap Wine Cellars, Artemis, Cabernet, Napa or Veuve Clicquot, Brut, Champagne, Riems for $99.
11 a.m. to 8 p.m.
$39.00 per person
Landry's is offering Turkey Dinner feast to-go for $159.99! Meal serves 4–6 people, and orders must be placed by November 19th at 4 pm. Order Your Feast To-Go by calling 281-363-9750. Order pick up is Thanksgiving Day from 9 a.m. to 11 a.m.  
Menu items include: Sliced Ham with Pineapple Glaze Sliced All-White Meat Turkey Breast House-Made Cornbread Stuffing Giblet Gravy Fresh Cranberry Sauce Whipped Yukon Gold Potatoes Seasonal Fall Vegetable Medley Sweet Potato Casserole Fresh Baked Rolls Pumpkin Pie
Just because you are not at home for Thanksgiving does not mean you have to miss out on all your traditional favorites- with a spin. We are thankful for Thanksgiving and all our visitors that choose to spend the holiday in our destination. If you are looking to set up a room block for 10 or more holiday guests do not hesitate to reach out so our office can assist in making it an easy process so you can focus on the fun stuff.
Feel free to reach out to Josie Lewis at josie.lewis@visitthewoodlands.com or Mariana Almanza at mariana.almanza@visitthewoodlands.com to get started.