Chef of the Month: Austin Simmons - Executive Chef of TRIS and The Kitchen (Formerly Hubbell & Hudson Bistro and Hubbell & Hudson Kitchen)
For a chef who got into the restaurant business on a whim, Austin Simmons has certainly made a name for himself. Born in Arlington, Texas, Simmons discovered an interest in food while spending time in the kitchen with his mother, a single mom carrying two jobs. He would often prepare meals for his mother as she would get off from one job only to transition into her second job of the day. After graduating from high school, Simmons decided to channel some misplaced energy into earning a culinary degree from Le Cordon Bleu College of Culinary Arts in Austin, Texas.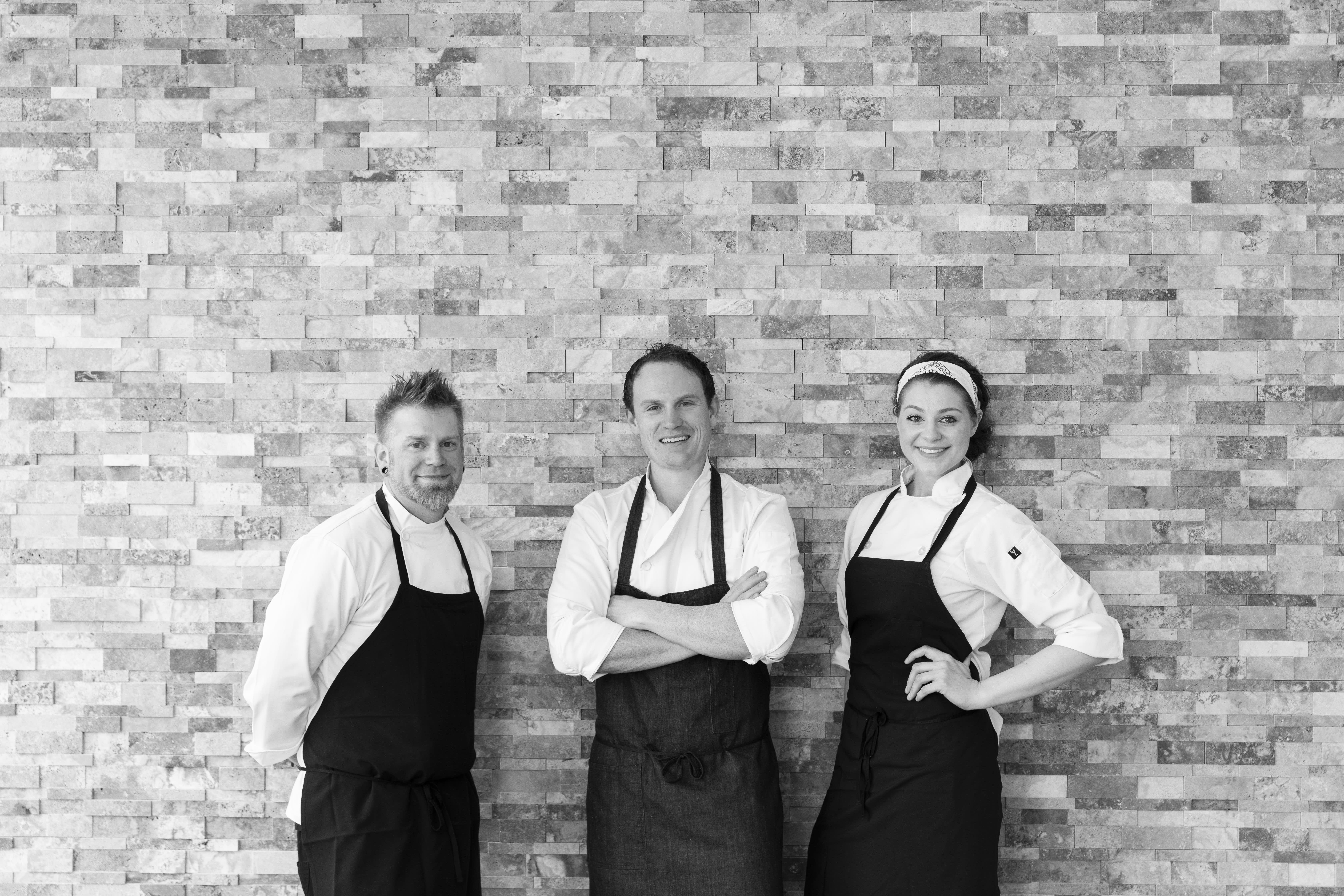 Executive Chef Austin Simmons (center) pictured with his culinary team at TRIS, Executive Sous Chef, Brian Stanek (left) and Chef de Cuisine Cortney Taraboi.
Towards the end of his formal training, Simmons found himself in search of a place to fulfill his internship. He listened to many chefs give testimony after testimony of life in the kitchen, but it was the The Mansion Restaurant located inside The Rosewood Mansion on Turtle Creek in Dallas, Texas who captured his attention.
Now, if there's anything Austin Simmons has besides exceptional kitchen skills, its persistence; demonstrated early on when he chose to pursue an internship at The Mansion Restaurant. With great determination, Simmons hit the road one Friday, traveling from Austin to Dallas in pursuit of an internship opportunity with The Rosewood Mansion. To his dismay, they weren't interested in taking on someone with such little kitchen experience, so he reluctantly headed back to Austin. This didn't sit well with Simmons, so the following Friday (and the three after that), he drove back to Dallas, patiently waited outside to speak with the Chef de Cuisine, unfortunately he was again declined of the opportunity. Finally, on his fourth attempt, and after waiting outside for three hours, the Executive Sous Chef decided to speak with Simmons. Impressed with his determination, Simmons was offered a job making $7.45 an hour. Not impressed with the pay, but eager to learn, Simmons accepted the job and held it for two years, working his way up to lead line cook after the first year.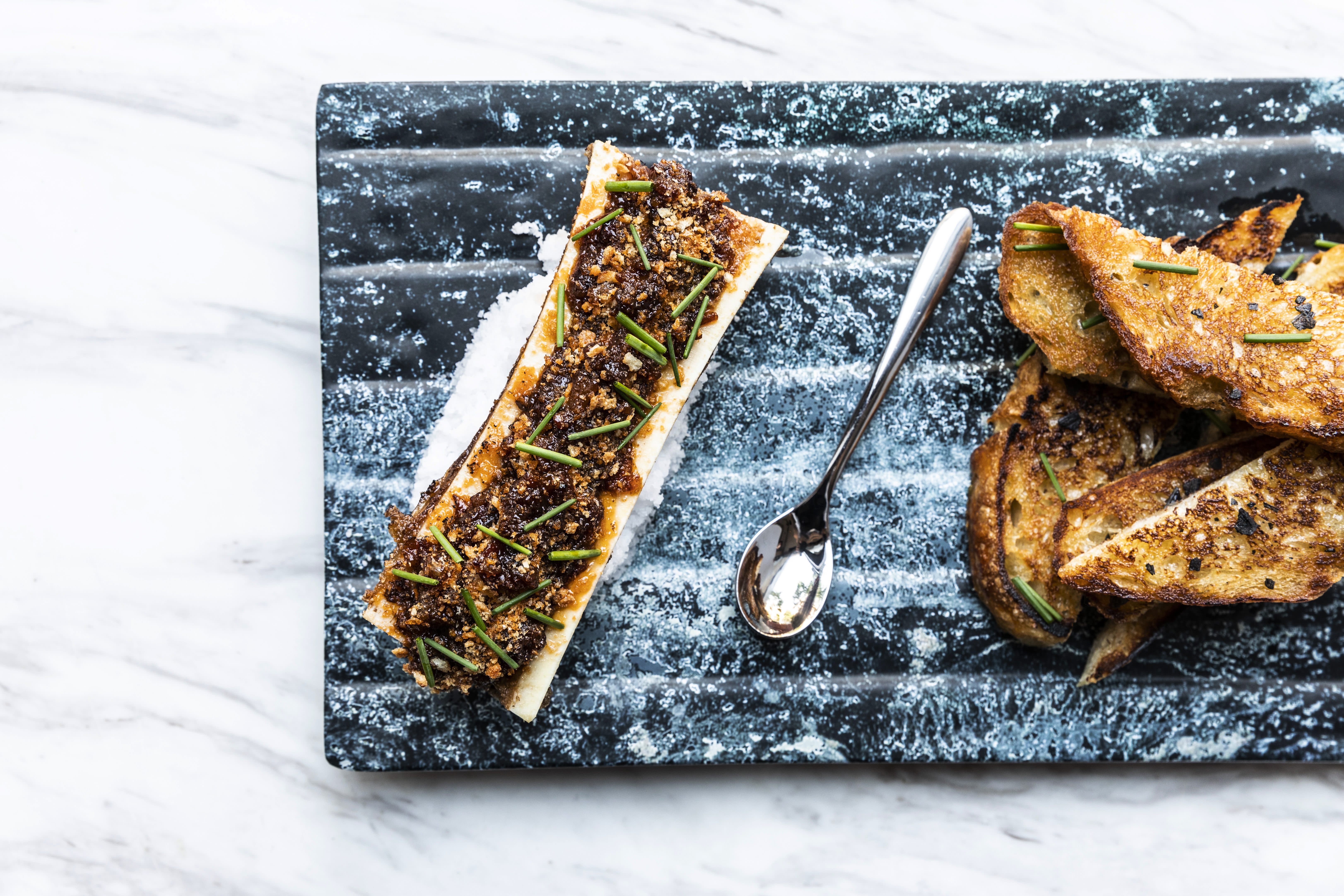 A featured item on the dinner menu at TRIS, bone marrow with bacon jam.
Simmons contributes his success to his time at The Mansion saying, "Thank God I took the job working for $7.45 an hour. The Mansion is a strong brigade of people with some of the highest standards and practices, unlike any other kitchen you'll find". Simmons ended his time at The Mansion when he accepted the role of Executive Chef with a Dallas based restaurant group and it was then he realized not all restaurants have the same set of rigorous standards and policies.    
Currently, Executive Chef Austin Simmons runs TRIS, The Kitchen (formerly Hubbell & Hudson Bistro and Hubbell & Hudson Kitchen) and Cureight an eight-course chef crafted tasting experience.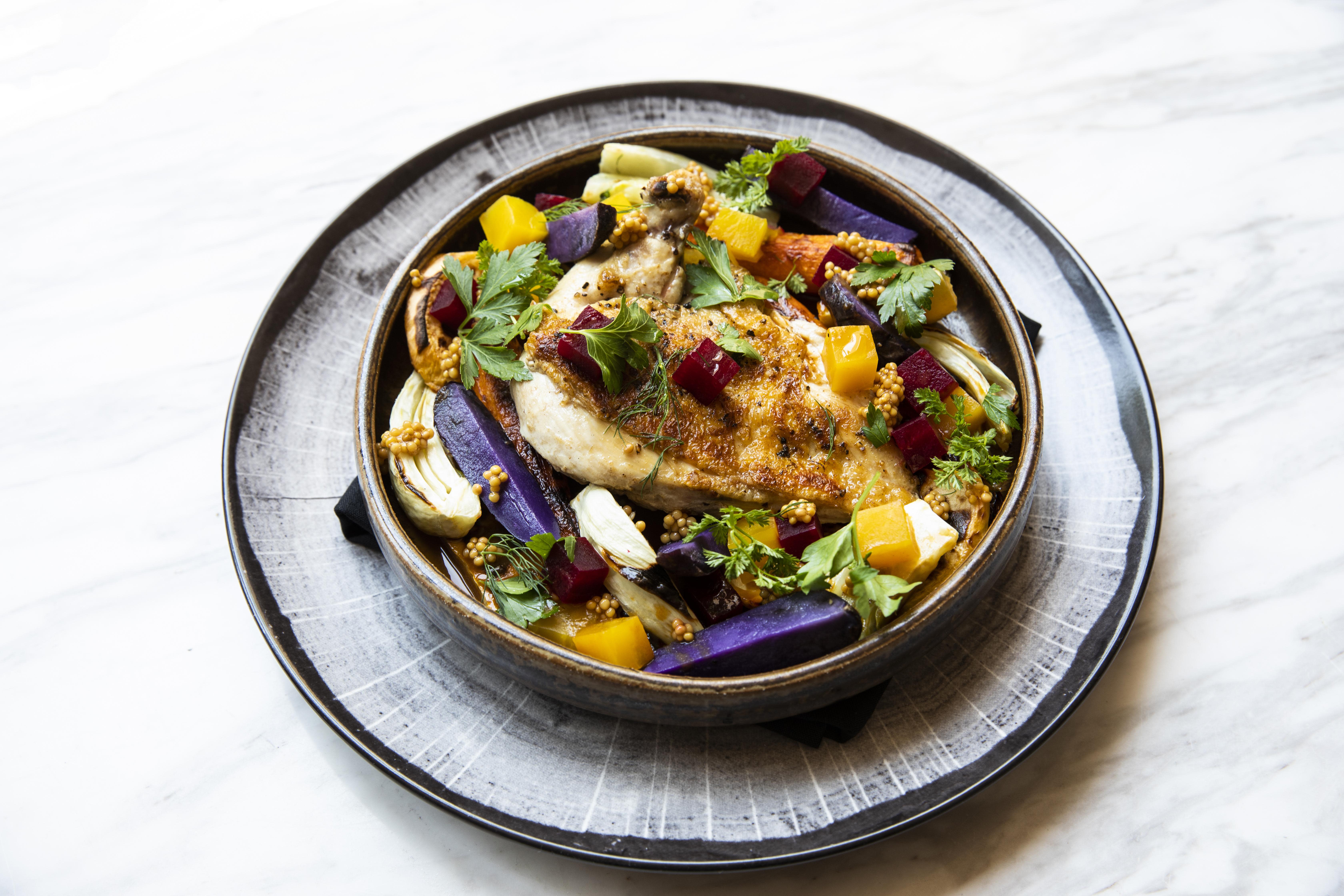 Roasted bone-in chicken breast with in-season root vegetables, a featured menu item at TRIS.
TRIS, the restaurant named after his beloved daughter, recently opened after undergoing a rebrand, formerly named Hubbell & Hudson Bistro. It's taken Chef Simmons a while to penetrate the palates of the folks in The Woodlands, but if you ask someone now, "What's one of the best restaurant in The Woodlands", folks will undoubtedly tell you to go visit Chef Austin Simmons.
His cuisine is inventive, never boring, and his staff is on point. Simmons strives to carry out and keep up the high standards and strict policies he learned so long ago. With this strong foundation, he's created a lively culinary culture with the goal of giving each guest a memorable experience from start to finish.
Details:
TRIS
24 Waterway Ave #125 The Woodlands, TX 77380 281-203-5641 www.triswoodlands.com
Hours of Operation: Tuesday - Saturday 11 a.m. to 10 p.m. Closed Sunday & Monday
The Kitchen 4526 Research Forest The Woodlands, TX 77381 281-203-5650 www.thekitcheninthewoodlands.com
Hours of Operation: Monday - Saturday 7 a.m. to 10 p.m. Sunday 7 a.m. to 9 p.m.
Cureight - A Chef Tasting Experience Reservations Required 24 Waterway Ave #125 281-203-5688 www.cureightwoodlands.com
Currently closed for renovations, will reopen in late September.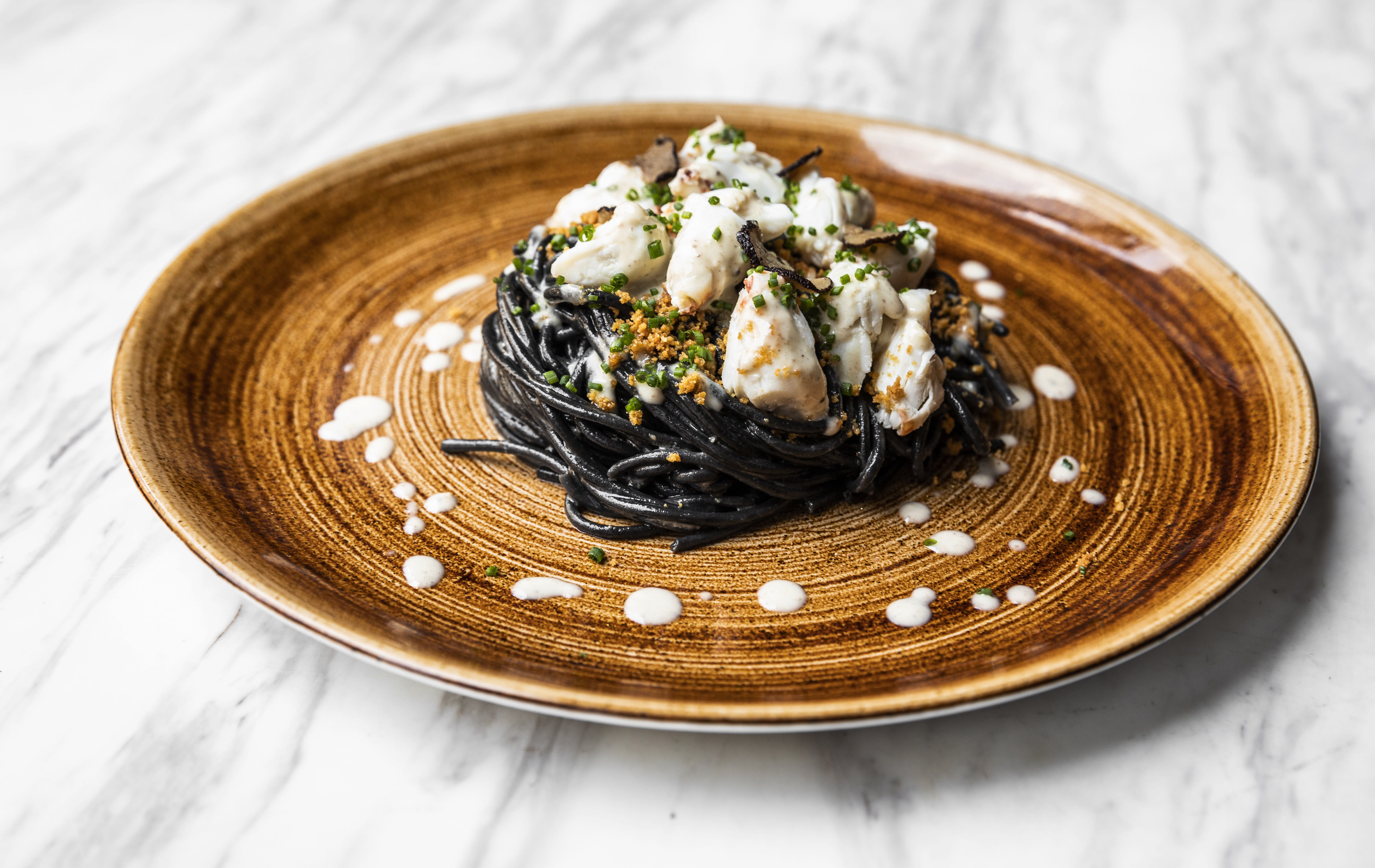 The crab and truffle pasta, another mouth-watering dish available at TRIS.