The Woodlands Arts Council is pleased to announce ceramicist Cathra-Anne Barker as this year's featured artist at Fidelity Investments The Woodlands Waterway Arts Festival, set for the weekend of April 14 - 16, 2023. 
Cathra-Anne Barker is a self-taught potter with 50 years of experience. Her work is practical and personal. There is no production work, and she does everything from building kilns to mixing glazes. She is inspired by nature, travel, hunks of fabric, and song. In the winter, she forgets that something is coming, and every spring, a pattern emerges that surprises her.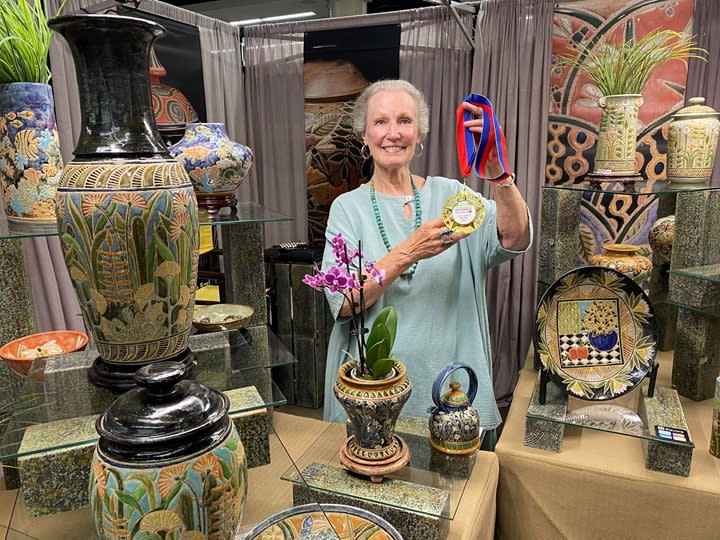 "When I'm in my studio, especially glazing, I often wonder who I'm making that piece for and know that I will be on hand to find out," said Cathra-Anne. "I have great affection for people who want to live with my pots, and I hope that when they see them, they feel that along with a smile."
Her featured art pieces for this year are two companion vessels decorated in the pattern "Turtle Pond." The vibrant pieces will be auctioned at the Art Dash Party presented by The Woodlands Compounding Pharmacy set for the evening of April 14th at The Woodlands Waterway Marriott Hotel and Convention Center.
Jenny Carattini-Wright, Executive Director of The Woodlands Arts Council, producers of the festival, added, "Cathra-Anne Barker is such an incredibly talented artist, and we have been so lucky to have her at every festival since 2007. It was beyond time that we spotlighted her gorgeous work, and we are so grateful she said yes. The generosity of spirit in her work has been an incredible addition to our day as we bring our 2023 Festival to life!"
Cathra-Anne Barker will be joined by 200+ fine artists from around the world at this annual community event which also features live music, local food, and much more.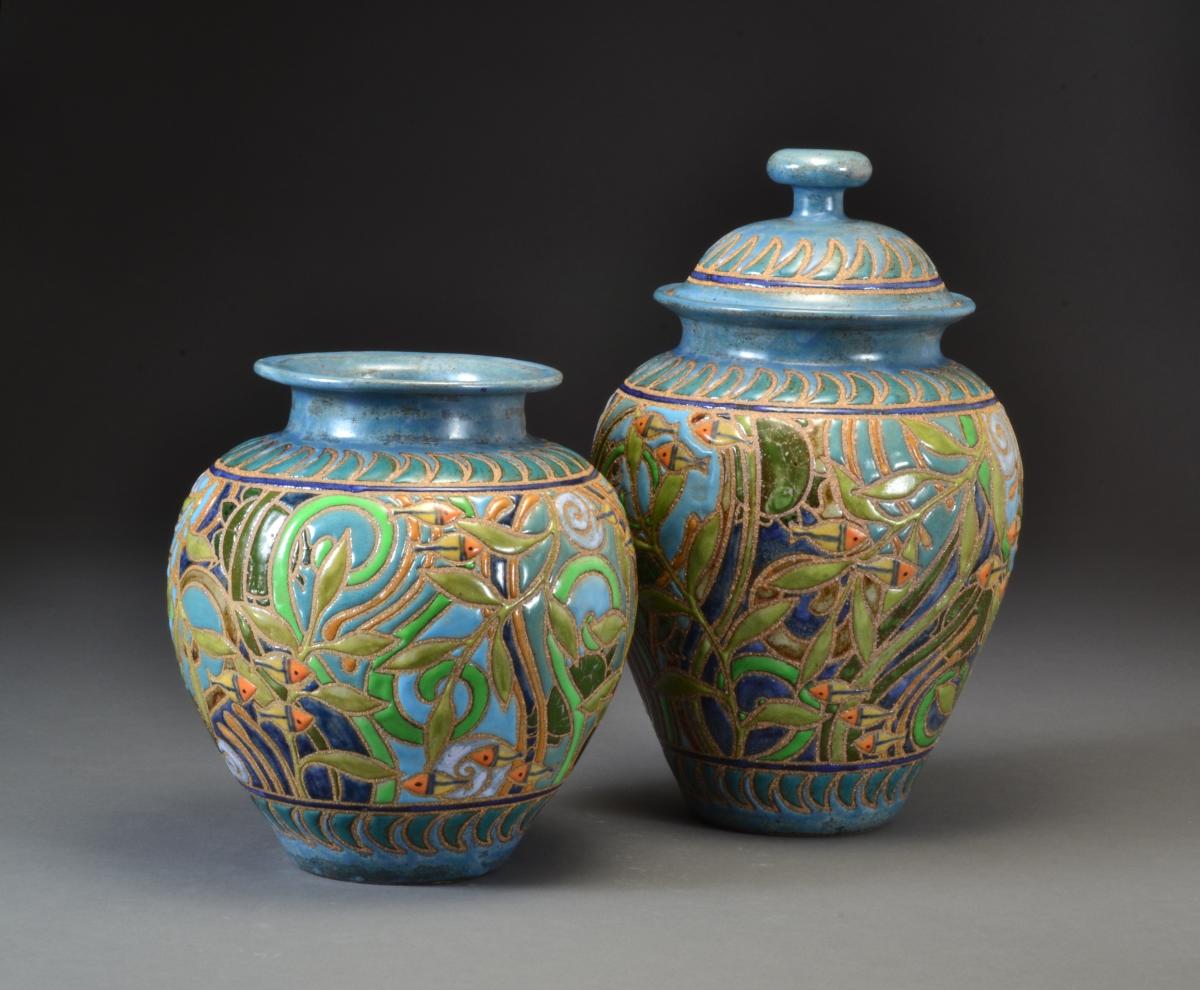 Pottery by Cathra-Anne Baker, The Woodlands Waterway Arts Festival's Featured Artist for 2023
In addition to a new featured artist, First Look Friday returns! The community is invited to preview the festival from 1 p.m. to 5 p.m. on Friday afternoon. This is the perfect opportunity to shop and visit with our 200+ visiting fine artists early!
Books On The Green – in partnership with Village Books, local, regional & national authors – join the festival in celebrating the art of words. In addition to signings, Q&As, and book sales, Montgomery County Public Library will also sign up visitors for library cards. Confirmed authors include Meagan Church, Katherine Center, Kimberly Garza, Alda P. Dobbs, Katherine McGee, Rachel Magee, Dede Fox, and Susan McCauley.
Artopoly – in partnership with The Woodlands Children's Museum – will provide kid-friendly art projects inspired by Cathra-Anne Barker's incredible work, including a sun catcher and a fan.
New this year, art is for everyone at Masterpiece Mania! Families and groups of all ages can sign up to participate in exciting art activities together throughout the day on Saturday and Sunday.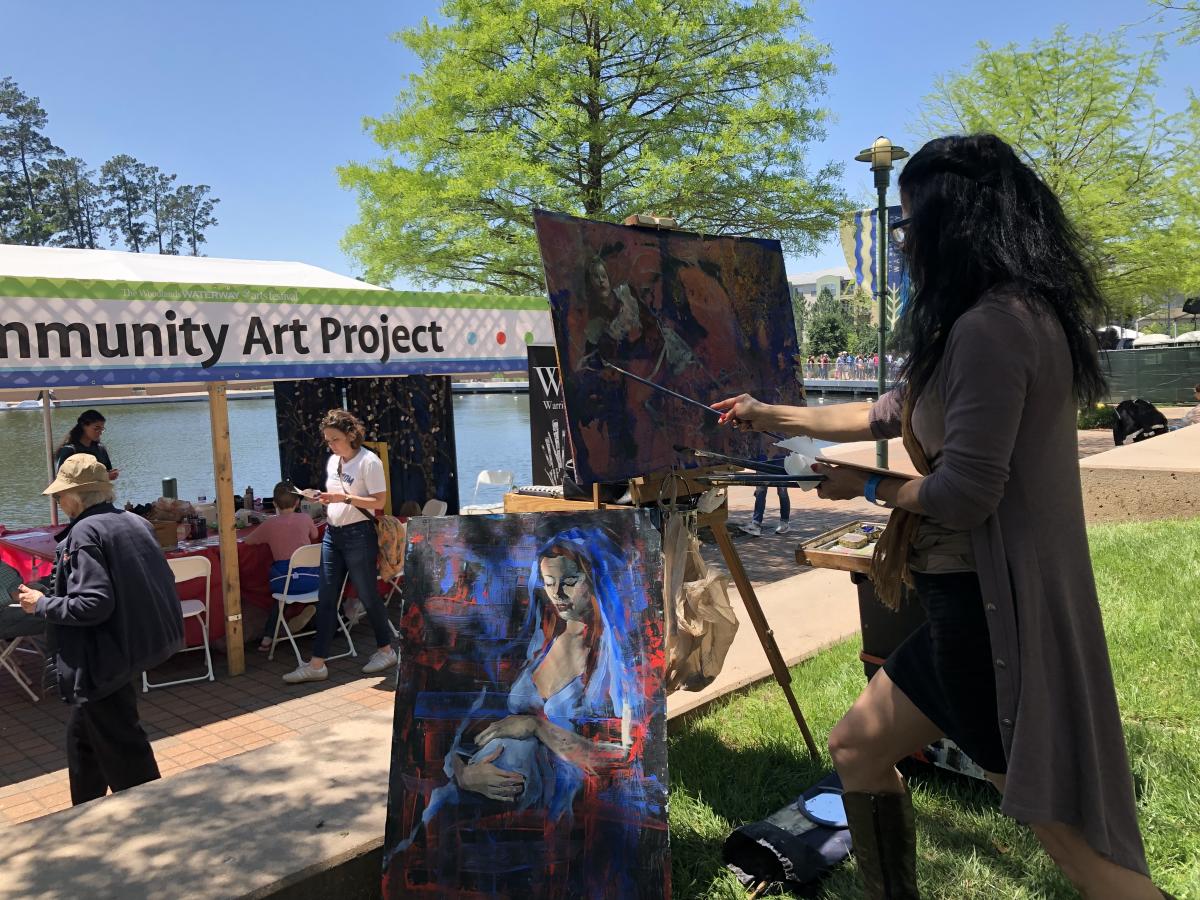 Generous sponsors include Title Sponsor – Fidelity Investments; Anchor Sponsors – The Howard Hughes Corporation, The Woodlands Compounding Pharmacy, Stella Artois, and Visit The Woodlands; Official Festival Sponsors – Martha Turner - Sotheby's International Realty, The Woodlands Waterway Marriott Hotel & Convention Center, The Woodlands Township, Garcia Real Estate Group, and Charbonneau Interiors; Festival Sponsors – America's ER, Leaf Guard, Precision Camera and Video, Renewal by Anderson, The Woodlands Mall, Woodlands Escapes, Woodforest National Bank,  and Zero Waste Houston; Program Sponsors – Market Street, PODS Moving & Storage, Medical Edge Recruitment; Media Sponsors – Woodlands Online, The Woodlands Area Chamber of Commerce, Hello Woodlands, Mauricio Ramirez Photography, and Nebular Films.
For more information and to purchase tickets to Fidelity Investments The Woodlands Waterway Arts Festival, and the Art Dash Party, click here.