Shopping Guide to The Woodlands
Home to more than 11 million square feet of out-of-this-world shopping, there's no better place than The Woodlands when you're looking to indulge in some retail therapy. Named "One of America's Best Shopping Destinations" by Southern Living Magazine, this lively and welcoming destination has everything from big-name department stores and luxury retailers to independent boutiques you won't find anywhere else. Located just 30 miles north of Houston, this idyllic combination of modern luxury and natural beauty is the perfect choice for your next shopping adventure. Check out some of the following ways you can experience world-class shopping in The Woodlands, then plan your next visit here. 
 
INDULGE IN LUXURIOUS SHOPPING & DINING AT MARKET STREET
Towering over an expansive green space, the old-fashioned brick storefronts and wide sidewalks of Market Street make it the ultimate destination for window shoppers. Stroll along and you'll pass first-class shops like Sur la Table, Louis Vuitton, Tiffany & Co., and a host of other clothing and jewelry stores. Looking to treat yourself? Market Street is where you want to go to look and feel your best. Browse for cosmetics and bath products at such high-end retailers as Bluemercury and L'Occitane en Provence. Then feel all your stress melt away as you enjoy a four-handed or Swedish massage followed by a manicure at The Woodhouse Day Spa, or head to The Boardroom Salon for Men for a haircut, beard trim, and a free beer.
When you need a pick me up, drop into Starbucks for a coffee and a snack. For something a bit more substantial, savor house-made pizzas, pastas, and more authentic Italian fare at the upscale Grotto. For classic American dishes, including mouthwatering burgers and slow-smoked ribs that fall off the bone, head to Jasper's Gourmet Backyard Cuisine, a culinary highlight with a fine-dining ambience. To indulge your inner wine lover, find your way to CRU – Food & Wine Bar. Offering an award-winning selection of reds and whites perfectly complemented by a tantalizing food menu, this is an ideal spot for a romantic night out.
After dinner, catch the latest Hollywood flick at the art-deco-style Cinemark movie theater. If you have kids in tow, let them play on the lawn in the middle of Market Street, or on the splash pad in the summer.  
Whether you are window shopping or enjoying first-rate dining, there's so much to see, do, and enjoy in Market Street that no two visits are ever the same. 
 

EXPLORE THE WOODLANDS MALL
You name it and you'll probably find it at The Woodlands Mall. Known as the heart of The Woodlands' shopping scene, the mall is home to more than 180 stores, restaurants, and more. Located near The Woodlands Waterway, Market Street, and numerous hotels and restaurants, it's one of the busiest parts of town. Step inside The Woodlands Mall and you'll discover it affords far more than the conventional mall experience thanks to its deluxe shops like Anthropologie, Coach, and White House Black Market, along with big-name stores like Macy's and Nordstrom. Explore and you'll come across everything from clothing retailers and health and beauty suppliers to furniture shops and sporting goods stores.
 
When you're not shopping, sit down for a drink and a hearty meal at such refined restaurants as North Italia, Fleming's Prime Steakhouse & Wine Bar, or The Cheesecake Factory. In a hurry? Grab a quick bite at a fast-casual eatery like Sarku Japan, Panera Bread, or Urban Bricks Kitchen. For the younger mall goers, there's even a carousel and play area, and you can rent a stroller if you need to. If all this wasn't enough, the mall offers free parking, in-store demonstrations, live entertainment, and a beautiful outdoor green space where you can relax and have a picnic. 

 
SHOP ONE-OF-A-KIND BOUTIQUES
The Woodlands may be known for its department stores and luxury retailers, but you'll also come across shops here that you won't find anywhere else. Check out unique prints and puzzles, whimsical greeting cards and stationery, Swell-brand travel cups, and hand-made goodies at Tumbleweeds & Notions. If you're searching for gifts for your kids, find your way to Teacups and Tadpoles. Clothes, stuffed animals, wooden toys, books, and more are on the shelves here, making this an essential stop before a birthday or just because. For the latest in women's fashion, Mainstream Boutique of the Woodlands is the place to be. Find something new for your wardrobe with the help of a stylist that will match you up with the perfect outfit. 
When you're in the market for a new conversation starter in your home, browse the Glade Gallery in the Glade Cultural Center. Featuring a sophisticated collection of paintings, sculptures, and art in other mediums, the gallery has a section where you can admire (and purchase) the works of local artists. These are just a few of The Woodland's boutiques. Learn more about the other one-of-a-kind shops here.
BONUS: DISCOVER EVERYTHING ELSE THE WOODLANDS HAS TO OFFER
Although The Woodlands is a world-class destination for shoppers, retail therapy isn't the only thing you'll find here. Nestled within the pine forests of Southeast Texas, this cosmopolitan community balances abundant natural beauty with an array of modern luxury. Get your fill at more than 150 casual and specialty restaurants, many of which have outdoor seating so you can savor fresh air and delicious food. Explore more than 220 miles of interconnected trails that weave throughout town and conquer Texas TreeVentures' adventure course set high above ground. For some time on the water, a variety of rentals are available from rent a kayak or stand-up paddle board from Riva Row Boat House or Lakes Edge Boat House, including swan boats, stand up paddleboards, kayaks, water bikes and more. Explore scenic Lake Woodlands or The Woodlands Waterway.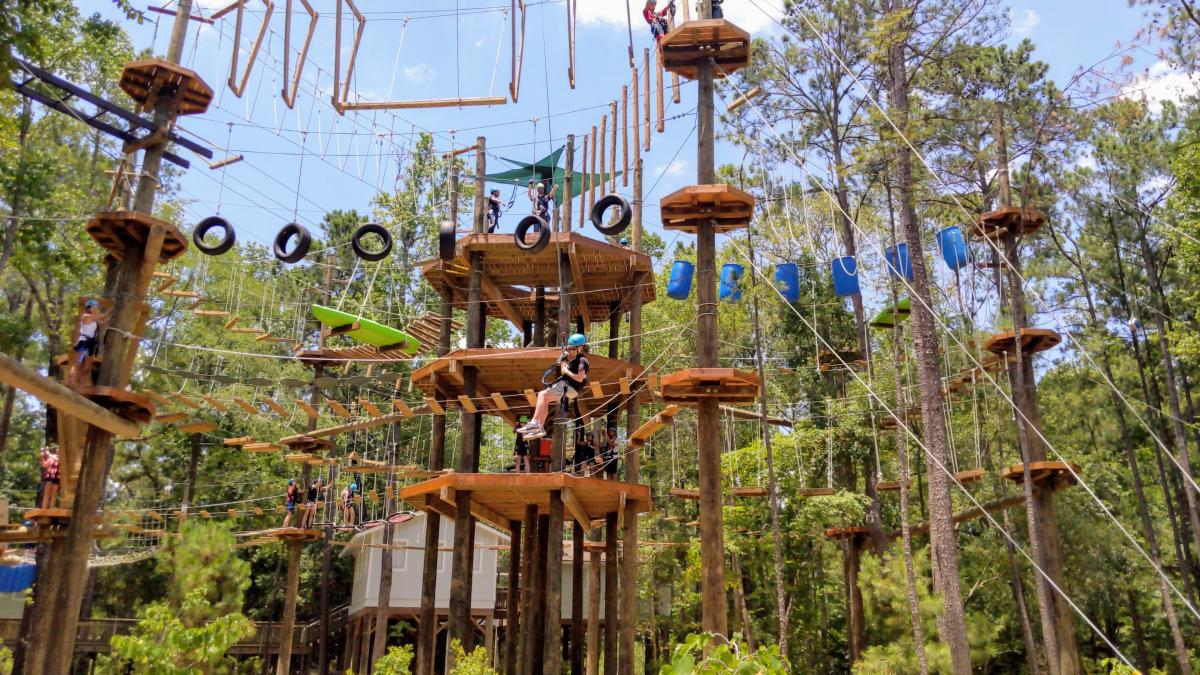 When the sun sets, kick your feet up in a high-end hotel along The Woodlands Waterway, like The Westin at The Woodlands or The Woodlands Waterway Marriott, and you'll start the next day just steps away from the mall and Market Street. 
Whether you're in need of some serious retail therapy or you're a hardcore window shopper, there's no better place to be than The Woodlands. Plan your next shopping adventure here. 
The best way to take advantage of the mild weather and abundance of water throughout The Township is to spend the day paddle boarding or kayaking in The Woodlands. There are two boathouses that offer stand-up...
Read More