5 Ways Enjoy a Friends Getaway in The Woodlands
We've all been there before. You're trying to pick a place you can go with your friends, but everyone seems to want something different. Maybe one wants to spend most of his or her time relaxing at a posh resort, while another wants to hike or kayak, or shop until there's no more space in their luggage. Fortunately, you don't have to look any further than The Woodlands to find all these things. In just a single day, you can have brunch at a trendy restaurant, paddle a scenic lake, check out the arts scene and raise a glass of wine at a stellar steakhouse.
With so much to see and do, you and your friends will leave with broad smiles and enough stories for the next time you visit. Read on to discover five of the many ways you can enjoy a friends getaway in The Woodlands.

TREAT YOURSELF TO A LUXURIOUS STAY
Any great best friends getaway starts with where you stay, and The Woodlands' high-end hotels are destinations unto themselves. Tucked away in a pristine forest just minutes from The Woodlands Mall, The Woodlands Resort feels like it's far from it all. Relax in your lavishly adorned room, then vie for bragging rights on two scenic 18-hole golf courses, soak up the sun at the Forest Oasis: Lazy River & Waterpark and indulge in a massage at The Spa at the Woodlands Resort. Celebrate a day well spent with some delicious food perfectly paired with a glass of wine at one of the resort's bars and restaurants.
If you want to be right in the middle of all the action, check out The Westin at The Woodlands or The Woodlands Waterway Marriott. Both hotels offer on-site dining, deluxe amenities and an ideal location along The Woodlands Waterway, putting countless bars, restaurants and even The Cynthia Woods Mitchell Pavilion within easy walking distance. These are just a few of the fantastic places to stay. See the full list of hotels here.
DISCOVER THE LOCAL ARTS SCENE
Art is nearly everywhere you look in The Woodlands and seeing it for yourself is a must while you're here. Gather your friends and check out The Woodlands Waterway Arts Festival. Stroll through Town Green Park to see the works of more than 200 juried artists from Texas and beyond. Then taste the creations of local chefs and watch cooking demonstrations at The Art of Food; dance to the rhythms on four stages and try your hand at creating your own art.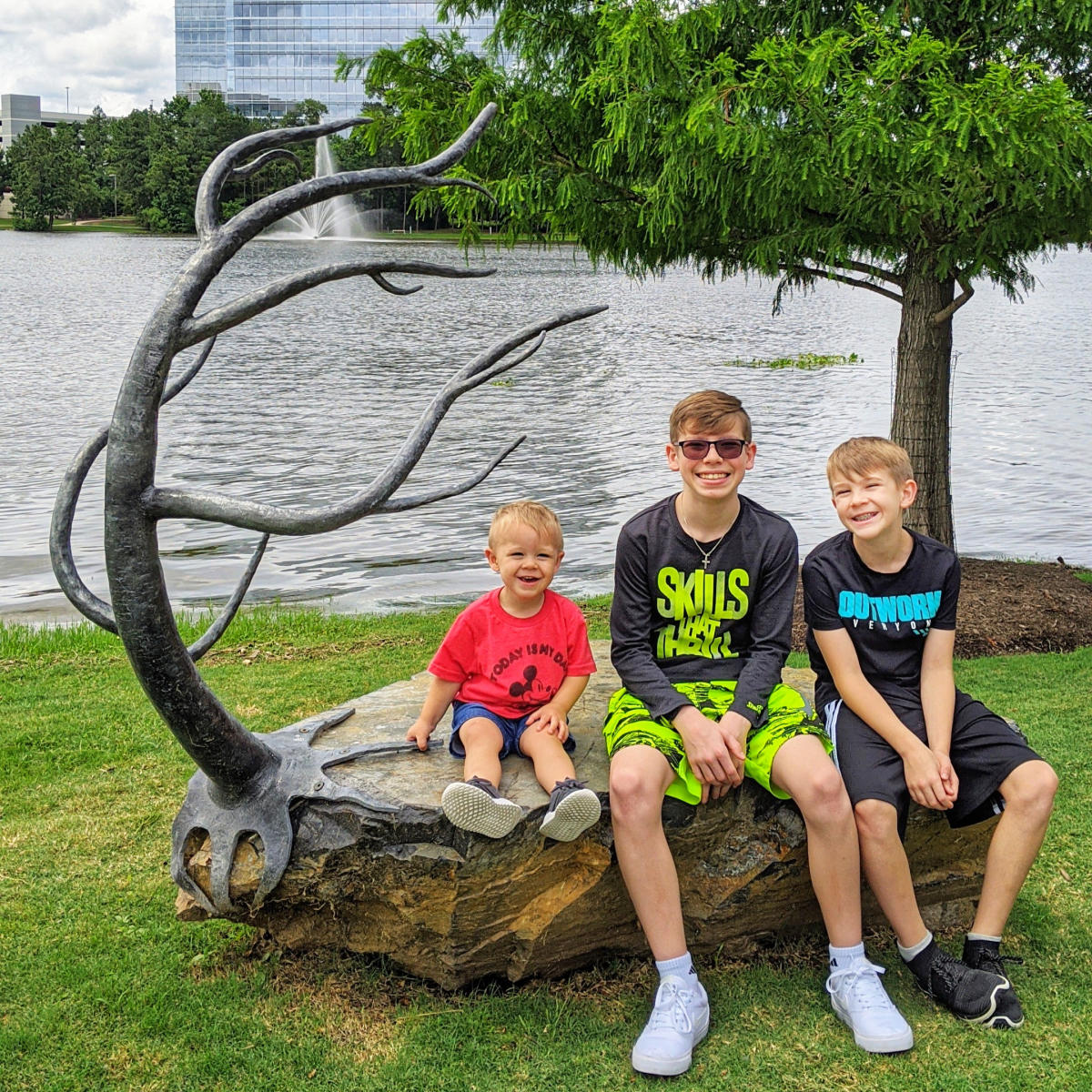 The festival is an incredible showcase of art, but there's much more to see. After all, The Woodlands has more than 100 pieces of outdoor public art, one of the largest collections in Texas. Much of it can be seen throughout The Waterway Arts District, including more than 20 art benches. Meanwhile, Glade Cultural Center & Gallery is a showcase of paintings, sculptures and other contemporary works of American and European art made by artists of various generations and disciplines.
Music is its own art form, and The Woodlands happens to have one of the best outdoor venues in the nation, The Cynthia Woods Mitchell Pavilion. Get your tickets for one of the upcoming shows! No matter what kind of art you appreciate, you'll find plenty to love in The Woodlands.

EXPLORE THE OUTDOORS
From towering pines and a centrally located lake, to winding hiking and urban jogging paths, an escape in nature is never far away. Step into the tranquil forest found within the George Mitchell Nature Preserve, where you'll keep an eye out for cardinals, blue jays and red-cockaded woodpeckers as you explore five miles of wooded trails. For a friendly run or bike ride, hop onto the area's 220 miles of trails and create your own adventure through town.
Located just minutes away from The Woodlands Mall, Lake Woodlands offers plenty of space for kayaking and stand-up paddleboarding. Rent a tandem kayak or a canoe from either Riva Row Boat House along The Woodlands Waterway or Lakes Edge Boat House at Hughes Landing. Both have single-seat kayaks and stand-up paddleboards if you just have to go solo. But where's the fun in that?
As fun as going around in circles in a tandem kayak might be, you could always opt for a swan boat instead. With space for four, Riva Row Boat House's swan pedal boats are also a relaxing way to tour The Woodlands Waterway.
Need more adventure? Conquer the treetop obstacle course at Texas TreeVentures.

SHOP LIKE YOU MEAN IT
When you're in need of some quality retail therapy, The Woodlands is the place to be. With more than 11 million square feet of world-class shopping and retailers large and small, it's no wonder that Southern Living Magazine calls The Woodlands "One of America's Best Shopping Destinations." Tie on your comfy shoes and step inside The Woodlands Mall, one of the region's premier shopping centers and home to nearly 200 stores, including big names such as Banana Republic, Loft and Dick's Sporting Goods. When you need a break, get a bite to eat at one of the mall's quick eateries or full-service restaurants.
For window shopping that's second to none, head to Market Street. Located just north of The Woodlands Mall, this open-air shopping district boasts top-end retailers like Ann Taylor, Madewell and Tiffany & Co. that you'll pass as you stroll on the outer edge of the square. Get a bite to eat at one of Market Street's many restaurants or cafes and kick back as the world passes you by.
Although The Woodlands Mall and Market Street are the two main shopping areas, you'll find shops throughout town. Learn more about our boutique shops here.

ENJOY BRUNCH & HIGH-END DINING
Whether you're sipping mimosas on a late Saturday morning or dressing up for a fancy night out, you'll come across great places for both here.  More than 150 restaurants serve cuisines from around the world, so you'll want to bring your appetite. Dig into chicken and waffles or a crab avocado omelet at Fielding's Local Kitchen + Bar, or follow the aromas of cinnamon rolls and pecan pie pancakes to The Kitchen. Robard's Steakhouse and Churrascos are also popular brunch spots that have their own twist on this sacred weekend tradition.
On the other end of the day, a multitude of upscale restaurants set the stage for romantic dates and memorable nights out with friends. TRIS serves decadent dishes like foie gras and exotic venison in its chic dining room. Meanwhile, Robard's Steakhouse combines flavors from around the world in its creative dishes, including the finest cuts of Wagyu beef from Australia and Japan.
End the night with a pint of craft beer or a glass of wine at bars like Local Pour in Hughes Landing and Mahoney's Texish Bar in Waterway Square. After all, there's no such thing as too much fun when you're on vacation. Even if you managed to go to all these places, you would just be getting started. Find out more about The Woodlands' dining scene so you know exactly where to go to treat yourself.
With luxurious resorts, first-rate shopping, a lavish dining scene and things to do outdoors, The Woodlands has something that everyone in your group of friends can enjoy. Plan your next getaway here.
Experience the holidays in The Woodlands with a Christmas tree and light display tour! The entire tour is located outdoors and is free to view. Before you begin, stop by one of the local coffee shops and enjoy...
Read More
Get ready, get set, shop! The days after Thanksgiving mark the unofficial start of the holiday shopping season. Black Friday sales start bright and early in The Woodlands the day after Thanksgiving. The next...
Read More