Philanthropy
A VISION OF GENEROSITY
The Woodlands has always held charitable causes close to its heart. It all began with our founder, George P. Mitchell. A businessman and philanthropist, Mr. Mitchell envisioned a place where people could 'live, work, play and learn' with a true a sense of community. Since 1974, The Cynthia and George Mitchell Foundation has offered more than $800 million in donations and pledges to a variety of charitable causes, from science and engineering to arts and social causes.
In The Woodlands, everyone has the opportunity to give back. By attending a show at The Cynthia Woods Mitchell Pavilion or participating in programs like Market Street's Change for Charity, visitors can make a difference, right here in The Woodlands.
Giving Back in The Woodlands
THE CYNTHIA WOODS MITCHELL PAVILION
The Pavilion is a nonprofit organization with a mission to make The Arts accessible to everyone. A portion of your concert ticket, in partnership with Live Nation, goes towards funding programs including art scholarships, training and educational events.  
George Mitchell's wife, Cynthia, had a great passion for the arts and she dreamed of a world-class performing arts facility in The Woodlands. In April 1990, The Cynthia Woods Mitchell Pavilion, part of the Center for Performing Arts in The Woodlands, opened its doors for a star-studded weekend with Frank Sinatra opening the show.
Over the years, The Pavilion has grown to become one of the world's greatest outdoor music amphitheaters, welcoming artists from every musical genre. There are free events to attend throughout the year, including performances from The Houston Symphony and the Houston Ballet.
THE WOODLANDS ARTS COUNCIL 
Creativity shines throughout The Woodlands. Since 2005, The Woodlands Arts Council has created opportunities for artists to showcase their work.
The Woodlands Waterway Arts Festival is a celebration of local art, taking place every April. The festival raises funds for several of The Woodlands Art Council's projects, including student art scholarships and microgrants. These initiatives support budding young artists and encourage people to express themselves through art. 
MARKET STREET CHANGE FOR CHARITY
Market Street Change for Charity allows you to park, shop and give back. This initiative collects the change from the 68 parking meters on Market Street and donates it to four Montgomery County charities each year. Every quarter, Market Street donates to a different charity. 
The beneficiaries of the 2023 Change for Charity include: Montgomery County Community Foundation Veterans Fund, Education for Tomorrow Alliance, Montgomery County Food Bank, and the Cook Family Health Education and Learning (HEAL) Center at Methodist Hospital in The Woodlands.
Since it began, this charity program has raised over $250,000 for causes in the community.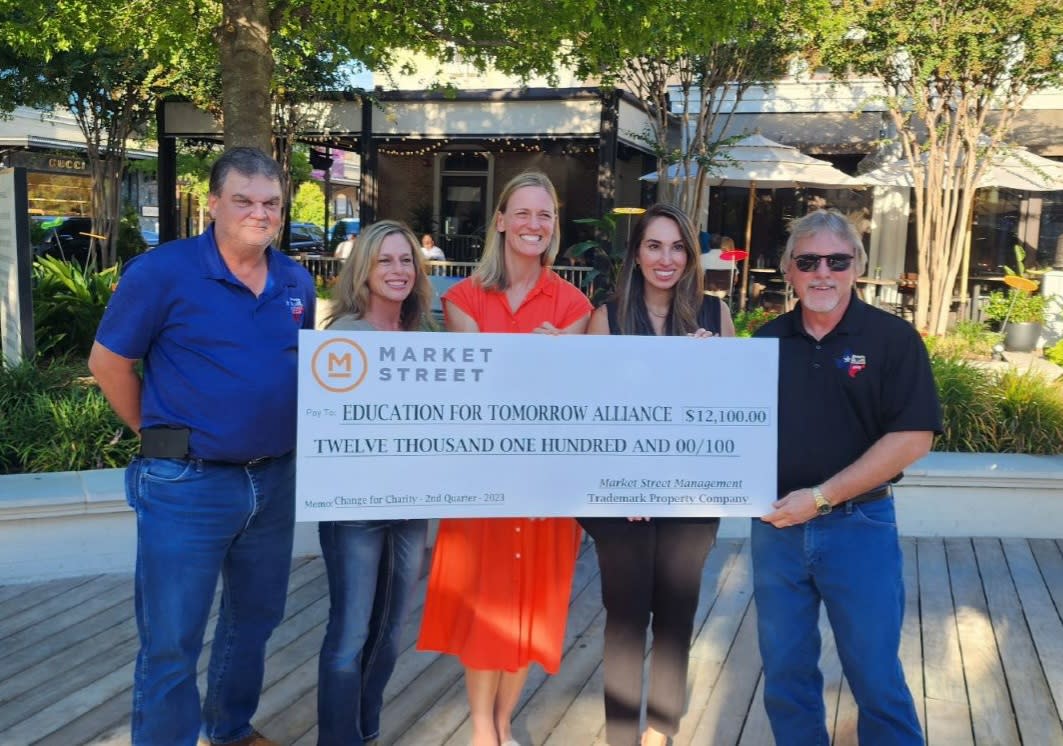 Change for Charity Recipients for the Second Quarter of 2023
INTERFAITH OF THE WOODLANDS
Interfaith of The Woodlands has helped families in need for almost 50 years. Founded by George Mitchell, it provides uplifting programs and caring services to neighbors in need. Their philosophy is that all faiths can work together to build solutions. Interfaith's support includes childcare, financial assistance, wellness programs, and counseling.
Two of their key initiatives include The Veggie Village, a community garden producing fresh vegetables for senior living complexes and the Interfaith Food Pantry. Another is The Hand Me Up Shop, a resale store selling pre-loved clothes and useful items. Interfaith is just one of over 100 non-profits residents and visitors can support in The Woodlands area. 
GIVE BACK IN THE WOODLANDS
When you visit The Cynthia Woods Mitchell Pavilion, attend The Woodlands Waterway Arts Festival, or park at a Market Street pay meter while you shop, you're giving back to the community...but it doesn't have to stop there! There are plenty of volunteer opportunities in The Woodlands that you can take part in during your visit, especially when traveling with a group.
You can also buy The Woodlands gear at The Woodlands Style, which is run by Interfaith of The Woodlands. All proceeds go directly towards supporting the programs and services of Interfaith, meaning that you can make an impactful difference in our community with each purchase.