6 Things to Do in The Woodlands this Summer
Go off the beaten path as you explore a lush pine forest, watch birds soar overhead while you kayak on a scenic lake, and enjoy dinner outside as the sun sets. These are the kinds of experiences that are worth planning your summer around. The best part? You don't have to take an epic road trip to have it all.
Located just north of Houston, The Woodlands, Texas has all this and more, creating the perfect getaway for nature lovers, shoppers, foodies, or those looking to try a little bit of everything. Read on to see how you can make this summer amazing when you visit The Woodlands.

GET OUTDOORS
The Woodlands may be best known for its fantastic shopping and dining, but there's another attraction here that you shouldn't overlook: the outdoors. Listen to hooting owls as you hike winding trails shaded by towering pine trees at The George Mitchell Nature Preserve. A true natural oasis, you won't hear anything but swaying trees and chirping birds as you traverse the five miles of natural-surface trails. Among the preserve's pathways is the three-mile Flintridge Bike Trail, a twisting single-track loop that offers a fun way to take in all of the verdant beauty. Wanting more? You can also bike, walk, or jog on more than 220 miles of trails that wind through The Woodlands.
Feel a refreshing summer breeze as you traverse an outdoor aerial adventure course, navigating floating tire swings and suspended walkways. Texas TreeVentures offers a challenge-by-choice experience with over 90 exciting elements that climbers can enjoy during their three-hour adventure. From climbing across a rope wall to taking a leap and repelling down to the forest floor, you set the tone for your adventure. The well-trained and certified staff on the course will be there to encourage and assist as you traverse the course and see The Woodlands from new heights.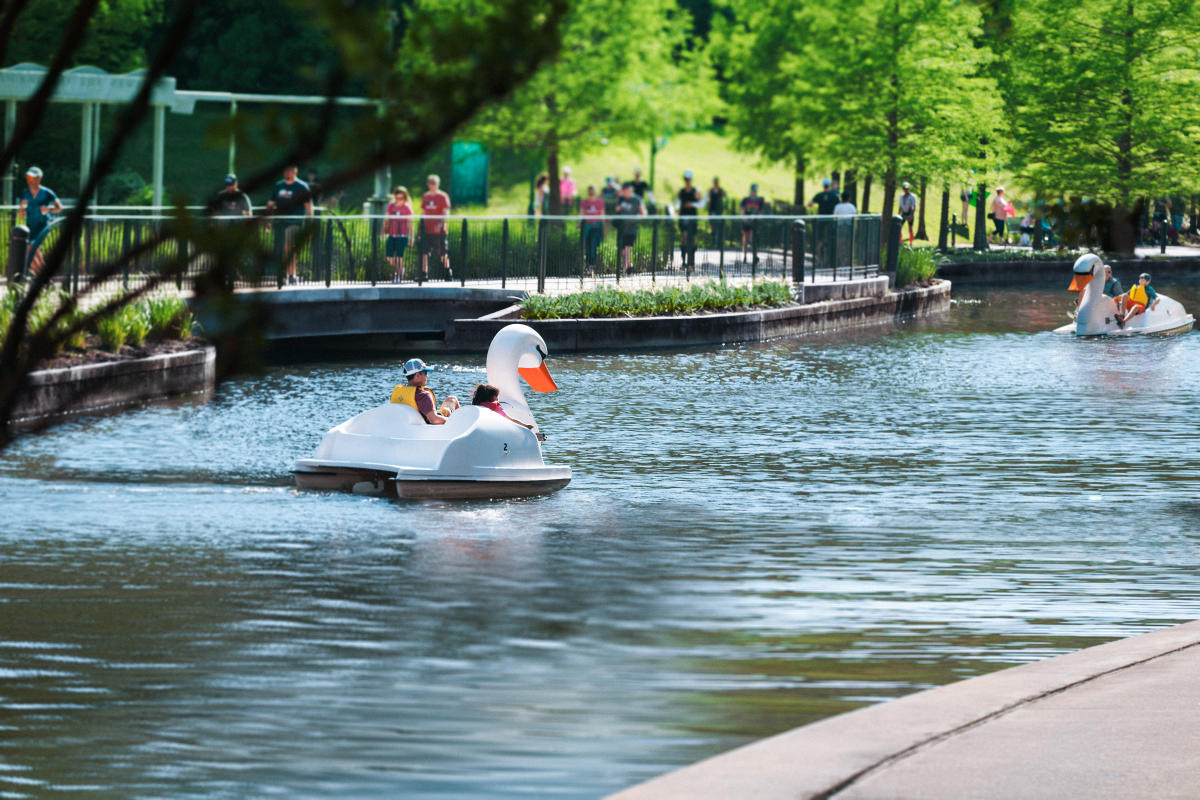 EXPLORE THE WOODLANDS WATERWAY
Of course, there are plenty of ways to get outdoors in The Woodlands. Pedal a Swan Boat down The Woodlands Waterway, or enjoy a leisurely stroll along the scenic path that passes by art benches and Town Green Park. On your way, check out the fish and relax in the shade of bamboo trees at The Koi Pond, then order a drink and something delicious at one of several waterside restaurants. You can also see The Waterway when you catch a free ride on The Woodlands Town Center Trolley, which offers stops at many of The Woodlands' top spots.

ENJOY TIME ON THE WATER
It's not summer without some time on the water! Rent a kayak or a stand-up paddleboard from the Riva Row Boat House or Lakes Edge Boat House. Paddle along as you admire the massive mansions and lush pine trees that surround the lake. Watch as herons and egrets wade along the banks and groups of ducks fly overhead. Keep a keen eye out and you may even see one of the bald eagles that call The Woodlands home, as well as a 35-foot-long serpent statue placed at the lake's southern edge. Don't worry; it doesn't bite!

CATCH A SHOW AT THE CYNTHIA WOODS MITCHELL PAVILION
A summertime trip to The Woodlands isn't complete without seeing a concert at The Cynthia Woods Mitchell Pavilion. The venue is named after Cynthia Woods Mitchell (wife of The Woodlands' founder, George Mitchell), who once dreamed of bringing performing artists to her growing community. The Pavilion is now known as one of the best outdoor amphitheaters in the world! It hosts over 50 performances each year, ranging from rock and rap to pop and country.

During the summer, the Houston Symphony Orchestra also offers free concerts here. Sit under the tent, close to your favorite artist, or dance the night away on the open lawn. No matter where you are, you're sure to have an amazing time experiencing live music at The Pavilion. 

INDULGE IN SOME SERIOUSLY GOOD FOOD
Take your pick from more than 150 restaurants, ranging from casual to fine dining, that serve foods from around the world. This is just a taste of what's on the menu in The Woodlands: Treat yourself to succulent beef and chicken roasted over an open flame at Fogo de Chão; Dive in to exceptional coastal Italian cuisine at Azzurro (pictured above); Visit The Goose's Acre for the authentic Irish ambience and waterfront dining; Celebrate with a pint or two of craft beer at Local Pour, or sip on glasses of wine from around the world at Postino or Sixty Vines. From the open-air dining spots along The Waterway and in Hughes Landing to Market Street and Creekside Park, there are plenty of fantastic places to sink your teeth into something delicious.

SHOP LIKE YOU MEAN IT
If you're in need of some retail therapy, The Woodlands is the place to be. After all, Southern Living Magazine called The Woodlands "One of America's Best Shopping Destinations." With more than 11 million square feet of big-brand department stores, independent boutiques and everything in between, it's easy to see why.
The heart of The Woodlands' shopping scene is The Woodlands Mall, a sprawling haven for shoppers where you'll find countless stores, great restaurants and even an Escape The Room. For high-end shopping, visit Market Street, where you can browse shops like Tory Burch and Tiffany & Co. Whether you're looking for the basics, something fashionable to impress your friends or you're simply window shopping, you'll find far more than you can imagine in The Woodlands.