The Cynthia Woods Mitchell Pavilion
OUTDOOR AMPHITHEATER
Enjoy a fist-pumping night of live music at The Cynthia Woods Mitchell Pavilion, consistently ranked as one of the "Top 10 Outdoor Amphitheaters in the World," according to Pollstar magazine. The long list of past performers here includes Jimmy Buffett, Dave Matthews Band, Ozzy Osbourne, Jack Johnson, Alabama, Lynyrd Skynyrd, and Kenny Chesney. You can also catch performances by the Houston Symphony, Houston Ballet, Houston Grand Opera and Texas Music Festival Orchestra here.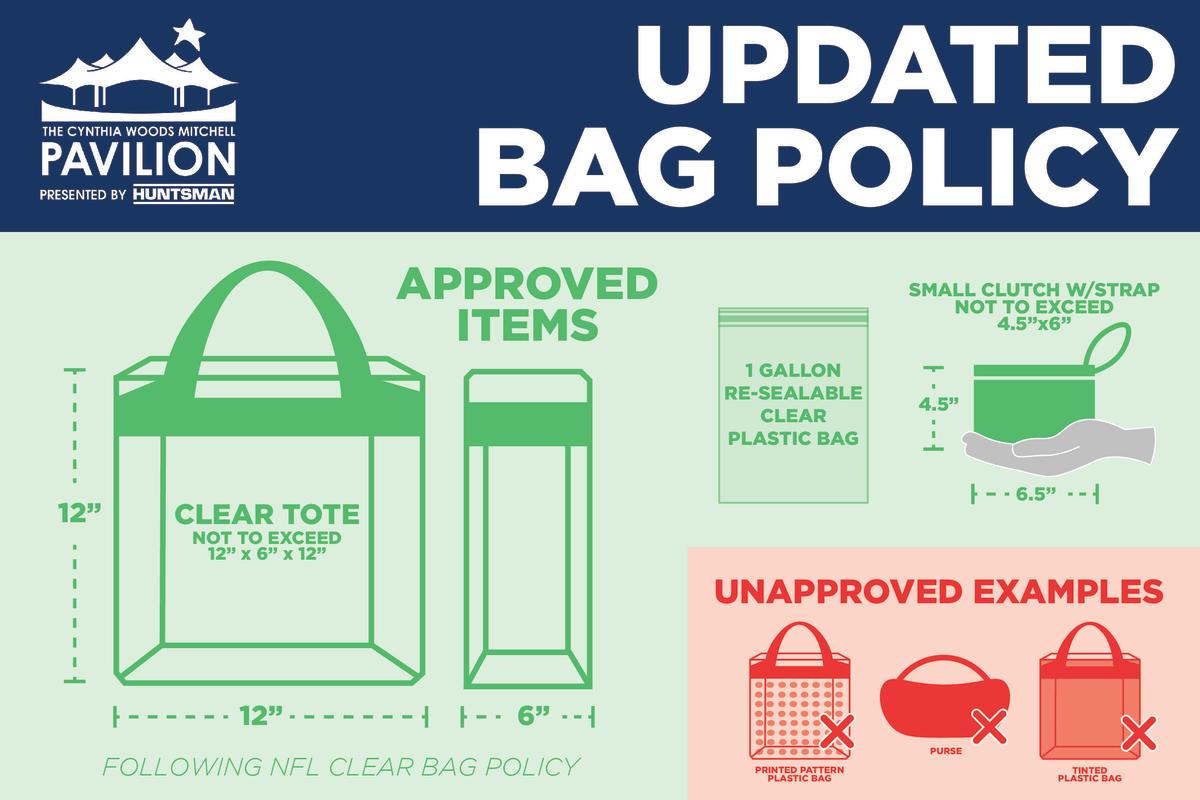 BAG & PURSE POLICY
Clear bags sized 12" x 12" or smaller are permitted. Non-clear handheld clutches sized 4.5" x 6.5" or smaller are permitted.
A medically necessary bag (sized appropriately to the medical needs) or diaper bag (accompanied by infant/toddler) is permitted but will be subject to search.
Following standard safety protocol, all unattended items and bags outside the gates or within the venue will be removed from the facility immediately.
Bags, purses, or backpacks of any kind will not be accepted by Pavilion Info Booths.
Check The Pavilion's website for other rules and guidelines for attending concerts and other events.
COVID-19 SAFETY
At the request of the artist, documentation of a negative COVID-19 PCR/Antigen test result will be required to attend specific events at The Cynthia Woods Mitchell Pavilion. The negative COVID-19 PCR/Antigen test result must be obtained within 72 hours (3 days) of attending the specific event. Guests who are fully vaccinated may show proof of full COVID-19 vaccination instead of proof of negative test. A person is considered fully vaccinated when it has been at least two weeks since receiving the final dose of a COVID-19 vaccine. Please note that vaccination is not required to attend an event at The Pavilion. To see if this policy applies to your show, check your show's event page here.
The Woodlands is often touted as a maze of trees. Unfortunately, that sometimes makes it feel like you can't find anything. We want you to escape, but we also don't want you to get lost! Here are...
Read More
THIRD-PARTY TICKETS
The Pavilion Box Office and Ticketmaster/Live Nation are the ONLY authorized ticketing agents of The Cynthia Woods Mitchell Pavilion. If you purchase tickets from an unauthorized agent in the secondary market (scalper, ticket broker, etc) you risk purchasing counterfeit or invalid tickets. Please use caution when purchasing tickets not from The Pavilion Box Office or from any website other than www.ticketmaster.com / www.livenation.com. Guests who purchase invalid tickets from the re-sale site must contact that vendor for resolution.