The Woodlands Waterway Marriott Hotel & Convention Center unveiled its transformed guest experience and guest rooms, recently redesigned as a part of the reinvention of Marriott Hotels, the signature brand of Marriott International.  The design refresh provides a premium elevated experience that speaks to the needs of today's modern traveler.  
The Marriott Hotels brand has undergone a massive transformation, evolving everything from hotel design to associate training.  The Woodlands Waterway Marriott Hotel & Convention Center is part of this evolution, joining hundreds of Marriott Hotel properties around the world that now represent the transformed brand vision for the next generation of travelers.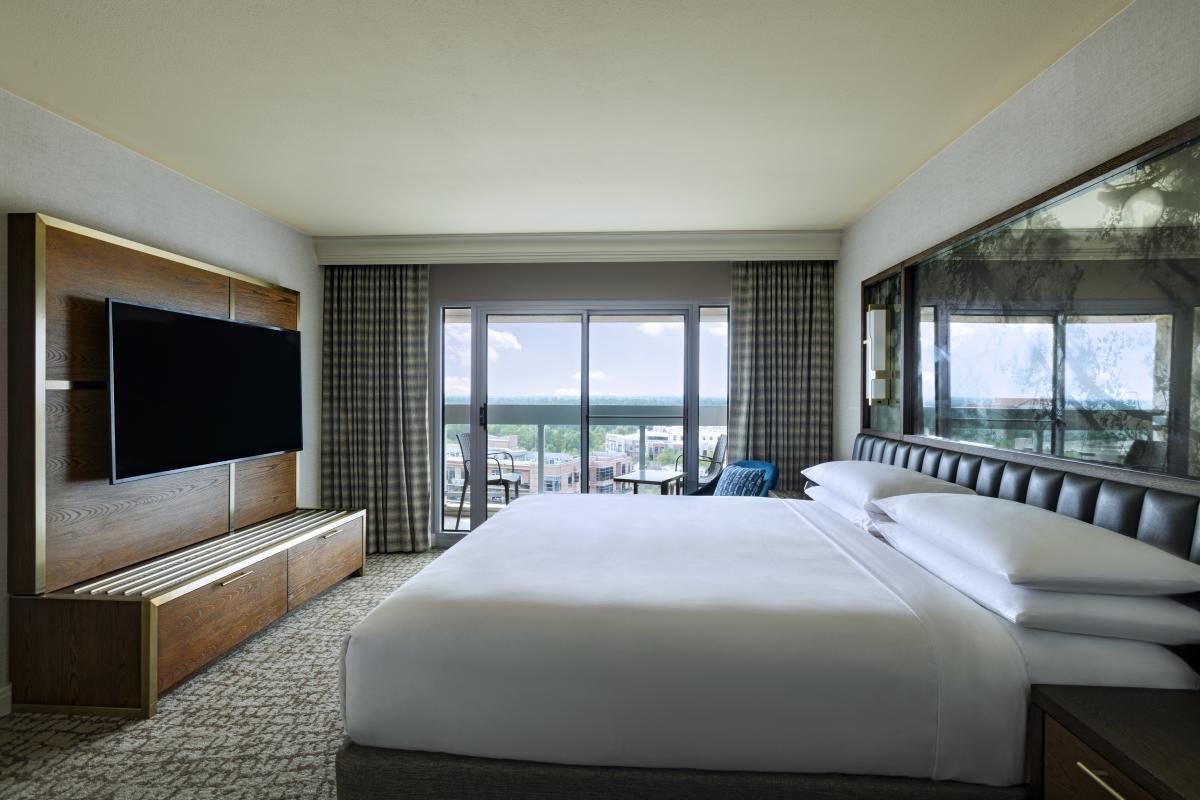 The reimagined rooms offer a spacious and upgraded look complete with tailored solutions that are as inventive as its guests. All two-bed guest rooms at The Woodlands Waterway Marriott now include two options, a King/Queen combination or a King with a full-sized pull-out sofa bed. Based on consumer insights, locally inspired accents offer a sense of place and the work surface provides flexibility to freely move and use technology wherever the guest desires. 
"We want our guests to experience forward-thinking, aesthetically pleasing spaces that help foster their inventive nature and allow them to get into their best headspace for success," said Manny Rappenecker, Vice President, Marriott Hotels. "Marriott Hotels has consistently pushed the boundaries of innovation in travel to create experiences that inspire and nurture our guests' creativity. Guests at The Woodlands Waterway Marriott Hotel & Convention Center will be able to free themselves of distractions when they step into our hotel, allowing them to focus solely on being the best they can be."
Located in The Woodlands Waterway Square, the epicenter of The Woodlands, guests of The Woodlands Waterway Marriott Hotel & Convention Center are within walking distance to night life, outdoor activities, performing arts and more. Experience unforgettable performances at The Cynthia Woods Mitchell Pavilion, ranked in the Top 10 Outdoor Amphitheaters in the World. Take a break from your day with rentable kayaks, paddleboards and swan boats on The Waterway, or relax in the outdoor green space. Grab a bite to eat with a colleagues or cheers over happy hour at one of the many dining destinations in the area, all within steps from your hotel room. At The Woodlands Waterway Marriott Hotel & Convention Center we welcome you to bring your four-legged fur baby with you on your travels to enjoy all The Waterway has to offer.
Further enhancing their recently renovated rooms, The Woodlands Waterway Marriott Hotel & Convention Center welcomes you to its totally reimagined guest experience with their newly redesigned guest bathrooms. The new, full bathroom updated look, provides the most enhanced experience for the business or leisure traveler including walk-in showers, modern lighting, current wall coverings and flooring. The reimagined bathrooms compliment the guest rooms which now feature new beds and televisions as well. If you are looking to pamper yourself outside your guest room or suite, visit the Spa at the Waterway with their updated look as well.
The Woodlands Waterway Marriott Hotel & Convention Center will continue to exceed your expectations with exceptional views of The Waterway, walking distance to entertainment at The Cynthia Woods Mitchell Pavilion, shopping at The Woodlands Mall, and dining along The Waterway, making the hotel a true destination. Grab a bite at one of our outlets, including Starbucks®, Acqua Restaurant and our trendy Acqua Lounge. Take advantage of our 24-hour fitness center and outdoor pool. Designed to inspire and ignite, the transformed hotel was built to foster collaboration in your meetings and events, and energize the celebrated moments of your life, with 27 venues and over 65,000 square feet of event spaces.
The Woodlands Waterway Marriott Hotel & Convention Center also features the Marriott Hotels Greatroom lobby – a stylish hub of the hotel for both day and night. The contemporary décor and layout provide guests with a space to relax, collaborate with colleagues with a coffee or grab a night cap. Guests can enjoy a variety of great food and drink options at Acqua Lounge, as well as seamless connectivity with free wi-fi. The hotel's certified bartenders provide guests with an elevated experience. 
Along with the Greatroom, The Woodlands Waterway Marriott Hotel & Convention Center features an on-site Starbucks® so you can easily grab your favorite beverage, pastry and snacks for your day. Guests can also enjoy a 24-hour fitness center with cardio equipment, free weights and fitness classes, as well as an outdoor pool. To complete your stay, guests can relax and renew at the on-property tranquil day spa with a range of professional services and availability to host groups.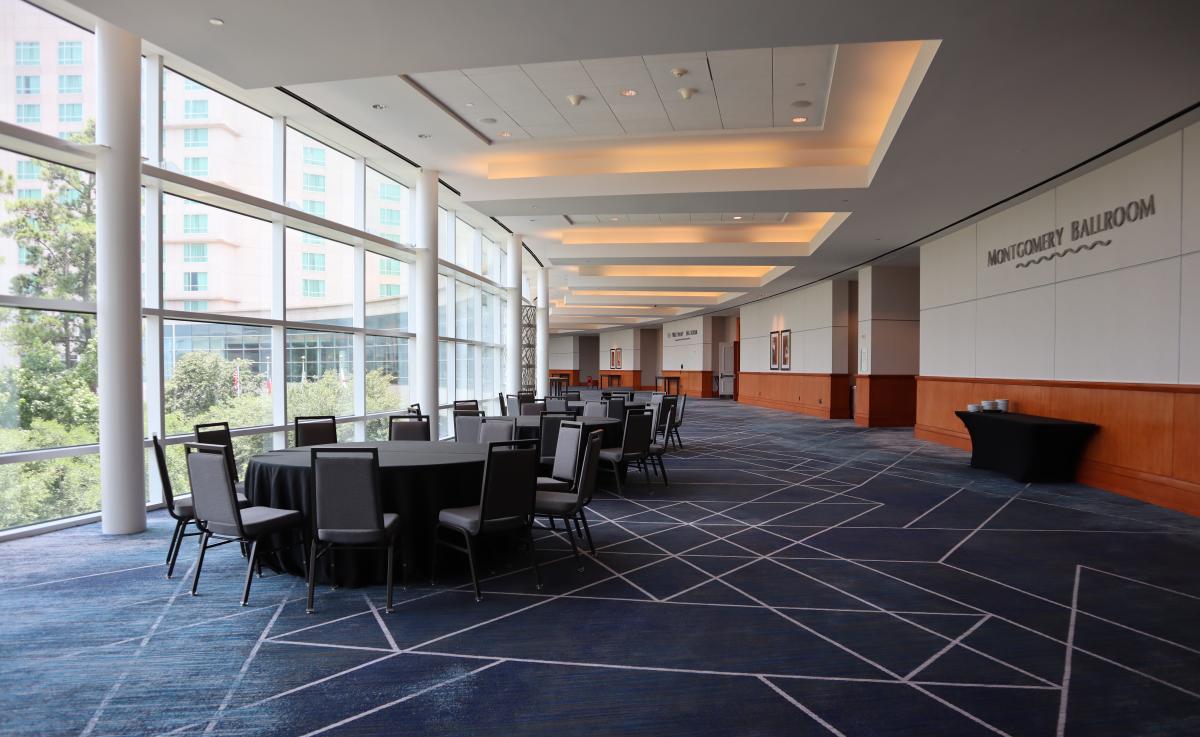 Meeting planners have a lot to celebrate about with The Woodlands Waterway Marriott Hotel & Convention Center's Next Gen Meeting Space that is tailored to foster collaboration. In 2019, the hotel completed a $4 million renovation design of its 65,000 square feet of meeting space and 27 venues to adapt to a variety of formats and group sizes, with pivotable walls, moveable partitions, soft seating and modular furniture to ensure every team's meeting space is tailored to their needs. Ideas are easily captured with tools such as rewritable surfaces, magnetic panels and shared-screen technology. 
To learn more or book your next event, please visit us at www.WoodlandsMarriott.com.