Burgers are an all American favorite for a reason. In The Woodlands, the burger game is strong. You might just discover a burger creation you have never even thought of before. (We did!) Narrowing down the top burgers in town was not an easy job, but someone had to do it.
BECKS PRIME
2120 Buckthorne Place
The award-winning burgers may be what Becks Prime is best known for. Becks Prime starts with never-frozen 100% Certified Angus Beef chuck roast that's ground fresh every morning. Each award-winning burger is grilled-to-order over 1,000-degree mesquite wood coals and prepared with the freshest ingredients available. While the cheeseburger is very popular, Bill's Burger is a real favorite. Bill's Burger features sautéed onions, sliced cheddar, bacon, jalapenos, lettuce and housemade Prime Sauce.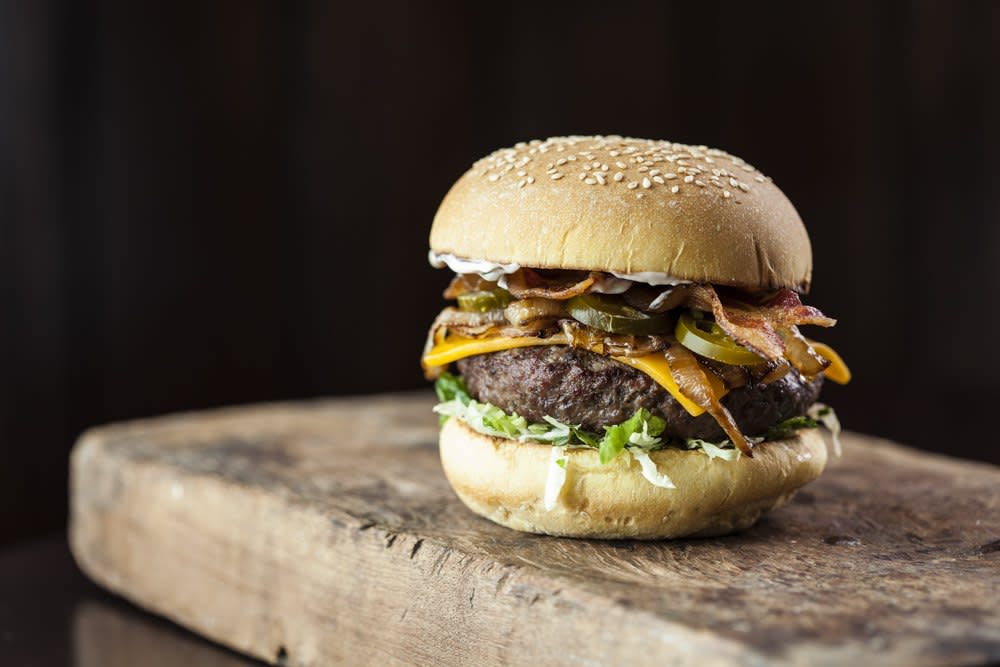 BLACK WALNUT CAFE
9000 New Trails Drive
Burgers from Black Walnut Cafe are made with a combination of ground brisket and chuck which makes it very flavorful and juicy. The American Burger is piled on with American cheese, lettuce, tomatoes, and house-made pickles for that tangy crunch. Finally, they spread spicy mustard mayo on brioche and serve it with your choice of our house-made potato salad or fries.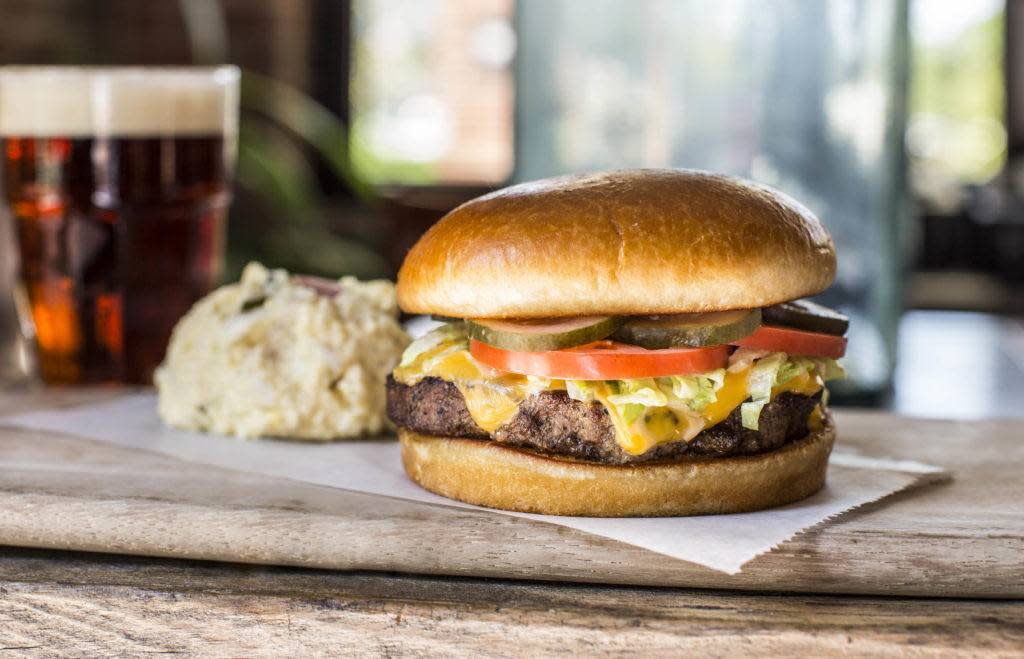 FIELDING'S WOOD GRILL
1699 Research Forest Drive
The Burgers at Fielding's have Paris roots. Culinary Director and Executive Chef Edelberto Gonçalves began his culinary career in Paris. As a co-founder and owner, Edelberto designed the kitchen, menu and burger offering for all the Fielding's of concepts. His creations and flavor combinations are unique and addicting!
Fielding's makes the dough for their hamburger buns fresh every day, create all sauces in house and even cure their own bacon. The beef is supplied by 44 Farms located in Cameron, Texas where the cows are fed high-quality grass and are never medicated or given steroids. There are eight specialty burgers to choose from, so it is hard to choose just one!
The Montecristo Burger has an Angus patty, black forest ham, alpine cheese, caramelized mushroom, dijon mustard, strawberry basil jam, red onions and french toast.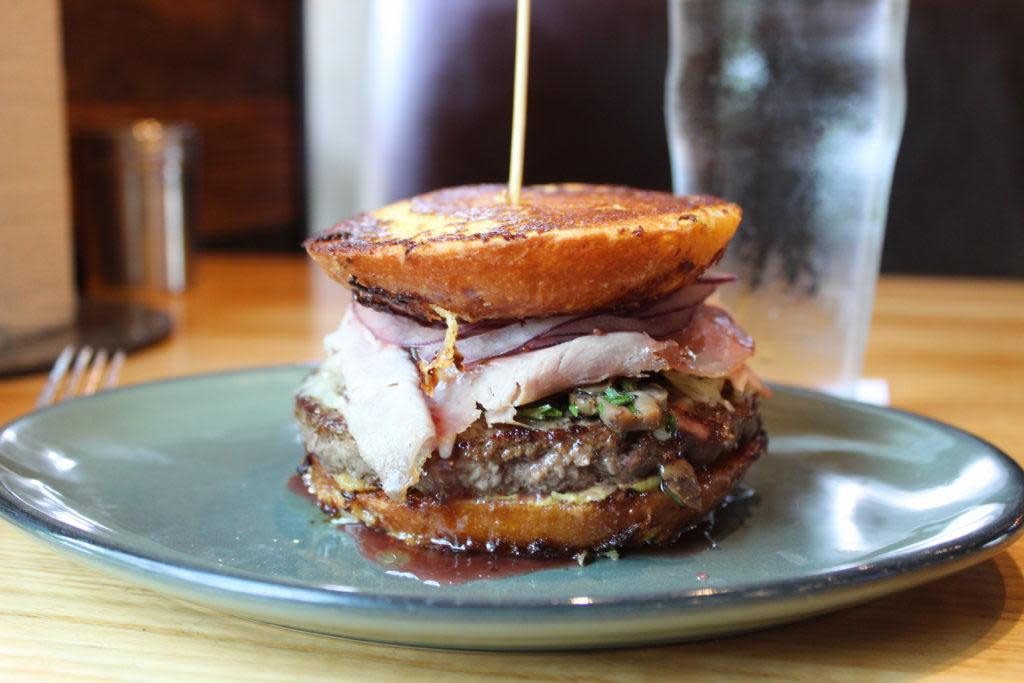 Another popular option is the Smoke Burger with Angus, grilled bacon, fried egg, aged Italian provolone, oven-dried tomatoes, grilled onions, truffle bacon mustard and lettuce on a milk bun.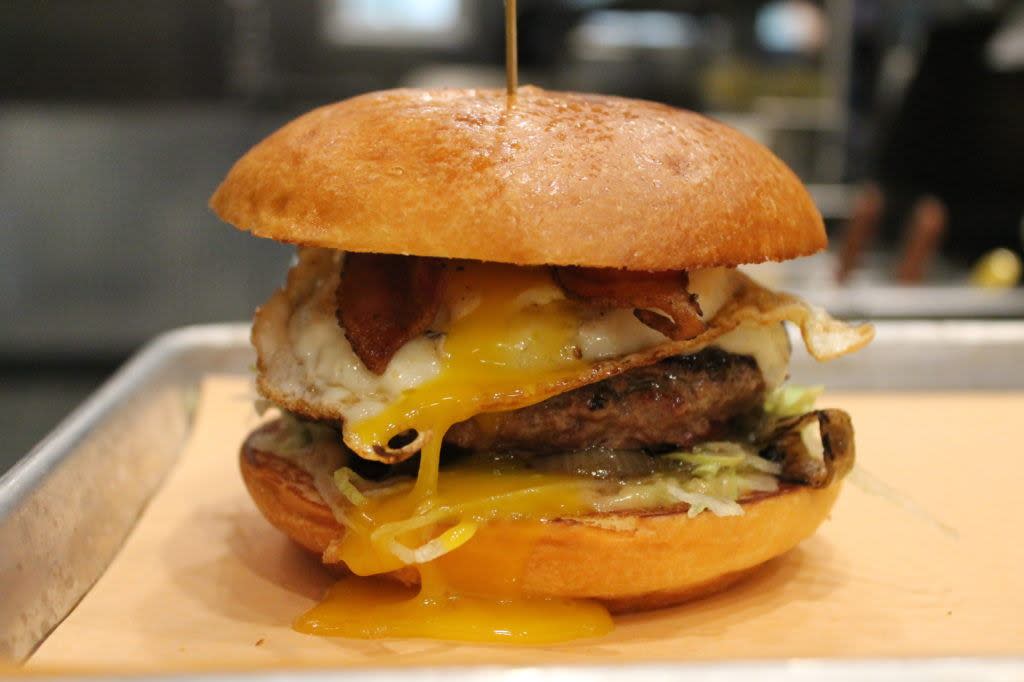 GRUB BURGER BAR
2417 Research Forest Drive
With a name like Grub Burger Bar, you've got to know the burger options are endless. The burgers at GRUB are chef-driven and made with 100 % fresh beef with buns that are baked from scratch daily. They offer something for everyone beef, wagyu, ground turkey, salmon, and chicken breast. The must-try burger from GRUB has to be the Cadillac Wagyu burger. The premium wagyu beef blend is cooked medium rare and the burger includes roasted garlic A1 aioli, marinated grilled tomato, arugula, Swiss and French fried onions on a homemade white bun.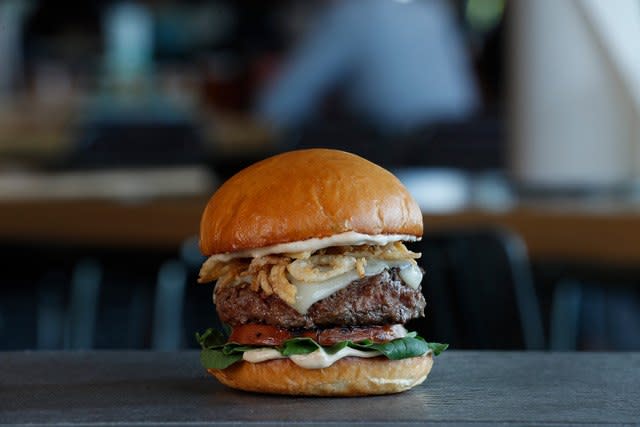 TRIS
24 Waterway Ave #125
The Cast Iron Burger at TRIS is great because it's simple. They take two certified Akaushi Wagyu beef patties and smash it to create a nice char, add layers of melted American Cheese and top it with house-made bacon jam for just the right amount of sweetness. It's served with iceberg lettuce on an English muffin. This combo helps the flavors blend together perfectly.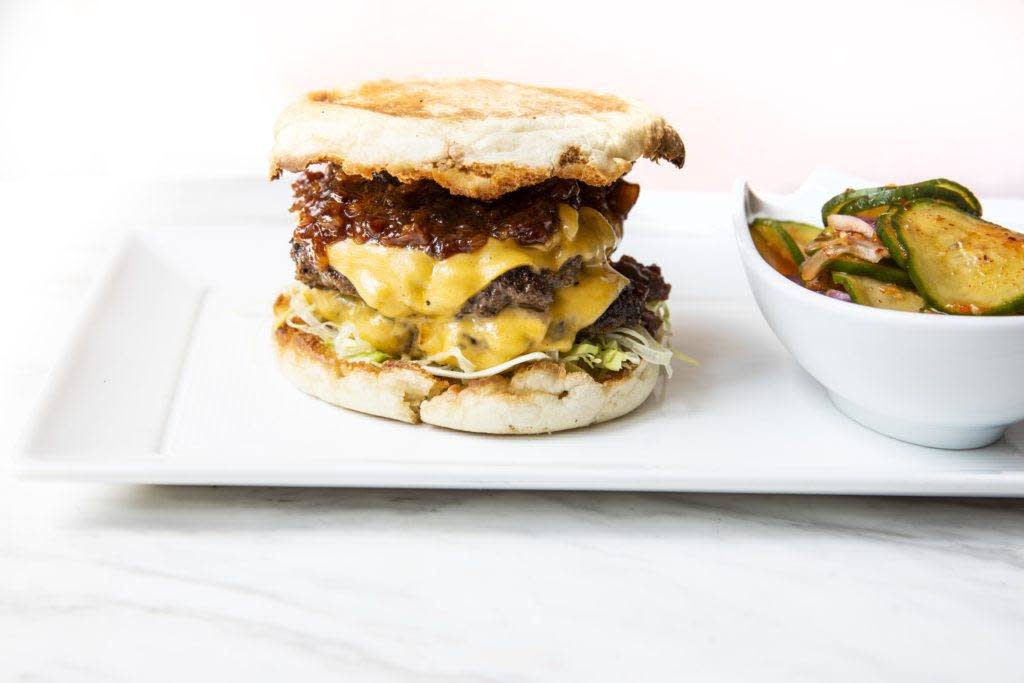 Also, consider the TRIS Texas Exotic Venison Burger. The venison is sourced from Unique Meats, a family-owned business and premier provider of exotic meats from ranches in South Texas. This field to table meat is a higher quality product which is lean and very high in protein. The Texas Exotic Venison Burger includes white cheddar, port onions, and mayo on Brioche bread.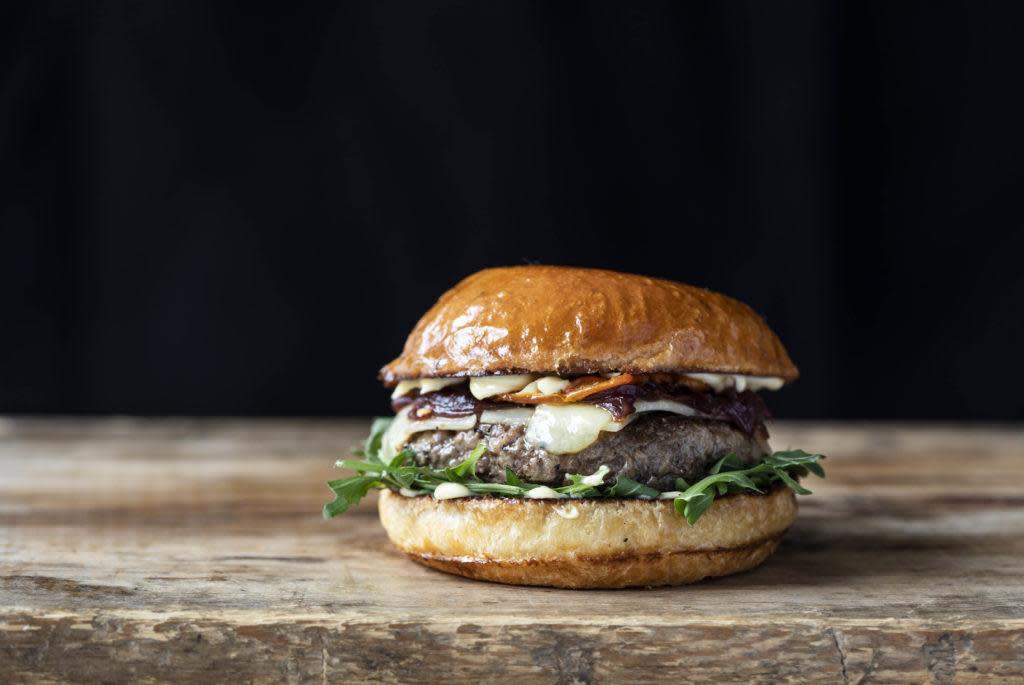 BONUS BURGER FIND:
THE KITCHEN
4526 Research Forest Drive
All of the burgers from The Kitchen are grilled over live oak wood creating a rich, smoky flavor in every bite. If you like traditional, the American Melt includes two 4 oz. 44 Farms Patties, Oak Grilled Onions, Mushrooms, American Cheese on a Pressed Potato Bun.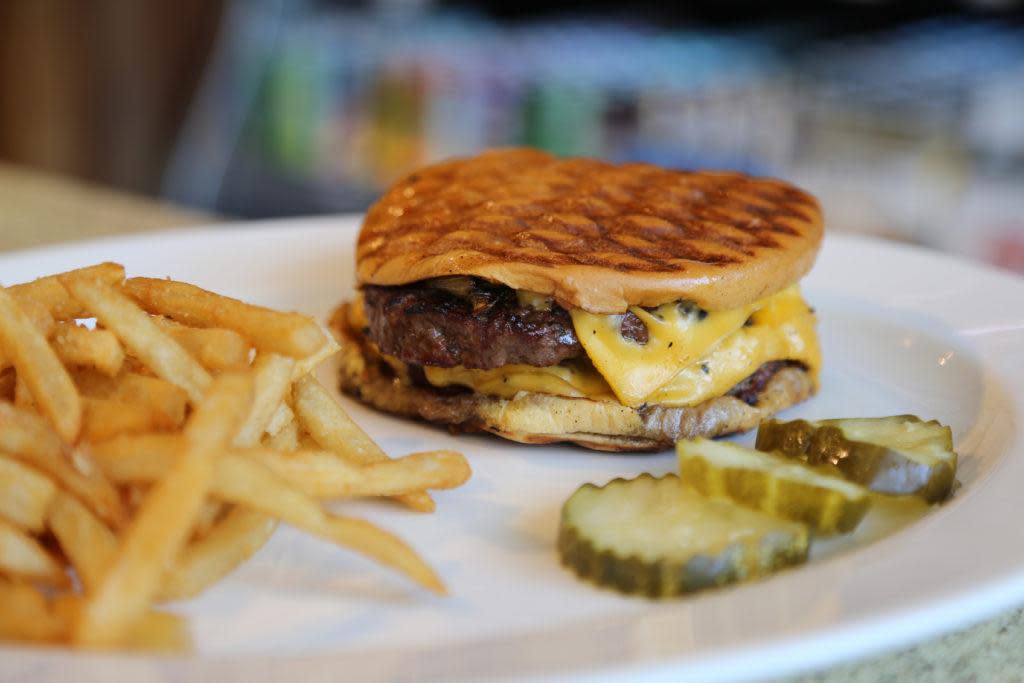 Visit our Dining section and discover all the options available to you and your tastebuds. Post your next burger outing and use #SoWoodlands for a chance to be featured on our social media channels!