One of the many reasons we love The Woodlands is the access to wildlife just about everywhere you go! Because of the many trees, parks and ponds in our area there is a great opportunity to spot unique birds and other wildlife in their element. Did you know The Woodlands is home to 3,500 acres of protected open space? Spotting wildlife can be a new family activity or a fun way to practice your photography skills.
Birds
The Woodlands is one of the best places to scout out birds in our area. Katherine Coward, President of the Pineywoods Wildlife Society (and owner of Just For The Birds store in Old Town Spring), is passionate about all things birds. She recommends starting simple when it comes to bird watching.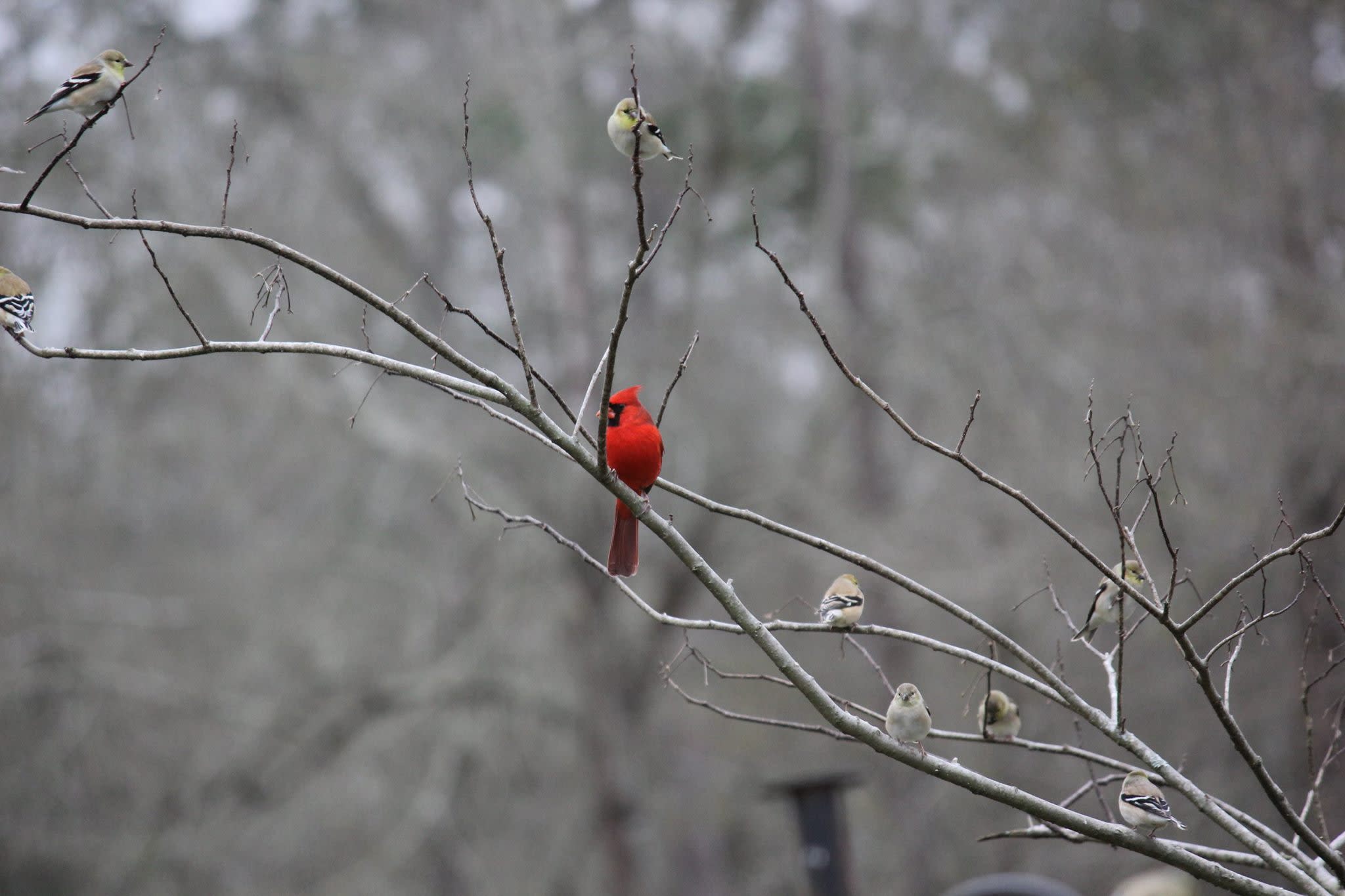 Cardinal and Gold Finches
"Get a field guide like Birds of Texas or something that has good pictures. When you see a bird take note of the color, size, their beaks, their feet and look them up in the book," she explains. "The books are typically arranged by color, so you just find the color and go from there. It's really fun to keep track of the birds you see."
Once you really get into bird watching, you can track the birds you see online at ebird.org with other bird enthusiasts. Watching birds is something everyone can appreciate and enjoy.
"People just enjoy seeing them and hearing them," said Coward. "They make beautiful songs, they eat a lot of bugs - which is wonderful. Once you get into bird watching it is like working a crossword puzzle. You see a bird and you document the bird and keep going."
The Pineywoods Wildlife Society recommends these top FIVE places for bird watching in The Woodlands:
Montgomery County Preserve

George Mitchell Nature Preserve

Lake Woodlands dam spillway (can be seen from the Lake Overlook gazebo located at Breezy Way & W Breezy Way in The Woodlands)

North Shore Park

Lakeside Park off S Alden Bridge Dr & walking down to Bear Branch Reservoir 
In general, the most common birds you will see in The Woodlands are the Cardinal, Carolina Chickadee, Goldfinches, Egrets, Doves and Blue Birds.
The Pineywoods Wildlife Society often has birding field trips where you can join along with experienced bird watchers.
The Eagles
One very popular set of birds you can often see in The Woodlands is the famous family of Bald Eagles that live off Grogans Mill Rd near Woodlands United Methodist Church. However, visiting them right now is highly discouraged because it is their annual mating cycle.
Location: 9201 Grogans Mill Rd, The Woodlands, TX 77380
Bald Eagles remain protected by the Bald and Golden Eagle Protection Act and the Migratory Bird Treaty Act. They are also, as a species, sensitive to human activity so too much disturbance to nesting eagles can have a negative impact on nest success.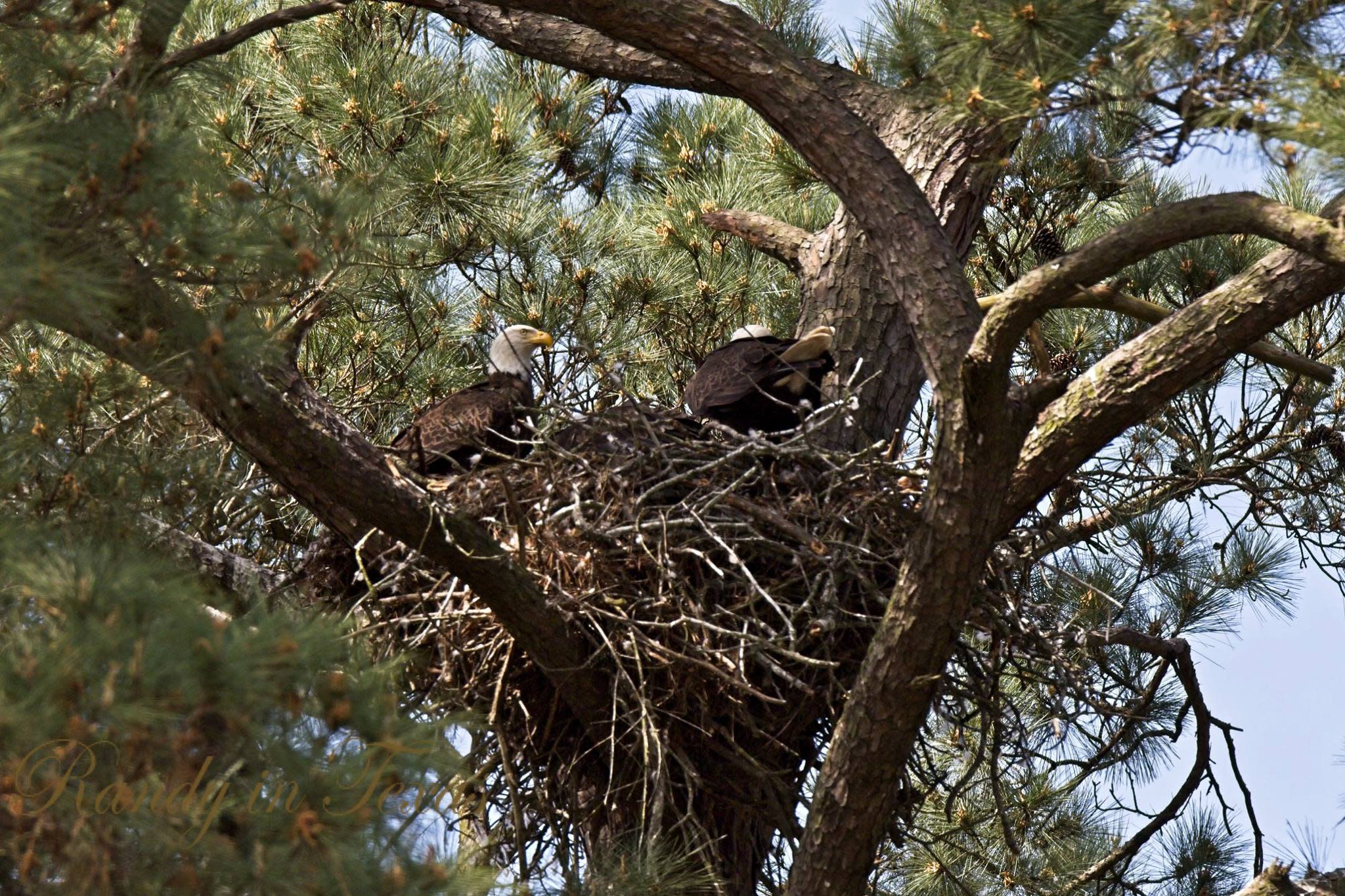 Eagles nest in The Woodlands
Randy Scott is owner and advocate of The Woodlands Eagles and Save The Woodlands Eagles Facebook website and group.
"They left for the summer and have returned to nest once more," explains Scott. "The protected property is giving them refuge once again. Photographers are asked to stay away until the eaglets are hatched. No eggs yet but they could come soon. They need privacy to mate and lay eggs."
The Woodlands Eagles are a well known pair that continue to be the root DNA of many Bald Eagles in the Southeast area. Scott encourages people to check the facebook page and website for information about when it is safe to go and view the eagles. When the time comes, here are a few etiquette rules for viewing the Eagles nest.
You should be a football field distance away from the birds to observe them (100+ yards from the base of the tree) on foot. That is the distance Texas would mark as the closest place you are allowed to be.

If a bird does not stop what he is doing as you approach, he is probably not bothered by you.

In general, if a pair knew about a human activity prior to moving in and still chose the site, they will be tolerant of that activity, and that certainly applies to road traffic.

The Eagles should remain in The Woodlands until about mid-May or June. The Eaglets will fledge from the nest in April usually.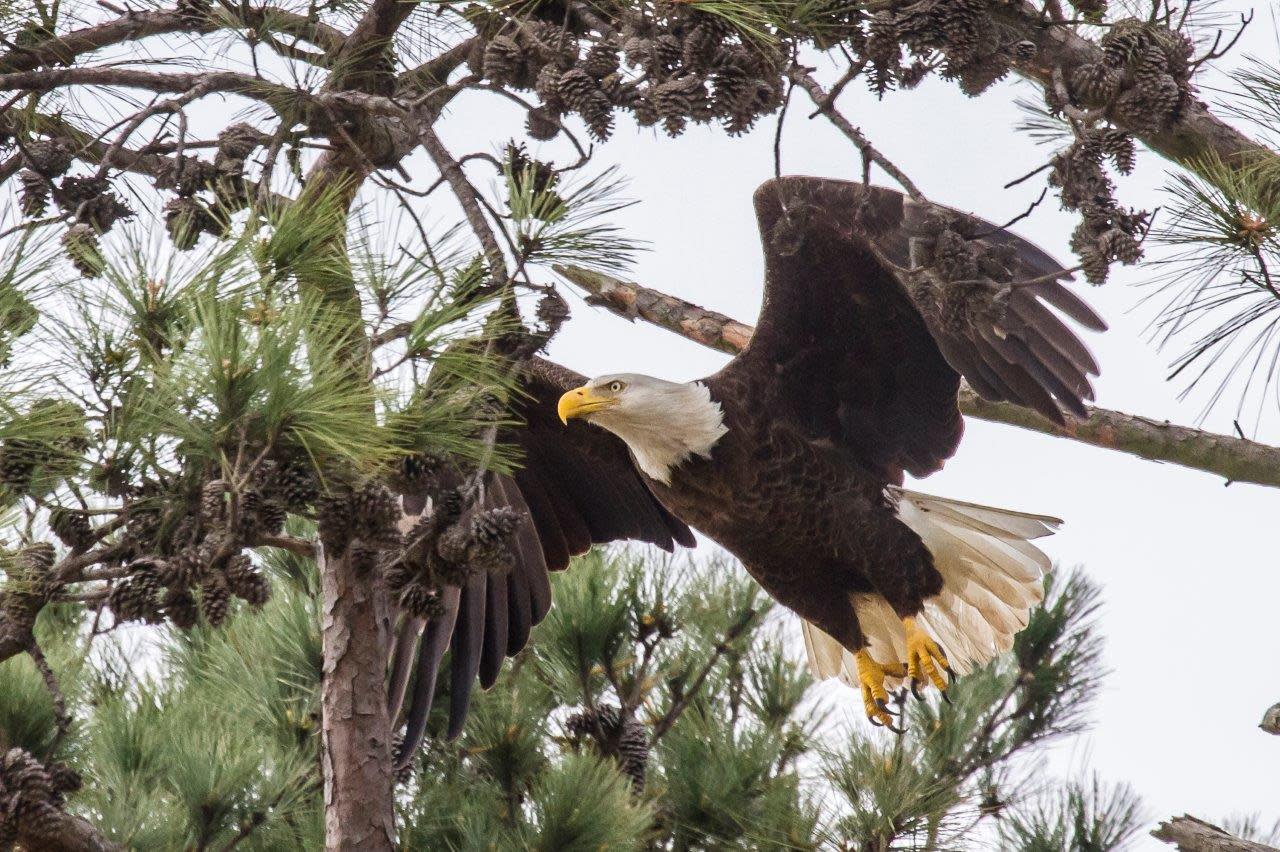 The Woodlands Eagle in flight, photo courtesy of Paul Gregg
Deer
You've probably seen deer around The Woodlands, but trying to pick a place to see them may not be so simple. It's not uncommon to see families of deer in neighborhoods and in parks. If you are up for watching the deer there are pockets of deer habitats across the area. Mainly any area where there may be creek bottoms or open space reserves. The Woodlands supports most species that were inhabitants of the forest before development.
While it is fun to spot birds and other wildlife in their element, there are rules about feeding the animals and getting in their space. The Woodlands Township Parks and Recreation Department has basic guidelines and common questions here.