Kristen Watson and Courtney Moore's love for The Candy House began long before they became co-owners of the little shop tucked behind trees on Glen Loch Drive. Watson once drove from Houston to The Woodlands on her lunch break, fueled by a craving for The Candy House's delicious cheddar cheese popcorn. Her sister, Moore, spent her high school and college days working at the store's Conroe location, which she fondly remembers as one of her favorite jobs.
Now, the two are working with their husbands and their mother to carry on the sweet legacy of The Candy Shop's former beloved owner, Don Baker. Baker ran The Candy House with care for over 30 years, doling out taffy, popcorn, and fudge (along with a variety of other sweets).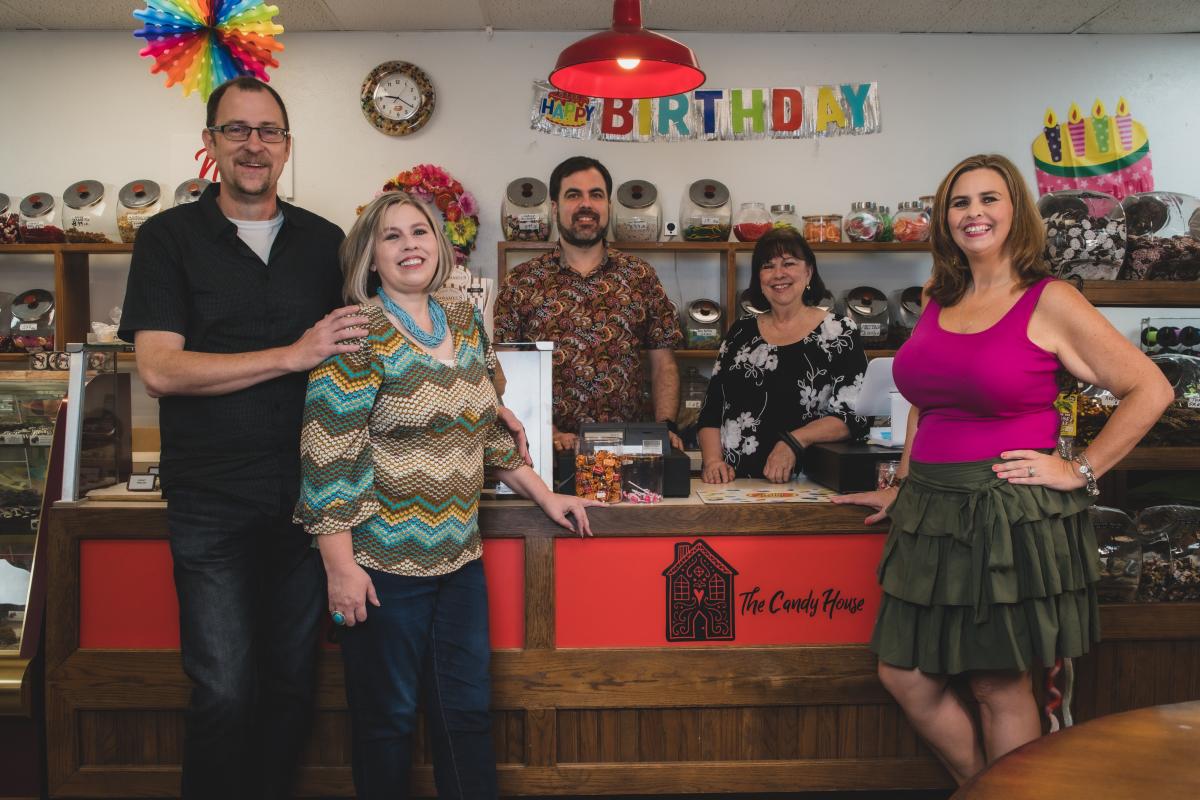 Owners Danny Moore, Courtney Moore, Reed Watson, Wanda Graham, and Kristen Watson
"I think it says something about the whole community," said Moore, co-owner of The Candy House, "that they were so willing to support a small business, they became like family to Mr. Baker."
After Mr. Baker passed away, Watson and Moore (along with their husbands, Reed Watson and Danny Moore, and their mother, Wanda Graham) wanted The Candy House to continue making an impact on the community. They didn't want their beloved mom and pop candy shop to close. So, when they heard that the Baker's were contemplating selling their business, they had several family discussions that led to one answer: Let's buy it.  
On September 1, 2021, The Candy House opened with new ownership. Baker's daughters showed Watson and Moore how to make fudge and flavored popcorn (both done in-house), and the two sisters suddenly found themselves spending Friday nights eating pizza at The Candy House with their families, making fudge and popcorn while brainstorming business ideas. They didn't change the recipes; they didn't change how the store looked – They carried the torch to continue what Don Baker had begun years before.
"We could have opened a candy store," said Moore. "We talked about it at one point, but the fact is that [The Candy House] means a lot to the people around here. People have come here since they were little, and now they bring their kids. They're all so glad it stayed open."
The Candy House's Glen Loch location initially opened in 1999, and since then, hundreds of people have stepped inside and smiled at the scent of popcorn and candy. Generations of children have stopped by while walking home from Glen Loch Elementary, carefully counting out their allowance money to determine which sweet treat they can afford. And now, thanks to Watson, Moore, and their families, future generations will be able to do the same. 
"Even though we're not Mr. Baker – we'll never going to fill those shoes – everybody has been so welcoming," said Watson. "Everybody has been so supportive and ready to make new memories with a new family. We're having a lot of fun."