Local art collector and long-time resident of The Woodlands, Julie Verville, is bringing art and community together at Ardest Gallery. The newly reopened gallery in Grogan's Park will showcase talented Texas artists (many from The Woodlands) and engage art enthusiasts with monthly events and workshops.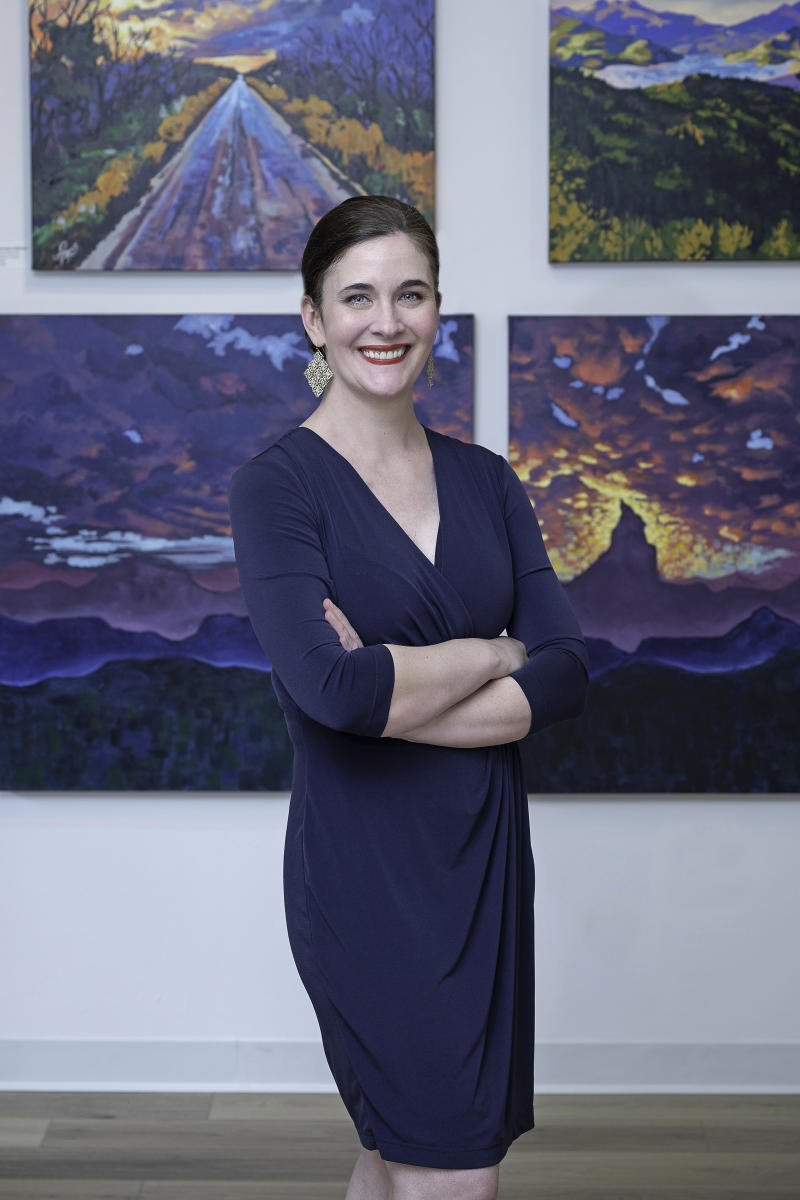 Julie Verville, Owner and Gallery Director at Ardest Gallery
HOW LONG HAVE YOU LIVED IN THE WOODLANDS? 
I've lived here since 1992, off and on. I went to high school at McCullough when it was a high school! We moved back here when we had our third child; we now have four children. We love the nature, the public art installations, The Waterway, the restaurants. It seems like a very cohesive community for families, and as a lover of the arts, we really enjoy that art is a big part of the community here.
WHAT INSPIRED YOU TO OPEN ARDEST GALLERY? 
My daughter. She started producing art when she was eight, during COVID, to cope with the stress...and her abstract watercolors were very impressive. With my marketing background, I helped her get into some galleries and start showing her work, and from there I had an opportunity to open a small gallery space outside of Magnolia in July 2022. After almost a year, the demand for places to show art and my expertise in marketing and sales pushed me into this larger space.
WHAT ART CAN PEOPLE EXPECT TO SEE AT THE GALLERY?
We offer a full range, from contemporary to traditional landscapes and realism. We really want to cover as many bases as possible for art lovers. We specialize in emerging to mid-level career artists, and showcase Texas artists only, mostly local. We also offer art consulting, where we help people find art for their homes.
WHAT EVENTS DO YOU HAVE PLANNED? 
We'll have at least 15 to 20 events a month: various classes and workshops, art shows, poetry readings, artist coffee talks with the local coffee shop next door, Third Gen Coffee. We're launching an "Art and Lunch" program with Amerigo's Grille, where every month, an exclusive group gets to preview the upcoming show at the gallery and then go to lunch at Amerigo's and enjoy a prefixed menu.

Thanks to a grant from The Woodlands Arts Council and our partnership with Village Books, we are also able to offer an Art and Lit program for kids. In August, we're working with artists to illustrate coloring sheets for National Coloring Book Day that kids can pick up and color. We're trying to do as many outreach programs as possible to bring the community in.
WHAT KIND OF ART WORKSHOPS WILL YOU HAVE? 
We'll have more advanced classes in particular areas, designed for teens and adults. They will be unique classes that you wouldn't find currently in The Woodlands: an encaustic wax class, a drawing from realism class which will be taught by a former HBU art professor, introduction to gauche painting, ceramic classes, paper mâché mask workshops, and more.
WHY IS IT IMPORTANT FOR THE COMMUNITY TO SUPPORT LOCAL ARTISTS? 
We have an enormous talent pool of artists in this area, in all disciplines, and this is how they make their living. You can purchase a painting from a local artist, oftentimes for less than you can from a big box retailer – and when you do, you support someone that you can meet in person and talk to directly, rather than buying art off a shelf.
HOW LONG HAVE YOU BEEN COLLECTING ART? 
I've personally been an art collector for 20 years...We probably have 80+ pieces of art in our home. My kids have grown up around art, and they even collect their own art pieces. It's a big part of our life. If you walk into my home, I could tell you a story about every single artist on the wall, and I probably have a picture of meeting that person or of them delivering their art to my house. That's what makes our home, home - all of the stories.
WHY DO YOU ENJOY THIS WORK? 
I've been an art collector for almost 20 years, and I still remember buying my first piece. That's one of the main reasons I collect art personally. It's for the stories of the artist who created it, where I found it, and when I found it. I like to be able to tell those stories to people who come into our home. Ardest Gallery is a way for me bring that same level of joy to people's homes in The Woodlands and around Houston.
Discover Art in The Woodlands