The Texas Association of Convention & Visitor Bureaus (TACVB) has announced that Amber George of Visit The Woodlands is a recipient of the Texas Destination Marketer certification, which rewards excellence in the convention & visitor bureau industry.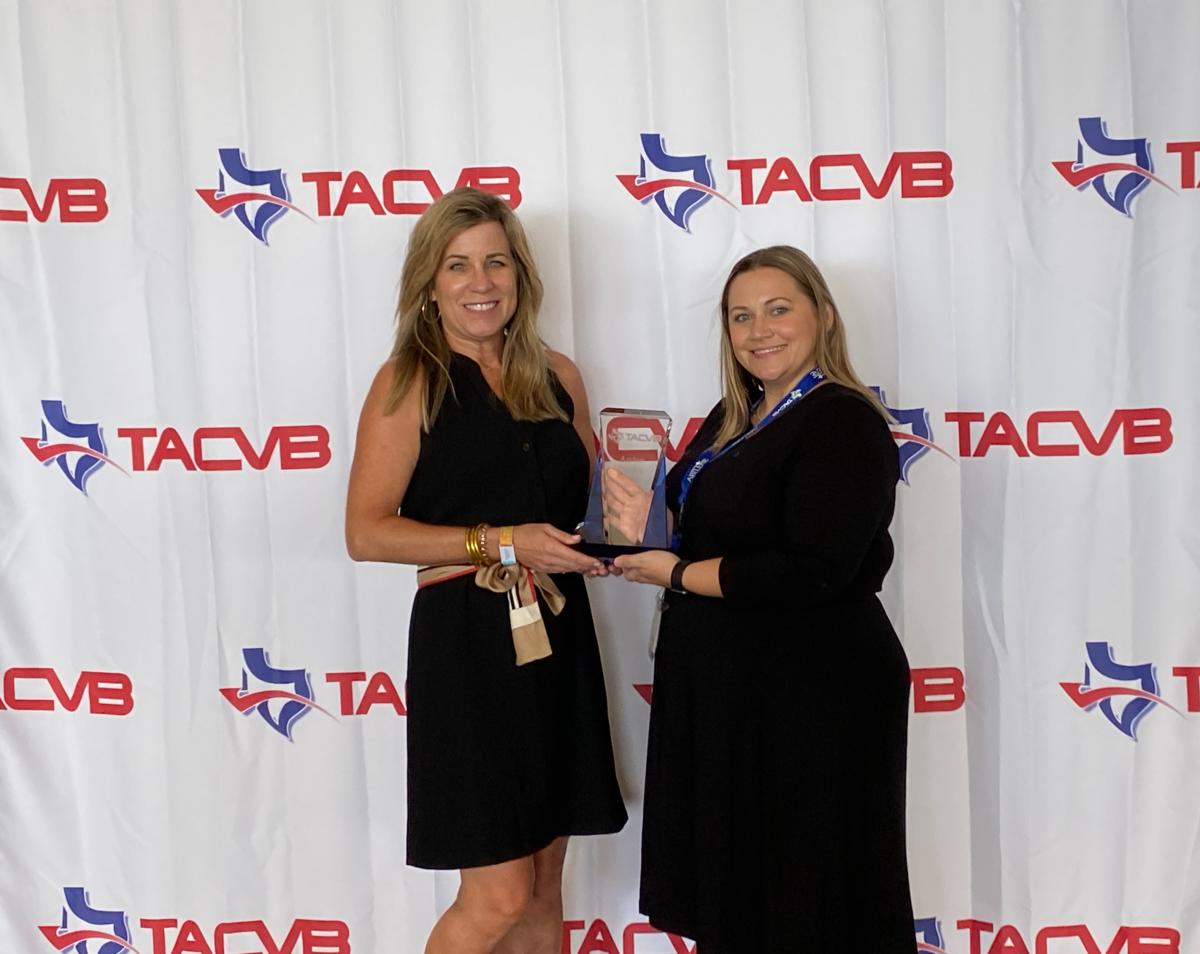 Executive Director of TACVB, Kathleen Frankford with Visit The Woodlands Communications Coordinator, Amber George as she receives her TDM.
The TDM program is administered by the Texas Association of Convention & Visitors Bureaus and serves as an educational framework for marketing Texas as a destination for both tourism and group business. The program provides a structure for continuing professional development and is offered to tourism and hospitality professionals. With education and training in 12 disciplines (listed below) the program has an emphasis on best practices in the tourism and hospitality industry. Upon completion of the program, a professional TDM designation is awarded.
"We're incredibly proud of Amber for receiving her TDM certification," says Ashley White, Director of Marketing for Visit The Woodlands. "Amber was new to the tourism industry when she came to work for Visit The Woodlands, but quickly found herself at home. She is a valuable member of our team and this recognition is highly deserved. She continues to show her passion for The Woodlands with her dedication, hard work and creative ideas."
THE TDM PROGRAM INCLUDES 12 AREAS OF KNOWLEDGE: 
Texas Heritage/Cultural Tourism
Group Servicing
Administrative Finance
Marketing, Technology
Tourism Sales
Sports Sales
Policy & Advocacy
Facilities & Operations
Communications
Visitor Services
Group Sales
Once an area of knowledge is achieved with 27 credits completed, the professional will receive a certificate of completion. To achieve TDM designation, program participants must complete six of the twelve areas of knowledge. The program is administered by the staff and Board of Directors of TACVB, with assistance from an advisory committee that oversee the development of the program and the progress of participants.
The Texas Destination Marketer certifications were presented at the TACVB Annual Conference in Conroe, Texas on August 26, 2021.
For more information about the program or award recipients, please contact Kathleen Frankford or visit the organization's website at www.tacvb.org.