The Houston Chronicle has ranked TRIS, a local restaurant near Waterway Square in The Woodlands, as #10 on the Top 100 Restaurants of 2022 list. This is the first Top Restaurant list since 2019. Written by restaurant critic Alison Cook, food editor Greg Morago, restaurant columnist Bao Ong and barbecue columnist J.C. Reid, the list also has contributions from Mai Pham and food and travel content editor Jody Schmal.
Out of the 100 top restaurants on the list, many of which are located in downtown Houston, TRIS was ranked #10. It was the only restaurant in The Woodlands featured in the Houston Chronicle list. The writers complimented the world-class cocktails and cuisine, tipping their hat to the "kaleidoscopic flavors and textures combined with one of the area's best wine lists and craft cocktail menus" found at TRIS.  
"Finding world-class cuisine in Houston's outer suburbs has always been elusive. But you'll find it at chef Austin Simmons' paean to contemporary French, American and Asian cuisines…Start with the brown butter Old Fashioned, adding a nutty component to the traditionally sweet and bitter bar favorite. Brown butter also appears in the signature starter of Korean butter-poached crab with a slightly sour kimchi sauce, all piled on a crispy kimchi pancake. Salmon is often an afterthought on restaurant menus, but not here: a not-too-sweet tom kha gai coconut sauce sets off the marbled slab of fish.

What to order: Lobster toast with yuzu aioli and smoked trout roe; Wagyu tostada with fermented cabbage; Korean butter-poached crab on kimchi pancake; salmon with Thai sauce; Gulf red snapper with lump crab; crab and truffle ravioli."
Being ranked one of the Top 10 restaurants in Houston speaks to the dedication and talent of Executive Chef Austin Simmons, Executive Sous Chef Courtney LaCarter, and the TRIS team. TRIS is open Tuesday through Thursday from 4 PM to 9 PM, and Friday through Saturday from 4 PM to 10 PM. Guests can experience TRIS's sophisticated cocktails and light bites for a great price during the restaurant's Happy Hour, 4 PM – 6:30 PM daily. For the full list of the Houston Chronicle's Top 100 Restaurants, click here.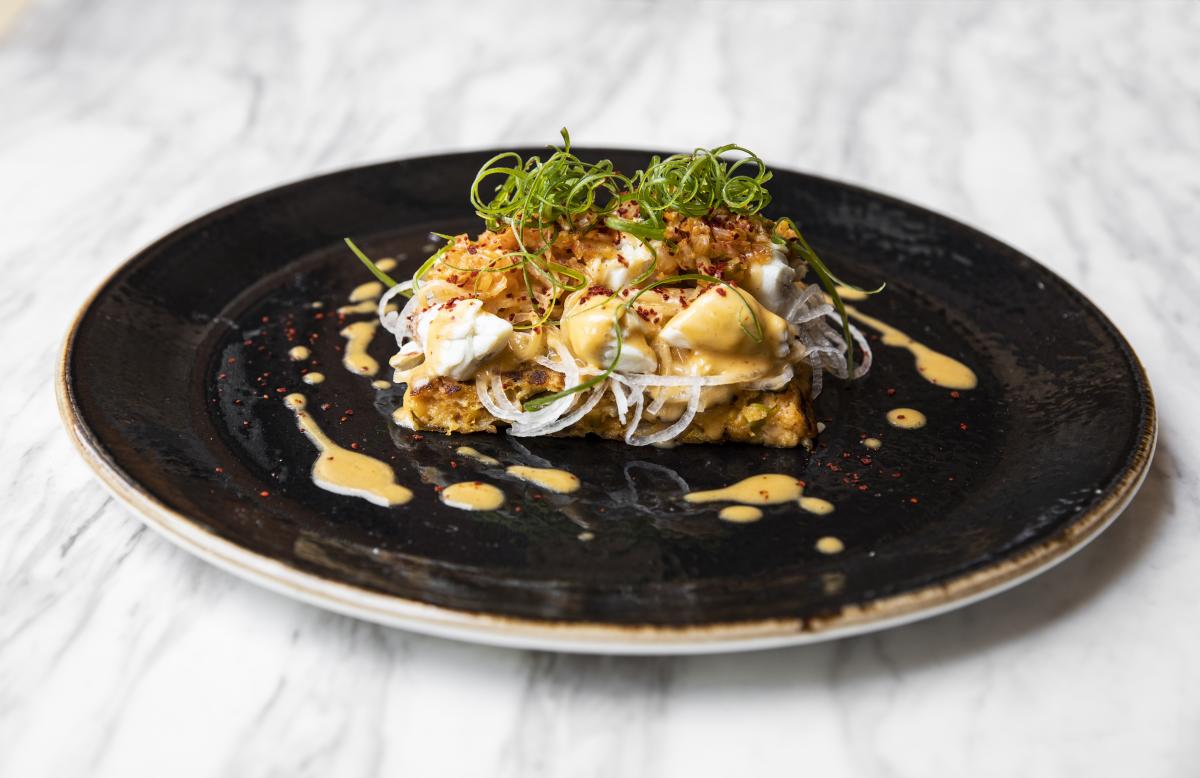 Kimchi Crab at TRIS