The beloved week-long Wine & Food Week returns June 5- 11 with Wine + Food = Art to celebrate the creativity and passion found in the heart of the wine and food industry.  Featuring hundreds of wines, scores of celebrity guests, and a list of fresh culinary faces, get ready to raise a glass to an epicurean masterpiece which for 19 years remains one of the best wine and food events in the region. For wine and food lovers, this is the not to be missed event.
WINE AND FOOD WEEK 2023
Fan favorites are back including Wine Around the World Wednesday; Rose' Way, A Sweet Soiree at The Peach Orchard Venue; Ladies of the Vine Tasting, Luncheon, & Panel Discussion, at The Club at Carlton Woods, and Sips, Suds & Savor.  The week culminates with the grand dame—the elaborate Wine Rendezvous Grand Tasting & Chef Showcase at The Woodlands Waterway Marriott Ballroom where acclaimed chefs compete for the coveted Chef of Chefs Award presented by Goya Foods and a $5,000 cash prize. If you're looking for that extra touch of VIP, be sure to get tickets early to the Bayway Cadillac VIP Luxury Lounge with ultra-premium wines, space is limited. Wine & Food Week is truly foodie heaven all the while supporting charitable organizations such as The Woodlands Arts Council, and New Danville, just to name a few. 

WINE + FOOD = ART
Paying homage to this year's theme, Wine + Food = Art, guests can expect to indulge all their senses including a range of experiential art installations, meet and greet with award-winning and emerging artists, and much more. 
"Good wine, good friends, long life really sums up this event for our whole team," said Wine & Food Week Co-Founder Constance McDerby as the Food & Vine Productions team closes in on its 20th anniversary in 2024 of launching this regionally prominent wine and food event. "We are also big believers that art, like wine and food, feeds our souls so we are paying tribute to that idea with this year's theme, as well as highlighting The Woodlands Waterway Arts Festival, which is an event beneficiary.  Chefs and winemakers alike treat their craft much like an artist does making sure each dish or wine is a true work of art," added McDerby.

GET YOUR TICKETS NOW
Wine & Food Week guests will rub elbows and mingle with tastemakers who have made their mark on the culinary and wine industry in remarkable ways. Don't delay. Get tickets today for this culinary extravaganza—the 19th Anniversary celebration of Wine & Food Week. Click here for event information and tickets.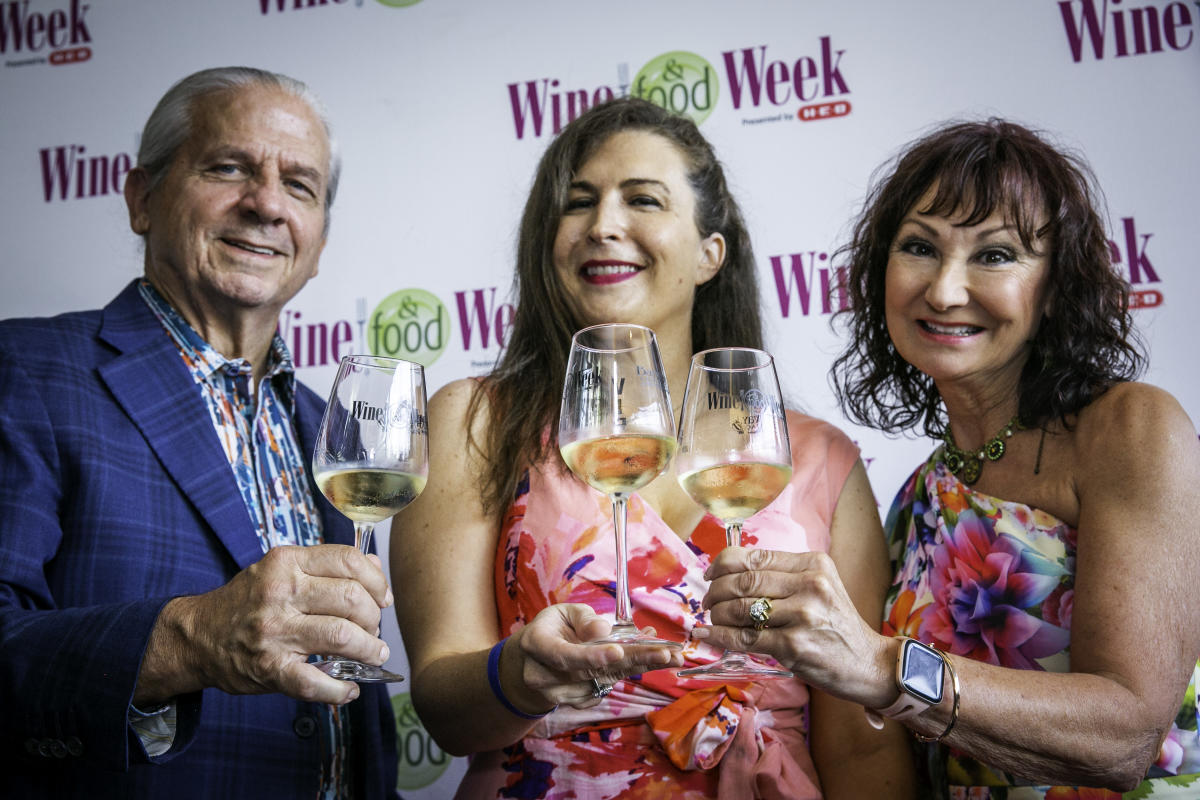 THANK YOU TO OUR SPONSORS
Wine & Food Week is presented by H-E-B. Sponsored by: Bayway Cadillac of The Woodlands, Aruba Tourism, Goya Foods, Wines from Europe Shares (Bulgaria), Visit The Woodlands, Constellation Brands, Freixenet-Mionetto USA, The Woodlands Hotel Group of Westin Waterway, The Woodlands Resort & Conference Center and Embassy Suites Hughes Landing, Palm Bay International, The Wine Group, Trinchero Family Estates, Winebow Fine Wine + Spirits, Republic National Distributing Company, Volante Integrated Planning Northwestern Mutual, Alexander Valley Vineyards, Hope Family Wines, Michael David Winery, Riboli Family Wines, Miller Family Wines, Wine From Lebanon, SpeedPro The Woodlands, The Woodlands Waterway Marriott Hotel, Market Street, The Peach Orchard Venue, The Key, The Brightpoint, The Woodlands Country Club, The Butler House, Women Driving Business, Houston Magazine, Hello Woodlands, Woodlands Online, Infiniti Graphics, Genesis Photography, Kelley Sweet Photography, and Steven David Photography.