In April 2021, Greg Brenneman and Bill Floyd sat down for dinner at Floyd's new restaurant in the Houston Heights. They were longtime friends who had worked together on an innovative concept several years before, when Brenneman was helping spearhead a legendary company turnaround as President and COO of Continental Airlines.
Brenneman and Floyd, along with several others, created a special dining menu for Continental's International First-Class passengers flying out of Houston as part of the "Continental Congress of Chefs" program. As they grew in their careers – Floyd moving on to open over 30 Houston restaurants, and Brenneman serving as CEO of Burger King and CCMP Capital – they remained close friends.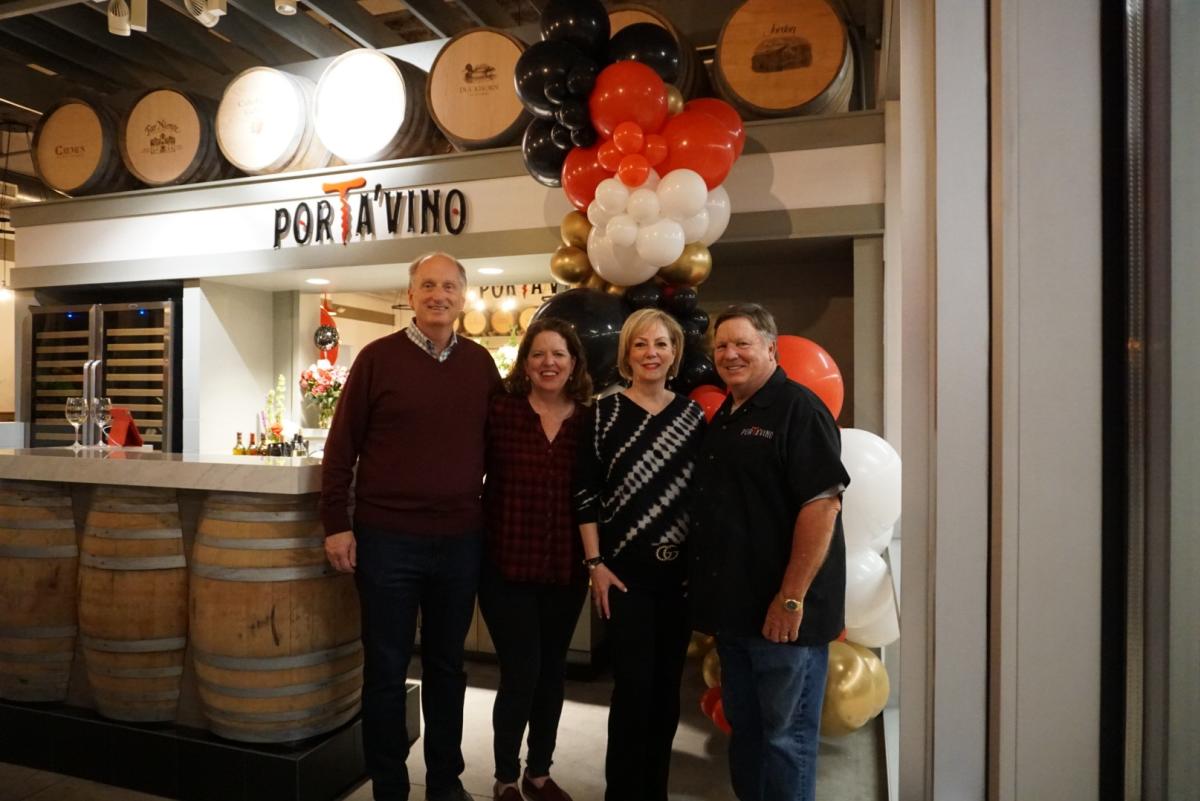 Greg Brenneman, Ronda Brenneman, Charlene Floyd, and Bill Floyd
While sitting together at dinner in the Heights, enjoying wine and Italian food, Floyd shared details about his new restaurant concept: Porta'Vino (Italian for "Bring Wine"). Despite hurdles caused by the pandemic, the restaurant's first year had been a huge success. Floyd was thinking about expanding, but he needed a partner who knew how to scale a business.
"I told him, 'Bill, you don't know if you can do more of these, unless you do a second one," Brenneman explained. "I offered to open a second one in The Woodlands, and so, we put together a partnership." Nearly a year later, the second Porta'Vino opened in the East Shore neighborhood in The Woodlands on March 1, 2022.
Porta'Vino is part restaurant, part wine store, featuring amazing deals on bottles of wine and delicious Italian dishes. Floyd worked with renowned Houston chef, Danny Trace, to develop a casual Italian menu including salads, pizzas, pastas and more – all under $30.
Bottles of wine are also sold at prices incredibly competitive with discount wine retailers. Porta'Vino sells Liters of Caymus for $85, and a majority of the wines on their menu fall within the $40 to $60 price range. Many cost less than they would at stores like Spec's, Total Wine, and H-E-B. Brenneman's favorite white wine on the menu is a unique wine that's often hard to find: a Viognier from the Darioush Vineyard in Napa.
Customers have the option to enjoy a bottle of wine with dinner, buy a bottle or case to take home, or bring a bottle of their own for a small corkage fee, which begins at $12 for the first bottle and declines by $1 for each subsequent bottle. The restaurant also hosts a Winemaker Series dinner each month, complete with a five-course meal and one-on-one time with the featured winemaker. According to Brenneman, these dinners have become so popular that they usually sell out within a couple of days.
Even on nights when Porta'Vino isn't hosting a Winemaker Series dinner, the restaurant is bustling with activity. Reservations are highly suggested, especially on weekends, when the large dining space and covered patio (equipped with fans and heaters) fill up quickly.
"We say that there's three P's that we need to get right to succeed," said Brenneman. "One is parking – We have an incredible parking garage. The other is patio, which is key. The final thing is price, with the wine and menu prices. It's terrific value for what you get."
Brenneman has built an excellent team, including Director of Operations Steve Breaker, Manager Sherlie Morel, and Kitchen Manager Joel Rivero. They are working to document all of the policies and procedures at Porta'Vino, like the "three P's", recipes, and server training. The goal is to have a comprehensive manual for operations.
As Porta'Vino is a family business, the team includes Brenneman's son, Andrew, who serves as the Wine Director. He is able to procure wine for special events and takes special requests. Ronda, Brenneman's wife, even contributed the cookie recipe! Caroline Ragsdale is the Director of Private Dining. The restaurant includes very nice private dining rooms and can host business meals, celebrations and private lunches.
There's a reason why they opened the second Porta'Vino in The Woodlands: it's been home to Brenneman since 1994. He was close friends with George Mitchell and watched the area develop. Even after moving away to serve as the CEO of Burger King, Brenneman moved back because he and his family loved living in The Woodlands. Plus, he says, it's a phenomenal place to run a business.
"Whether it's getting permitting done, or cooperation between the fire inspection and health inspection, it all works perfectly," said Brenneman. "The Woodlands is a fantastic place to operate. I have been all over the U.S. and the world. The Woodlands the best place to build a business…and that's not even an exaggeration."
The Porta'Vino team has had a great first six months and looks forward to the years to come.
"We love being part of and serving the community in The Woodlands!"