When Fred Domenick joined The Woodlands Waterway Marriott team 16 years ago, The Waterway was in its beginning stages. Domenick has watched the area grow into a must-visit destination, and he continues to elevate visitors' experiences daily with top-notch customer service and quality at The Woodlands Waterway Marriott Hotel and Convention Center.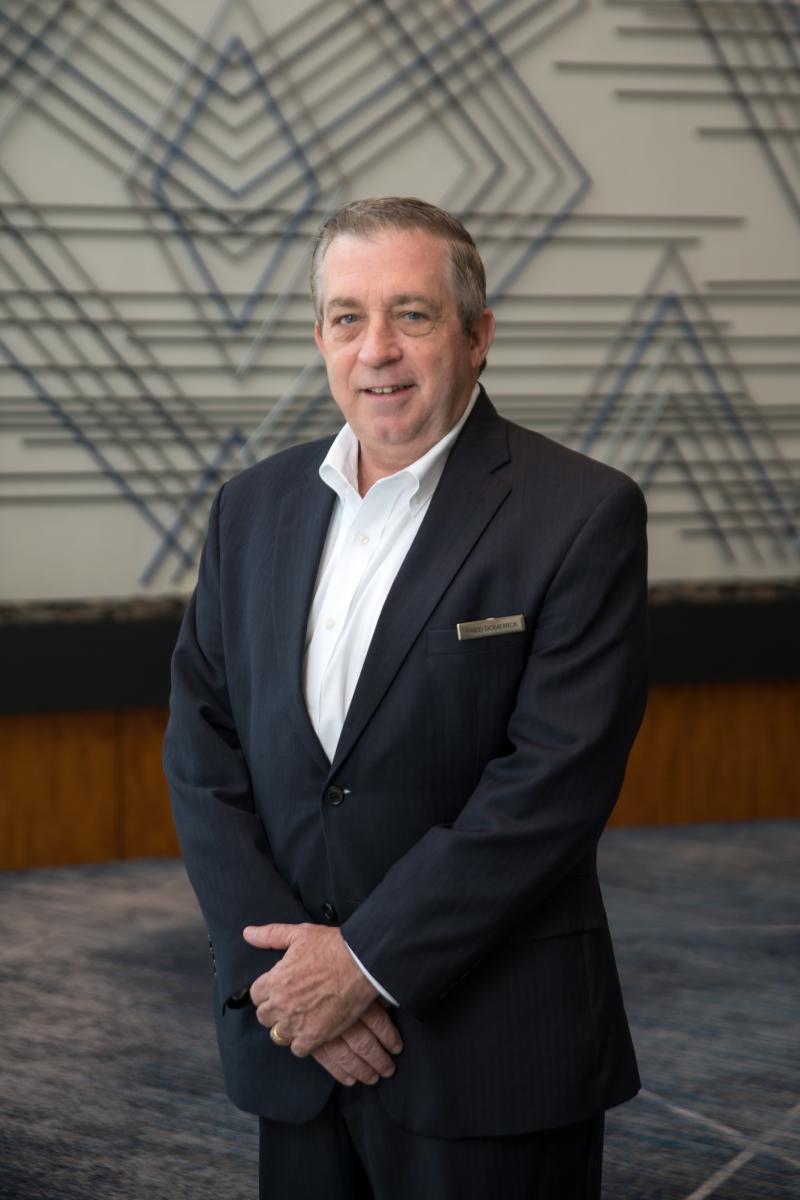 Fred Domenick III, General Manager of The Woodlands Waterway Marriott Hotel & Convention Center
WHAT'S YOUR AVERAGE DAY LIKE?
It's never the same. Most of my days, I walk the entire property when I arrive. I'll check in with every department and say hello to every employee. We have a standup meeting at 9 a.m. where we talk to the entire team about what's going on in the hotel that day.
Around lunchtime, I'm typically on the floor in catering or the outlets, making sure things are going smoothly during food service. In the afternoon, you'll find me in the lobby, greeting customers, helping the bell stand, pointing people in the right direction, and answering questions. [The Marriott's] senior leaders cover the lobby from 3-6 p.m. daily.
WHAT'S YOUR FAVORITE THING ABOUT THE WOODLANDS WATERWAY MARRIOTT?
The convention center makes us very different than most Marriott hotels. We have the ability to go from a convention to a very large fundraiser, to a very large exhibit over the course of three days. The perfect storm is a full convention center, a full hotel of guests, and a big-name concert across the street at The Cynthia Woods Mitchell Pavilion. When those stars line up together, it's never boring.
DO YOU DO ANYTHING SPECIAL FOR CONCERT NIGHTS?
We're in the pizza business after concerts. We pre-make pizzas during the concert by batch firing them in banquet-style ovens, and we'll sell up to 150 pizzas within 30 minutes after a show. We've become known for pizzas that are hot and ready to go. We also program our bar with music to match who's performing at The Pavilion. If it's a Chesney night, every third song, we'll play Chesney.
HOW MANY CONVENTIONS, GALAS, AND TRADE SHOWS DO YOU HOST A YEAR?
We probably do 50 to 75 large-scale fundraising and social events per year. We're back to 2019 levels. During April and May, we normally have the Insperity Invitational golf tournament, and next year will be The Chevron Championship and IRONMAN. We usually plug in upwards of 15 proms in between those on those weekends. It's not unusual to find three to four proms here on any given night during that season. A lot of those prom kids end up having their wedding receptions or their wedding room blocks here years after that.
WHAT ARE YOUR TOP TIPS FOR MEETING PLANNERS?
Do your research and use Visit The Woodlands as a resource, because it's an excellent resource. The sales and servicing of our conventions is personalized compared to a lot of Convention Bureaus. You'll get that personalized service at all touchpoints. If you're planning a meeting, [The Waterway] is a one-stop shop, because it's walkable and it's a very safe and secure environment.
WE HEARD YOU'RE RENOVATING THE ROOMS?
We've completely renovated all 345 guest rooms. The big work was the tub-to-shower conversions in the bathrooms – We literally gutted the bathrooms down to the studs and redid them completely. Everything is brand new, including the walk-in shower. We also took the opportunity to change out the televisions in the rooms to 55-inch televisions, and to convert all our double-double rooms to king-queen rooms. Every room has a king bed in it now. The convention center was completely renovated in 2019, so it's like we have a brand-new hotel.
WHAT'S SOMETHING MOST PEOPLE DON'T KNOW ABOUT THE WOODLANDS WATERWAY MARRIOTT?
A lot of people don't realize that we run about a 70 percent occupancy annually here. We turn the building many, many different times. We're typically sold out three or four nights every single week except for a couple of months of the year.  
We also frequently host dinners for upwards of 2,000 people. I get that question a lot: 'How do you make 2,000 great plates?'. It's equipment and people; it's that simple. We have two belts in the kitchen that we can speed up, slow down, or stop. Nights like those are all hands-on deck. We gather teams with chef coats and chef hats. There's great camaraderie on the plate-up belt.
Even though culinary is our largest department with 40 people, they're cooking and preparing the food, so we need another 20 people to plate the food. It gives people from other departments great opportunities to intermingle with the culinary team and to see how it's done. We also do all our own pastry in-house, and we do specialized desserts all the time that match the theme of social events.
WHAT'S YOUR BEST BUSINESS ADVICE?
The product must be first class, and then the people have to deliver the service. You have to have well-trained, seasoned professionals that deliver the service. When you have that business formula working, you can charge more than all your competitors and get it. The people understand that your product and service are different from your competitors, and that's what they're paying for. That's why they're coming.
BON VOY MEMBER APPRECIATION SCORES: WATERWAY MARRIOTT
Bon Voy Member Appreciation Scores are key metrics that determine rankings for every Bon Voy Marriott hotel, including The Woodlands Waterway Marriott. There are several categories, including lead appreciation (excelling at customer service, especially for Bon Voy Marriott members), intent to recommend (how likely the visitor is to recommend the hotel), staff service (the visitor's experience with hotel staff), cleanliness, maintenance and upkeep, and food and beverage.
Out of 334 Bon Voy Marriott hotels, The Woodlands Waterway is ranked in the Top 20 for four out of six categories. 
Staff Service Score: 13
Elite Appreciation Score: 18
Intent to Recommend Score: 12
Food and Beverage: 11
Cleanliness: 17
Maintenance and Upkeep: 24