The Woodlands is a place designed for great experiences, from beautiful nature to top-tier amenities. Visit The Woodlands promotes The Woodlands as a premier destination for first-class business, convention, and leisure travel to drive demand for both hotel and retail tax collections. Combined, hotel and retail tax collections makes up almost 60% of The Woodlands Township budget.
Read on to learn how Visit The Woodlands has made an impact since its inception in 2006.
VISIT THE WOODLANDS TIMELINE
2006: The Woodlands Township Improvement District creates The Woodlands Convention and Visitors Bureau (CVB), funded by retail sales tax collections
2015: The Woodlands CVB is no longer funded by retail sales tax, instead it's funded by hotel occupancy tax
2016: The Woodlands CVB ends event production to focus on sales and marketing as a Destination Management Organization (DMO), transferring events to The Woodlands Township Parks and Recreation
2017: The Woodlands Convention and Visitors Bureau becomes publicly known as Visit The Woodlands; hires Executive Director and Marketing Director
2022: Visit The Woodlands conducts a 5-day photo and video shoot for leisure and sales advertising assets
2023: Visit The Woodlands returns to full funding for the first time since the COVID-19 pandemic and looks forward to the future with a full staff of 9 tourism professionals Meet the team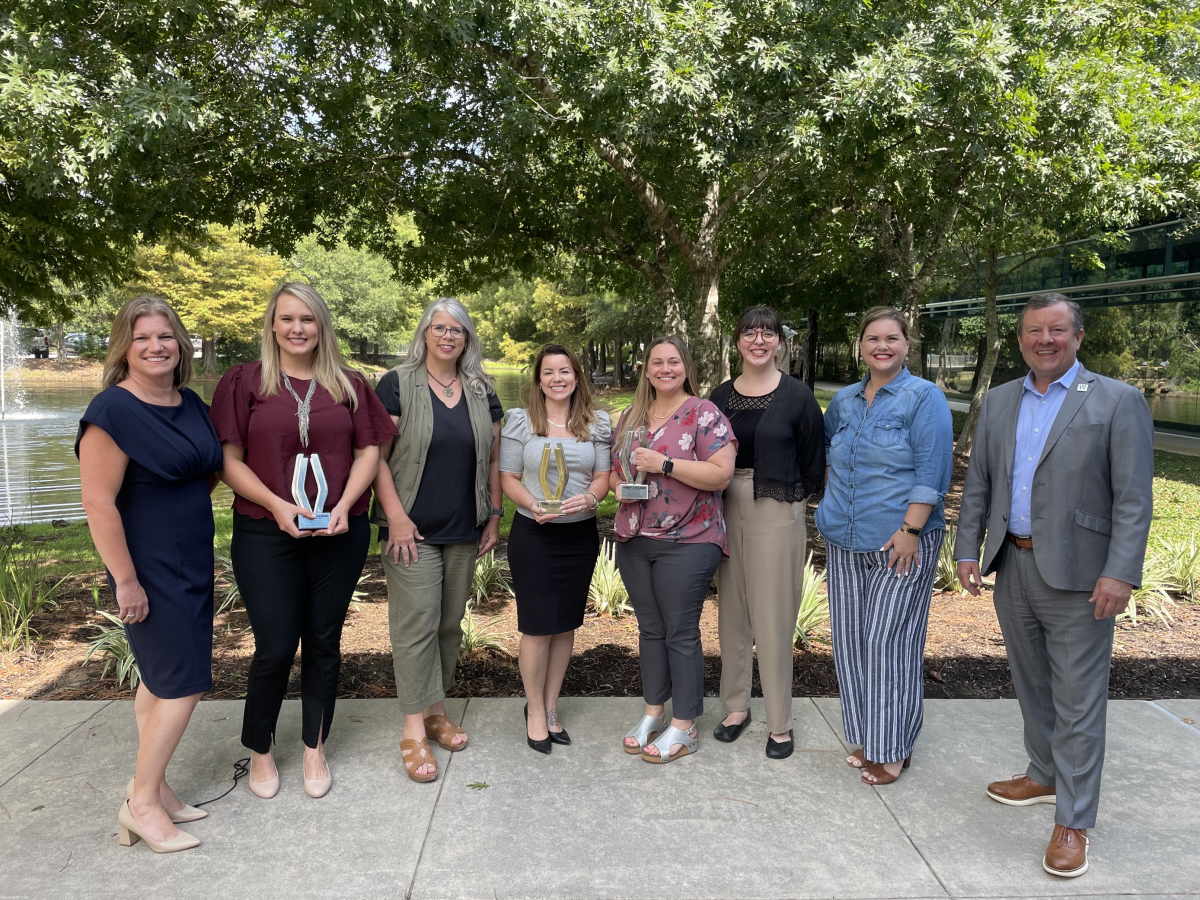 Visit The Woodlands Staff with Viddy Awards, received for sales and marketing efforts.
DIGITAL MARKETING SINCE 2017
Visit The Woodlands' online presence has increased awareness of The Woodlands as a destination for business and leisure travel.
2.7 Million people have visited VisitTheWoodlands.com
177% increase in website sessions
406% increase in social media sessions (@VisitTheWoodlands)
283% increase in social media engagement
VISITOR TRENDS SINCE 2021
87% overnight stays and 13% day trips
39% visitors from out of state 
2.7 nights average stay per visit
Example of Visit The Woodlands Leisure Advertising (2023)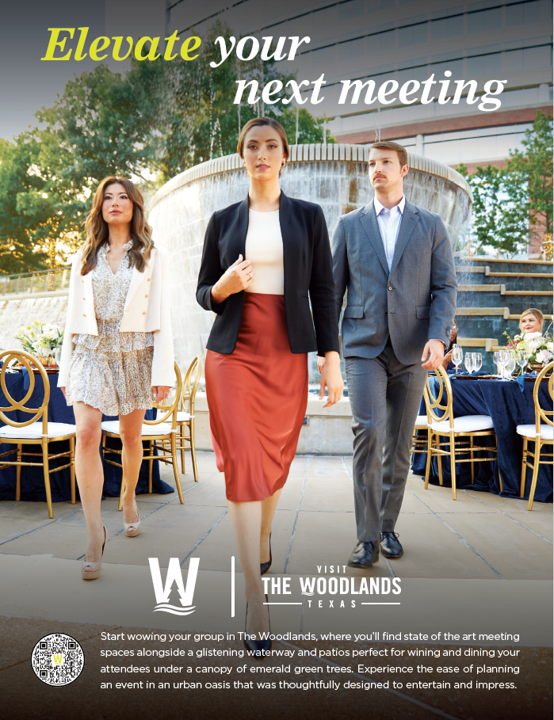 Example of Visit The Woodlands Meetings Advertising (2023)
WHERE DOES VISIT THE WOODLANDS ADVERTISE? 
In the past year, Visit The Woodlands has placed advertisements in: 
Conde Nast Traveler
Bon Appetit
Vogue
Houstonia
Texas Monthly
Food & Travel Mexico
Smart Meetings
Association Leadership
Meta & Google Digital 
Amazon Connected TV
NBC, The Golf Channel & Peacock
LEISURE AND MEETINGS VIDEO ADVERTISING
Visit The Woodlands conducted a five-day photo and video shoot in 2022 to capture new assets for leisure and meetings advertising. The shoot, which  involved 45 models, 20 crew members, and 12 locations, resulted in new photo and video assets that have been used for print advertising and video advertising.
Click one of the videos below to see an example of Visit The Woodlands most recent video advertising. 
HOTEL OCCUPANCY TAX COLLECTIONS ARE ON THE RISE
Visit The Woodlands has seen an 11.5% increase in hotel occupancy tax collections since 2021.
2021: $2.4 Million
2022: $4.1 Million
2023: $4.6 Million (projected)
THE IMPACT OF MEETINGS AND EVENTS
More than 2,050 professional meetings and events were held in 2022, which generated $21.6 Million in overall room revenue.