Chef of the Month Michael Anthony Gaddy Jr. – Pastry Chef at The Woodlands Waterway Marriott
Born in Dade City, Florida, Chef Michael Gaddy's love for pastries began at the early age of 10 when he started baking cakes and pies with his mother. The fire in him ignited at the age of 17, when he won Dade City's Kumquat Festival with a decadent strawberry French vanilla cake adorned with sugar butterflies.
In 2010 he earned the position of Pastry Prep Cook at Walt Disney World in Orlando, Florida and continued as an Overnight Baker for the Orlando World Center Marriott.
By 2012, he held the title of Pastry Lead Baker, and in 2014 he was crowned with the title of Outlet Pastry Supervisor, where he would create plated desserts for all six outlets of the 2,200 room hotel. In 2015, Chef Gaddy became the Pastry Supervisor for the finishing side for banquets, charged with the task of plating for events with up to 4,000 attendees.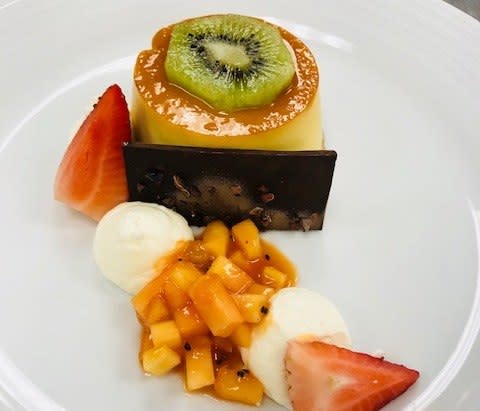 Coconut flan with tropical compote.
Along his journey, Chef Michael has traveled to Zürich, Switzerland; Rye, New York; Miami, Florida; Nassau, Bahamas; Atlanta, Georgia; Chicago, Illinois and many other cities crafting his pastries and learning new techniques to further his career. One thing remains the same, his exotic Caribbean roots allow people to taste his whimsical spirit in all of his creations.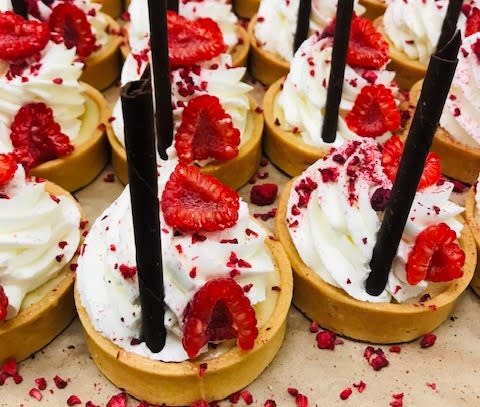 Lemon raspberry tart
Currently, Chef Michael lives in Houston, Texas and is the Pastry Chef at The Woodlands Waterway Marriott Hotel and Convention Center. It didn't take long for Chef Gaddy to get noticed once he arrived to The Woodlands in January of 2017; he made state news just five months later when he took home a $1,000 cash prize for winning first place at Wine & Food Week's Dessert Competition. The winning dish; a mango chili margarita macaron with mango passion curd, vanilla lime Chantilly, caramelized raspberry sauce, garnished with fresh strawberries, blackberries and raspberries dipped in 58% Maracaibo chocolate. There's no doubt, galas and conventions excite him most, allowing him the opportunity to display his creations to the masses. But given the chance to compete, he is a serious force to be reckoned with.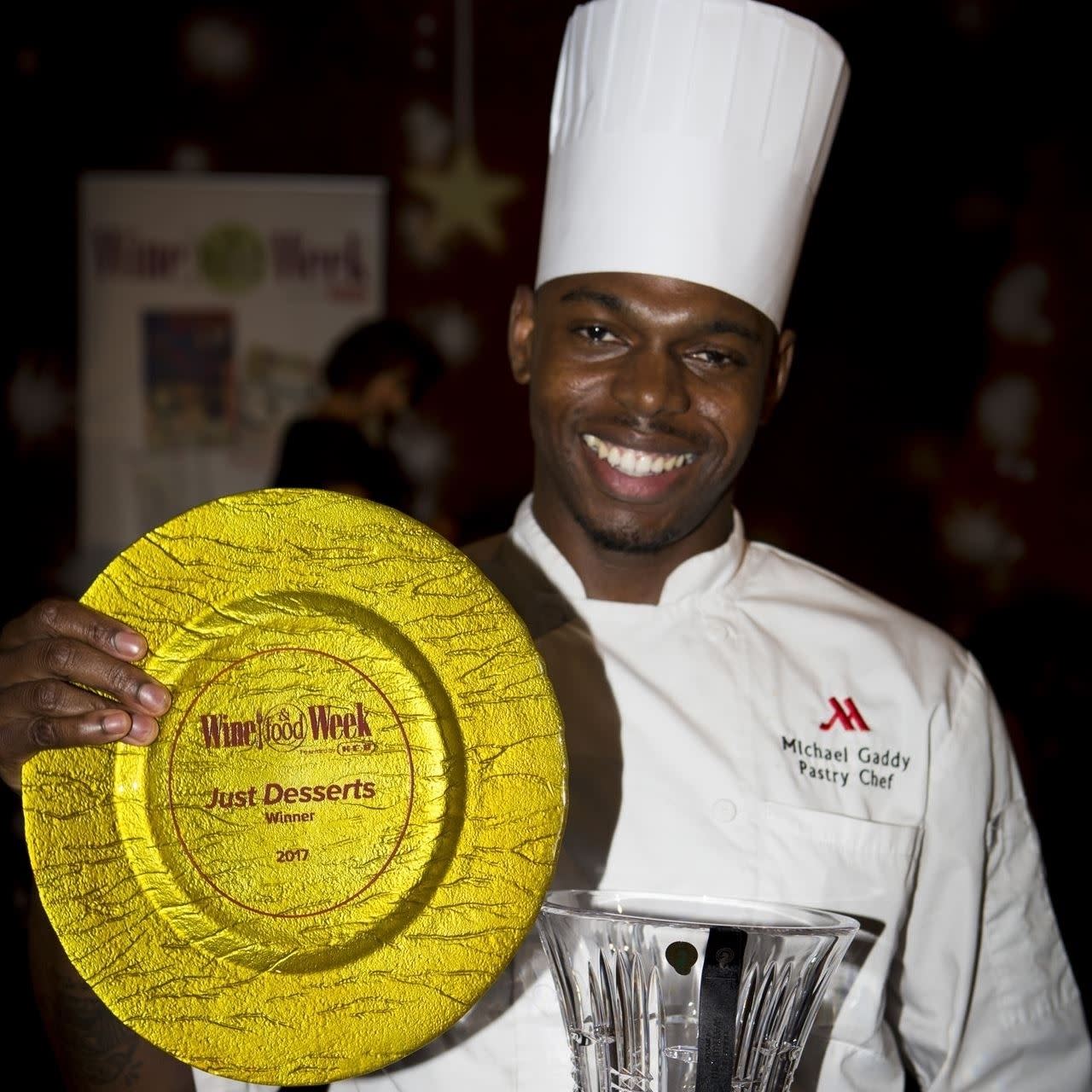 Chef Michael Gaddy after winning first place at Wine & Food Week's Dessert Competition.
Chef Michael is known for being a positive leader who builds strong foundations in every kitchen he works in, so it's no surprise the Executive Chef of The Woodlands Waterway Marriott Hotel & Convention Center tasks him with being a main recruiter for the pastry team, to ensure the team's success.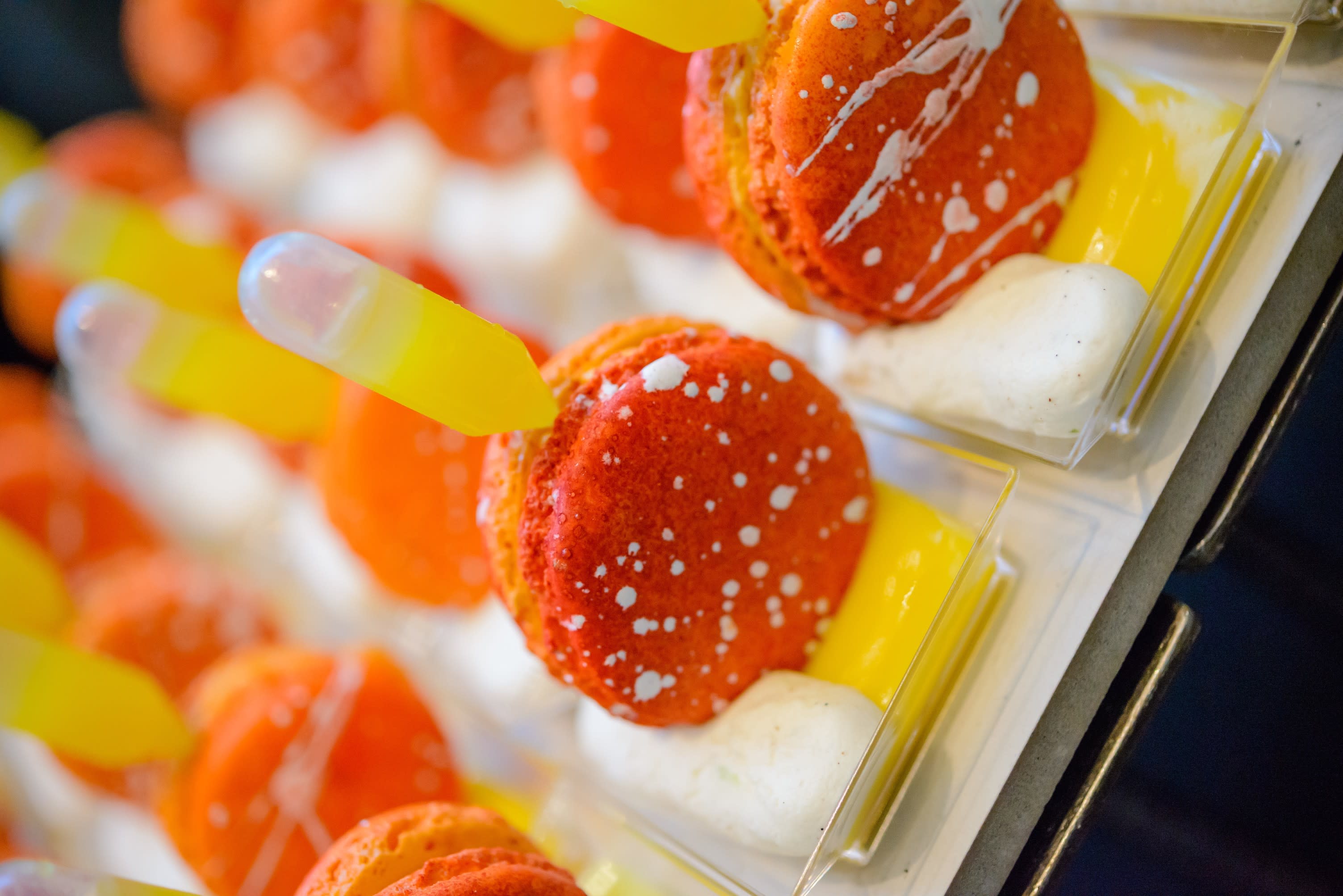 The award-winning mango chili margarita macaron which secured a first place win at Wine & Food Week.  
Chef Gaddy's talents, dedication, passion and dynamic personality will continue to lead him to great success in the world of baking, pastries and cuisine!
To keep up with Chef Michael, follow his page Cookin How You Feel on Facebook, where he takes you into his own kitchen and gives you quick and easy how-to cooking instructions.
Looking for a sweet potato pie recipe? Chef Michael has you covered:
Chef Michael's Southern Sweet Potato Pie
1 lb Sweet Potatoes
5 oz Brown Sugar
3 oz Sugar
3 oz Unsalted Butter
2 Eggs
1 oz Vanilla Instant Pudding Mix
1/2 Tbsp Lemon Extract
1 Tbsp Vanilla Extract
1/2 Tbsp Cinnamon Powder
1 Pillsbury Regular Pie Crust
Cut sweet potatoes in half and boil until soft then shock in cold water. Peel off skin and put them into another bowl then add other ingredients and blend until smooth.
Preheat oven at 360 and pre-bake pie crust for 12 minutes, then fill crust to the top.
Bake for 45-50 mins until top is firm, let it cool completely before cutting.