One of the best ways to enjoy the outdoors is to add a little music! The Woodlands is home to several outdoor music venues. From Motown to classical and everything in between, you can enjoy all types of music at a variety of places!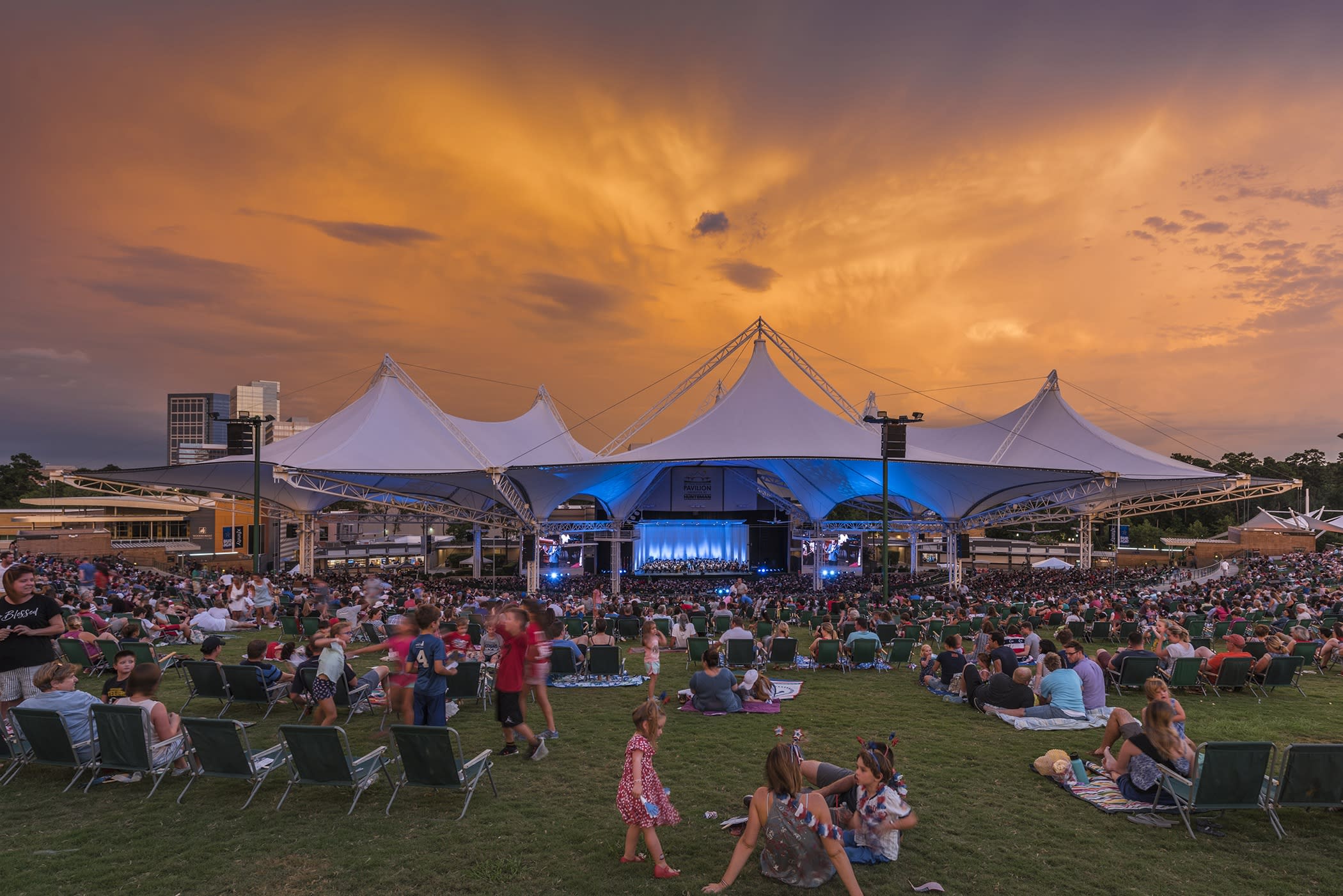 The Cynthia Woods Mitchell Pavilion
2005 Lake Robbins Drive
One of the most well known and popular outdoor concert venues in the entire state is located in The Woodlands. The Cynthia Woods Mitchell Pavilion is an iconic concert venue. Here, you'll find world-class contemporary shows all year round along with the Houston Symphony, Houston Grand Opera and the Houston Ballet. Many of the events are even free since The Pavilion has a mission to share arts with the entire community. There is always something happening! Make sure you check out our 11 insider tips before your visit.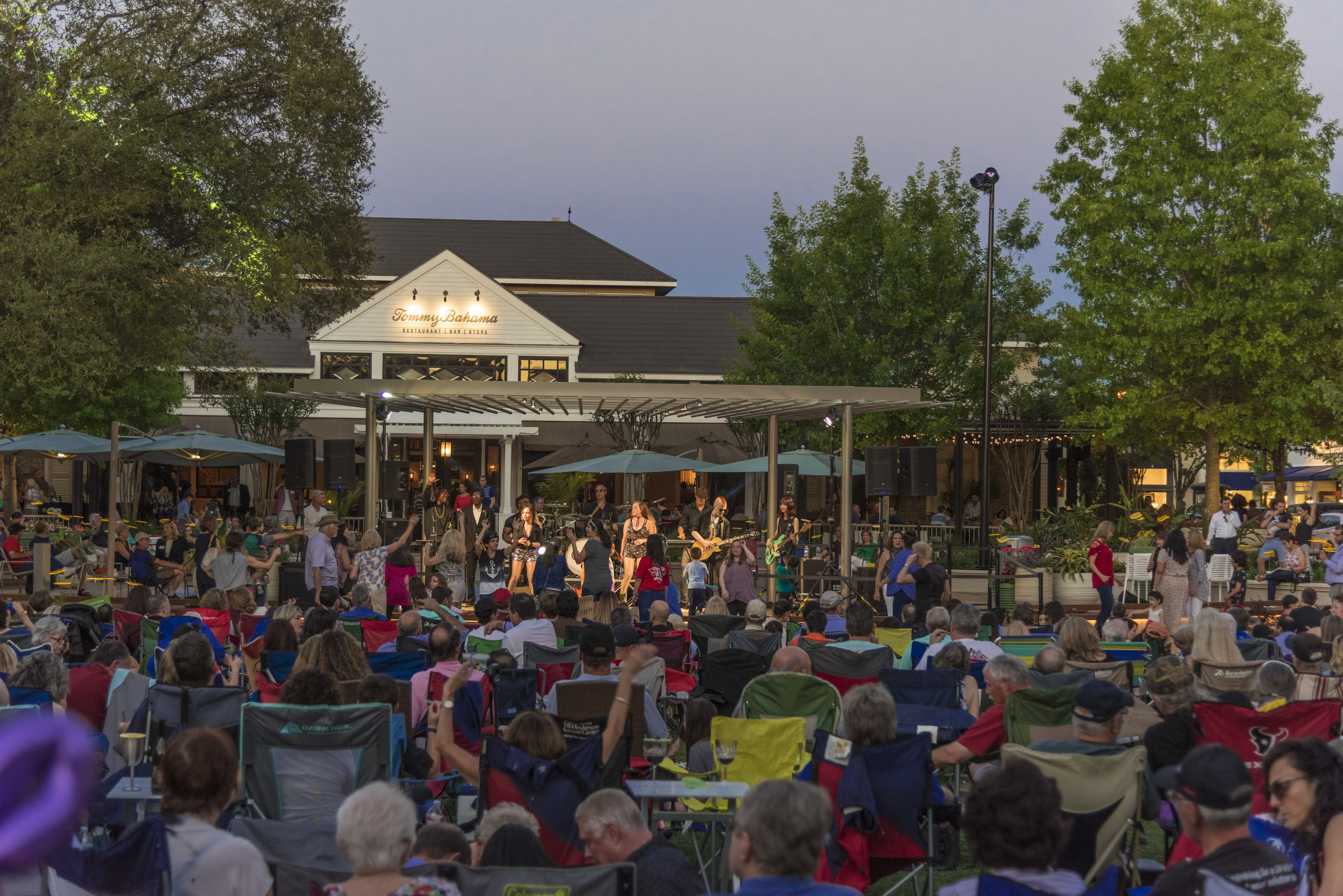 9595 Six Pines Drive
Market Street's Central Park is the gathering place for shopping, dining and entertainment in the Town Center area. A recent makeover set the stage for outdoor concerts with comfortable seating options, weather-resistant turf, and convenient charging stations. Market Street's annual Spring and Fall Concert Series are incredibly popular as well. Check concert dates and other upcoming events here.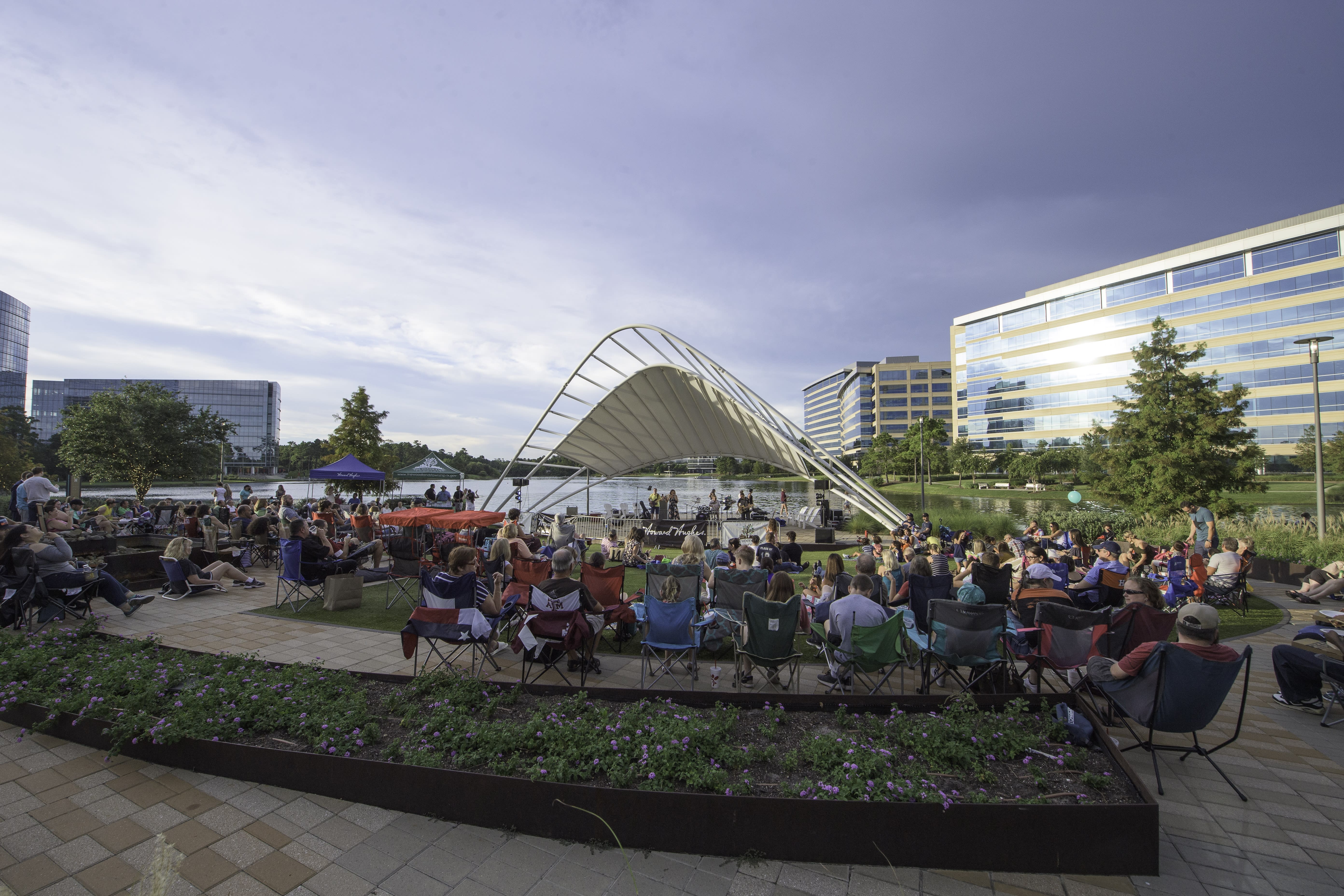 Hughes Landing Blvd
The Hughes Landing Bandshell is nestled next to Lake Woodlands, right behind Restaurant Row at Hughes Landing. The unique clamshell is home to the popular Rock the Row concert series. This free, live music series is held Thursday evenings during the spring, summer, and fall. Featuring local and regional bands playing classic rock and pop to Motown favorites, each concert attracts hundreds of attendees. A night at Hughes Landing Bandshell is the perfect outing for an exciting evening with friends or loved ones!
Spring Series
Thursdays March 19 through April 2
7 to 9 p.m.
Summer Series
Thursdays July 9 through August 13
7 to 9 p.m. 
Fall Series
Thursdays October 8 through November 12
7 to 9 p.m.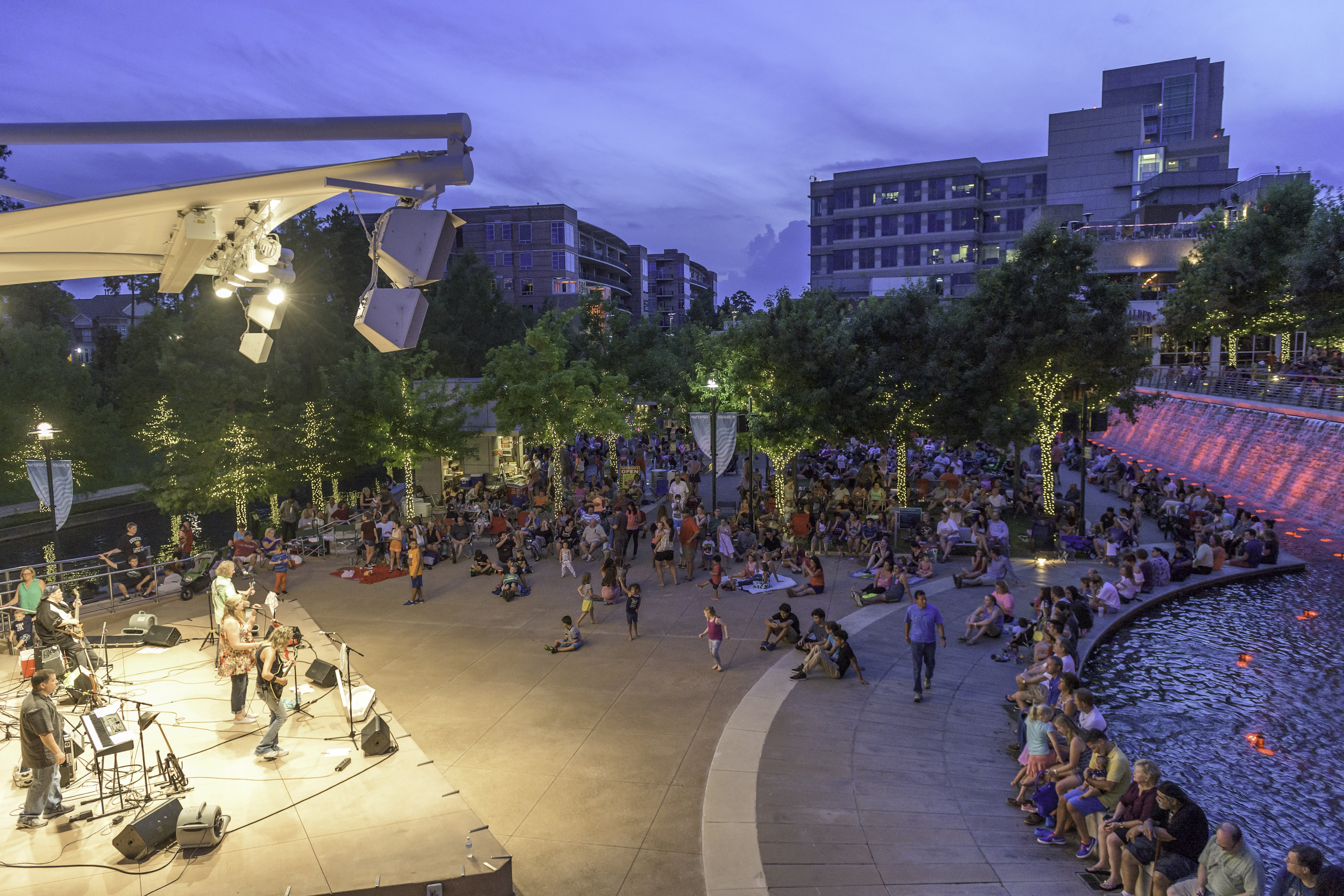 31 Waterway Square Place
Waterway Square is an area along The Waterway where outdoor concerts and other events are often held. The Woodlands Township Parks and Recreation Department hosts Waterway Nights, a live music series held Saturday evenings during the spring and summer in the relaxing and intimate setting. All ages are welcome at this free, family-friendly event. The concerts showcase the talents of local artists performing everyone's favorite jazz, acoustic, classic rock, and pop music sounds. Picnics, lawn chairs, blankets and coolers are welcome. Glass is prohibited. 
Spring Series
Saturdays Now through March 7
6:30 to 8:30 p.m. 
Summer Series
Saturdays May 9 through June 27
6:30 to 8:30 p.m.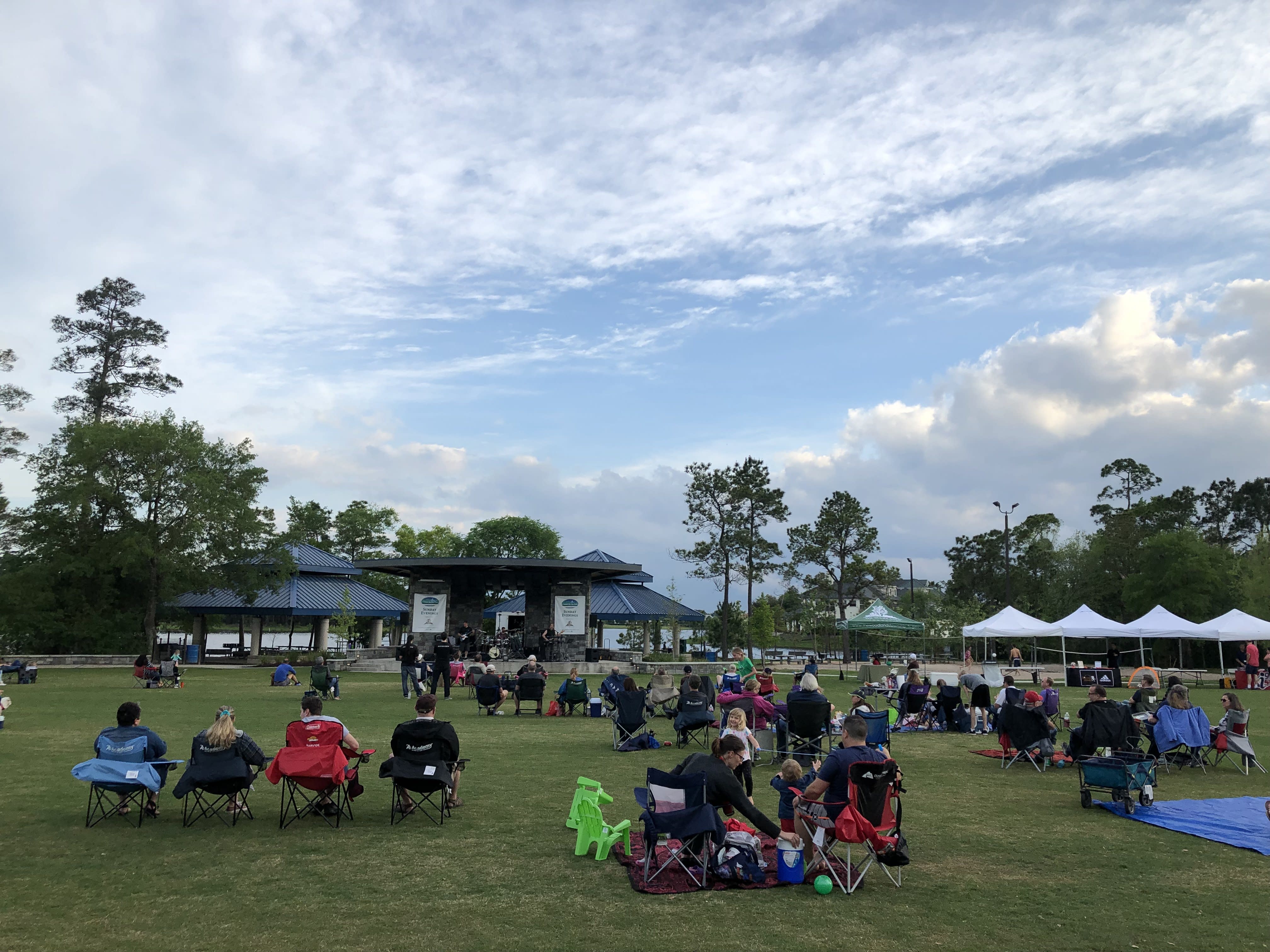 2505 Lake Woodlands Drive
Northshore Park is one of the most popular and scenic parks you'll find in The Woodlands and is the perfect place to relax and enjoy the beautiful landscape the area is best known for! Concerts in the Park are free, live musical events held Sunday evenings during the spring and fall season. Since 1984, these family-friendly events draw crowds from both The Woodlands and surrounding areas. Picnic baskets, coolers, blankets, and lawn chairs are permitted at all Township concerts. Glass is prohibited. 
Spring Series
Sundays March 1 through April 5
5:30 to 7:30 p.m.
Fall Series
Sundays September 13 through October 25
5:30 to 7:30 p.m.
In addition to the outdoor concert venues above, there is always something going on in The Woodlands. Check our visitor's guide to search for festivals and other events in the area.