Visit The Woodlands was thrilled to welcome Rendezvous South to The Woodlands area for three days of networking, exploring, great food, and even better company!

Rendezvous South is a conference that is produced by Convention South and brings together destinations and hotel suppliers with Meeting Planners that book events specifically in the South. This event offers an incredible opportunity to make new connections and lasting memories, all while connecting the right convention to the perfect destination.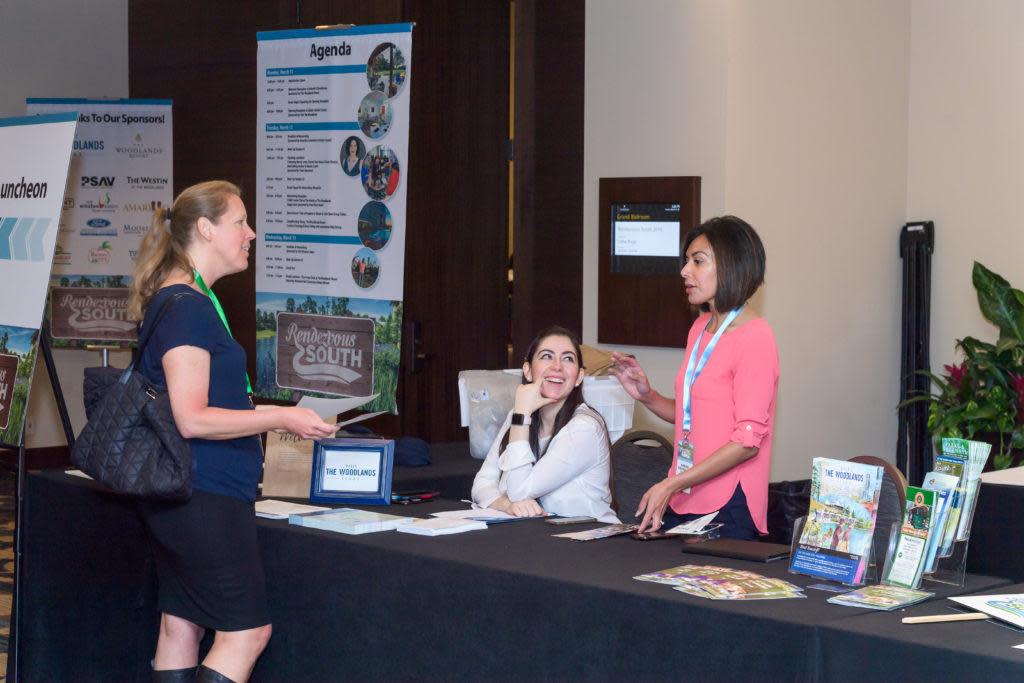 Here are a few things we learned while hosting Rendezvous South!

Think Outside of the Box: Venue and Reception Locations Matter

One aspect to a conference that helps attendees get in the right frame of mind for networking and creativity is an out of the box venue for networking receptions. The days of receptions being hosted in a flipped banquet room are over.

Check out some of the gorgeous venues that are available in The Woodland! From a rooftop bar overlooking Waterway Square to Glade Art Gallery just waiting to be transformed by the vision of the planner, The Woodlands has options to ensure your receptions are far from the ordinary.
Make Sure the Food is Great

When people travel and attend conferences, they expect great food! When attendees spend the time to escape normal life and attend an event, sometimes the simplest way to say thank you is with amazing food. At Rendezvous South the food did exactly that. With made-to-order breakfast stations, to a full blown southern style home-cooked menu at the finale lunch, to an oyster bar at the reception, The Woodlands Resort proved that event meals can be an activity in itself.
Planner Questions and Concerns are Always Welcome

One awesome aspect to assisting in the planning process for Rendezvous South was stepping into the shoes of the meeting planner and seeing firsthand all of the hard work that goes into a seamless conference or event. The main takeaway from this planning process is to take any questions or concerns that a planner has seriously. When a planner is spending so much time producing an event, they want to make sure that the little details do not get in the way of a major success. It is our job as DMO professionals to offer solutions to the questions and concerns that are voiced by planners working within our destination and to make sure they feel at ease with each detail.
Check out this video to get a feel for how your event could look in The Woodlands!

Interested in making The Woodlands the home for your next conference? Reach out to Josie Lewis at josie.lewis@visitthewoodlands.com, to talk through your event and to gather proposals for your review.