Our area offers an expansive list of private dining and event spaces available for businesses and both large and small group receptions. To start off, we'll give you a little nibble of what we have to suggest for you to begin planning a meeting or reception here in The Woodlands!
ART Glade Cultural Center 2000 Woodlands Parkway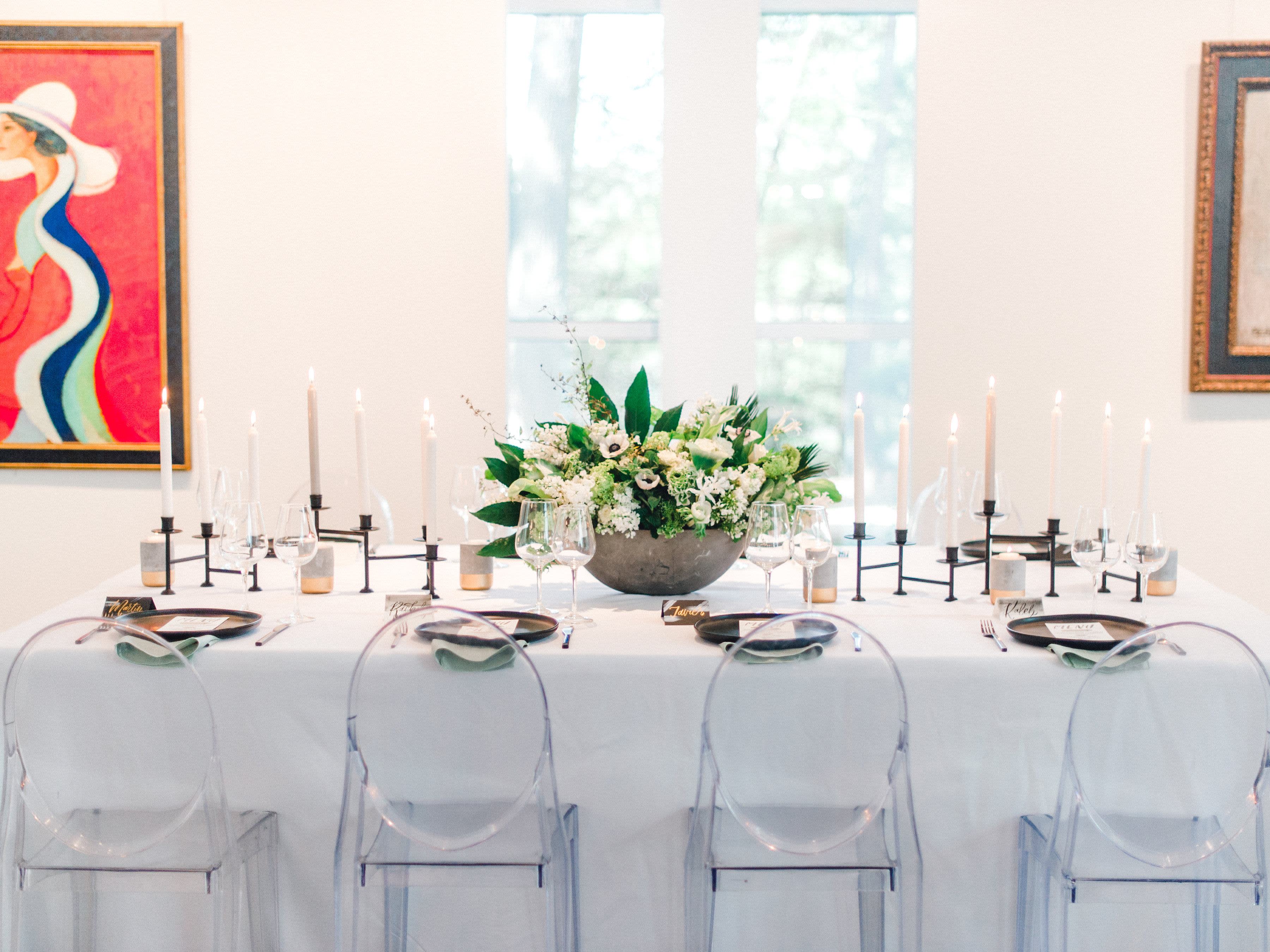 The brightness and openness of Glade makes it the perfect venue for a wedding and reception. Photo by Awake Photography
If you're looking for a unique venue to hold your next event. The Glade Cultural Center gives access to everything that an event would require from small to large corporate meetings, galas or even a wedding. Glade is also the permanent host for a collection by world-renowned artist, David Adickes, in addition to providing space for rotating exhibits from unique contemporary local and international fine artists. This cultural experience is the next premier venue in The Woodlands!
The Space: This roughly 6,000 square foot event space exudes elegance; it can support a red carpet event, with valet parking and has an onsite grand piano for guests to enjoy sophisticated sounds inside an urban event space. Also doubling as a museum and art gallery, this unique event space is unmatched in The Woodlands. With stunning views of a tree lined lake, Glade Cultural Center will create an unforgettable experience for you and your guests. Full and partial building rentals are available, there are even two conference rooms, for when work is… work.
The Event: We all know that hosting events can take an enormous about of organizing and planning. It can become quite overwhelming. To assist with this, Glade partners with Spectrum Events and their catering division, Wicked Whisk, to provide full-service catering and event planning all in one.You won't even feel like an event organizer anymore, you can be a guest and with their help, all event details will be arranged. If you have a preferred caterer of your own, Glade Cultural Center can work with them as well.
The Location: A perk of this venue is its location. Being one-mile from I-45, guests can walk through the venues' doors within minutes of exiting the freeway. The space is less than 10 minutes from all major attractions and many accommodations including: The Woodlands Waterway, Hughes Landing, Waterway Square and The Woodlands Resort.
Book It: For pricing information and to book this space or start planning a stellar event, call Wicked Whisk Catering at 713-897-8272 or email sales@wickedwhiskcatering.com or contact Glade Cultural Center directly at events@gladeculturalcenter.com.
WINE Crush Wine Lounge 20 Waterway Avenue Suite #200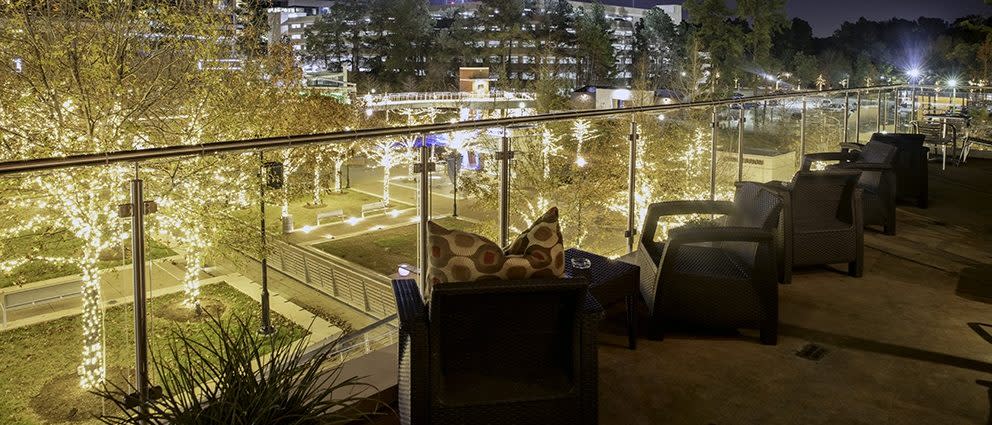 The rooftop at Crush provides a space for guests to have an unforgettable view.
Crush is perfect for those looking for unique corporate events or private functions, even a wedding reception. Their swanky rooftop has a spectacular view of the Fountains at Waterway Square and will be a one of a kind experience for your guests.
The Space: For larger groups, the rooftop terrace at Crush can accommodate a party up to 250 people. Three VIP cabanas on the roof offer a more private setting for up to 15 guests, which is perfect for those corporate events where you are needing to network or even for a wedding party to get away from the rest of the reception. Are you just needing a private dining room? Crush has the Cellar Room available for private parties of up to 30 people.
The Event: Crush Wine Lounge serves unique and affordable wine selections for every palate as well as a gourmet menu providing appetizers or a full meal service.
The Location: Crush is located in the heart of Waterway Square, where there is plenty of activity and opportunity for fun to be had before or after your event. From the rooftop, guests can see The Woodlands Waterway and the fountain which has synchronized music to go along with its water and light show. Two hotels are within walking distance of this venue, The Woodlands Waterway Marriott and Convention Center and The Westin at The Woodlands, leaving no need for guests to drive after your event is over.
Book It: For pricing, food and wine options and other inquiries, please call 281-362-7874 or email hannah@thecrushbar.com.
FOOD Churrascos 21 Waterway Avenue Suite #130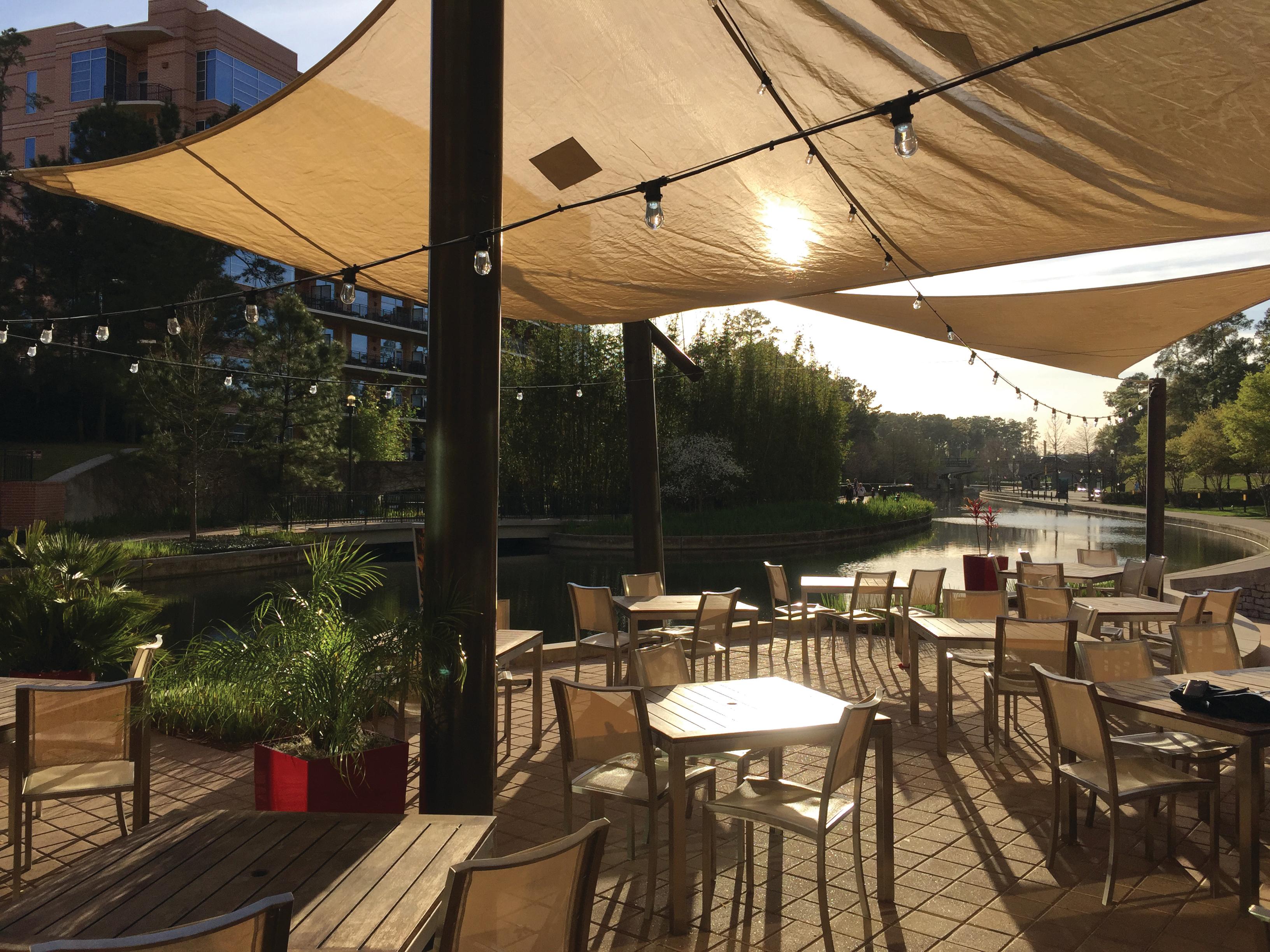 As the sun sets along The Woodlands Waterway, it becomes the perfect backdrop for the patio at Churrascos.
Churrascos offers bold flavors of Latin American cuisine. This award winning restaurant concept has even been touted by Travel and Leisure to have "One of the Best Steaks in the U.S." Churrascos provides a friendly atmosphere for a dining experience that is warm and inviting, perfect for both large and small groups.
The Space: Churrascos has three separate reception areas available for private dining. The Ipanea Room is ideal for a quaint private event like a rehearsal dinner or a business meeting, and can accomodate 20 to 30 people. The Macondo Room has a breathtaking ceiling that mimics a forest canopy. It's an inviting space and is perfect for a corporate event, with a seated capacity of 75 or 100 for a standing reception. For the most memorable event, head outdoors and reserve the patio. It overlooks The Waterway and gives off an elegant vibe while still providing your 80 to 100 guests a relaxed dining experience.
The Event: The award-winning chefs at Churrascos have it all figured out! They offer a selection of canapés and chef stations to choose from, and even breakfast stations to make those morning meetings just a bit more painless. Full plated options are also available for your guests. No matter what the meal is starting with, we highly recommend finishing it with a slice of tres leches cake!
The Location: This space is located just across the street from Crush Wine Lounge but offers such a different experience. At night the Patio offers a romantic view of The Waterway which is lined with lights that reflect off the water at night. It's located right next door to The Woodlands Marriott and Conventions Center and still within walking distance to The Westin at The Woodlands.
Book It: For more information and to schedule your next event at Churrascos call 281-367-1492 or complete their Event Inquiry Form.
We have many more local reception and dining options to share with you! Let us know if you're interested in a specific style or space at amber.george@visitthewoodlands.com. Your suggestion might just be in our next blog.