This May, Visit The Woodlands will join the tourism industry in celebrating and highlighting travel's essential role in stimulating economic growth, creating job opportunities, and cultivating communities. The annual tradition of National Travel and Tourism Week (NTTW) was established in 1983 by the U.S. Travel Association. The week-long initiative will celebrate its 40th anniversary this year, from Sunday, May 7 through Saturday, May 13. 
TRAVEL FORWARD
The travel industry plays an incredibly important role in driving economic growth, creating jobs, and supporting communities across the country. According to the U.S. Travel Association, eight million workers are directly employed within the travel industry, and in 2022, direct travel spending totaled $1.2 trillion and generated nearly $160 billion in federal, state, and local taxes. 
"The travel industry fuels every industry—our industry's success is the nation's success," said U.S. Travel Association President and CEO Geoff Freeman. "This week is a prime opportunity to elevate the message that travel is essential to moving America's economy forward."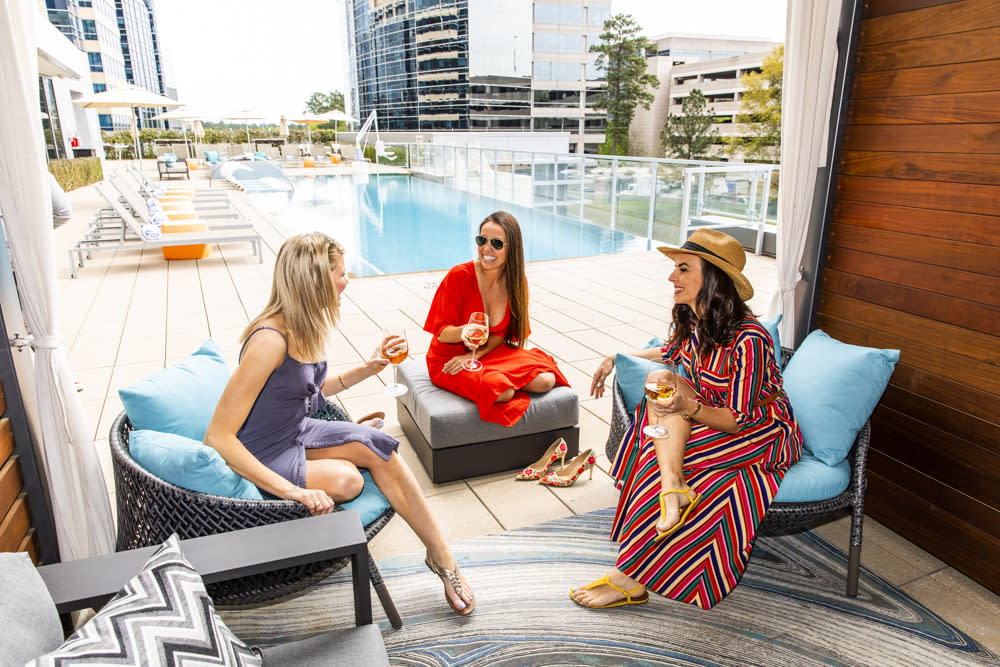 The Westin at The Woodlands Rooftop Pool
THE IMPACT OF TOURISM
In The Woodlands, leisure and business travel has a large, positive impact on the community. Nearly 3,000 people are employed by the tourism industry, and the industry plays a large part in helping The Woodlands Township have one of the lowest property tax rates in the nation. Unlike other cities, almost 60% of The Woodlands Township's budget comes from hotel and sales tax. When visitors come to The Woodlands, spending nights in hotels and spending money at shops and restaurants, they generate a significant economic impact with the hotel and sales taxes collected from their purchases. This not only allows The Woodlands Township to keep property taxes down, but it also contributes to further development of the community and a constantly improving quality of life for residents. 
According to Travel Texas' Texas Research Dashboard, The Woodlands saw $284.5 million in direct spending by visitors in 2021, which generated $27.6 million in tax revenue for The Woodlands Township. This visitor spending also contributed to $135.5 million in earnings for tourism employees, including those who work at hotels, shops, and restaurants in The Woodlands. Business travel was also booming in The Woodlands in 2022, with over 2,050 professional meetings and events taking place and bringing in $21.6 million in total room revenue.
"Tourism in The Woodlands is remarkable," said Elizabeth Eddins, Executive Director of Visit The Woodlands. "This industry has an extremely positive impact on our community. We are excited to participate in National Travel and Tourism Week to highlight why tourism matters in The Woodlands and share our appreciation for our amazing partners and visitors."
VISIT THE WOODLANDS' POPCORN POP-UP
This year, Visit The Woodlands will celebrate National Travel and Tourism Week with a special event at Market Street on May 11, in conjunction with Market Street's Spring Concert Series.
In the same way that travel brings people together across the U.S., The Woodlands community will gather together in Market Street's Central Park to listen to live music and learn about how tourism positively impacts the community. Visit The Woodlands will be at the event with a booth, handing out cool swag, informational materials for National Travel and Tourism Week, and popcorn from a local favorite: The Candy House. 
CELEBRATE NATIONAL TRAVEL AND TOURISM WEEK
Thursday, May 11, 2023 | 6:00 p.m. to 8:30 p.m.
Live music
Kid-friendly activities
Free popcorn, postcards, and coloring pages
WEEK-LONG DISCOUNTS
National Travel & Tourism Week is the perfect time to explore The Woodlands! Climb to new heights at Texas TreeVentures, pedal a swan boat down The Woodlands Waterway, or take a kayak out on Lake Woodlands. Visit The Woodlands is also offering $5 off admission for Texas TreeVentures and Riva Row Boat House throughout the month of May. Learn more.