It's one of the most popular events in The Woodlands each year and now more than ever The Waterway Arts Festival is getting attention from all over the country. Why? Two big reasons: the unique selection of artists and beautiful backdrop of The Waterway makes for a prime stop for both serious buyers and those just wanting to enjoy a family fun weekend.
The Woodlands Waterway Arts Festival is April 7 and 8th, 2018.  Tickets are $15.00 in advance at www.thewoodlandsartscouncil.org and $17.00 at the door. Children under 12 are FREE!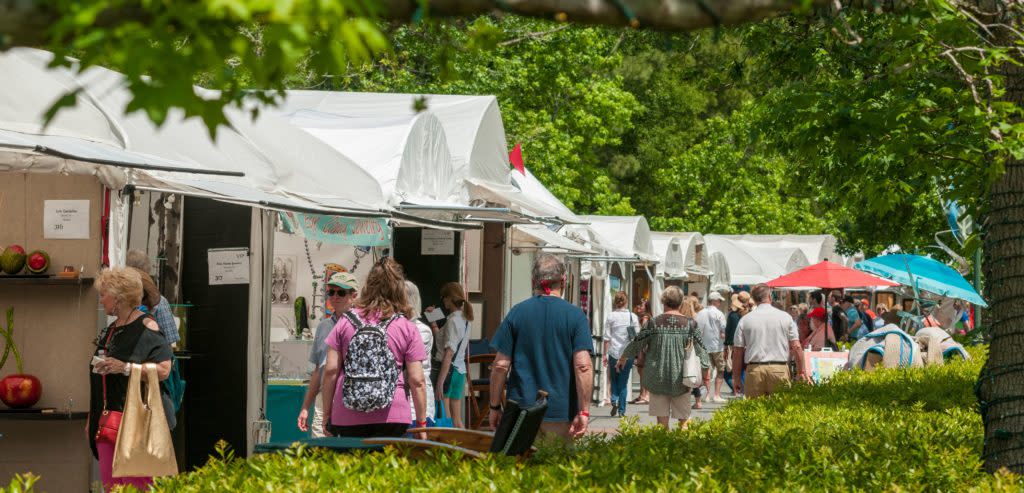 Festival attendees walk along The Woodlands Waterway, stopping at artist tents
"I've been doing shows in Texas for years and I really believe The Woodlands Waterway Arts Festival is the best show," said featured artist Erin Hanson. "It's so beautiful next to the water and there are always eager buyers that love art and original paintings and sculptures."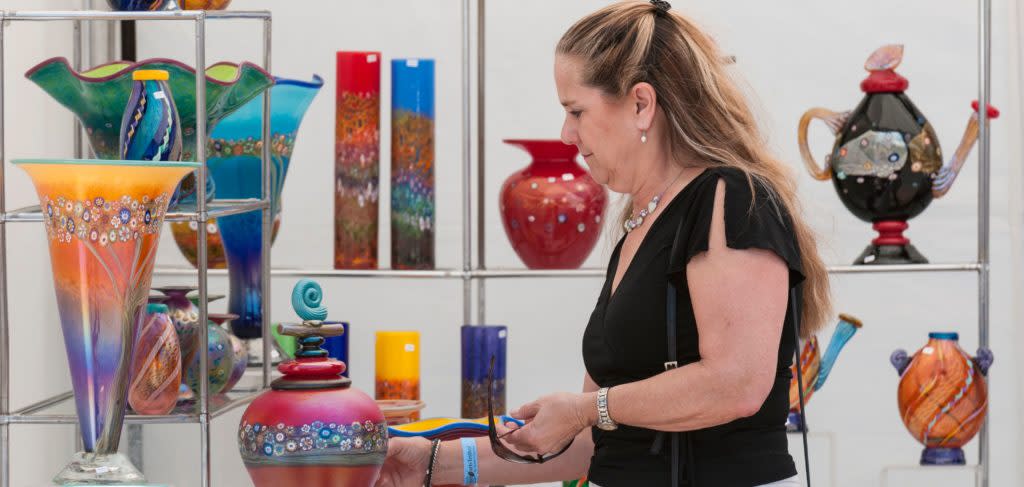 Tents serve as a gallery for each artist to present their work
This is the 13th year for the festival and artist Erin Hanson says the success of the past is helping the future.
"When a festival starts to get a good reputation for bringing in fine artists, there is something like a ripple effect," she explained. "More fine artists hear about it and they want to come, so it brings in such a high quality of artists. That is what is happening for The Woodlands."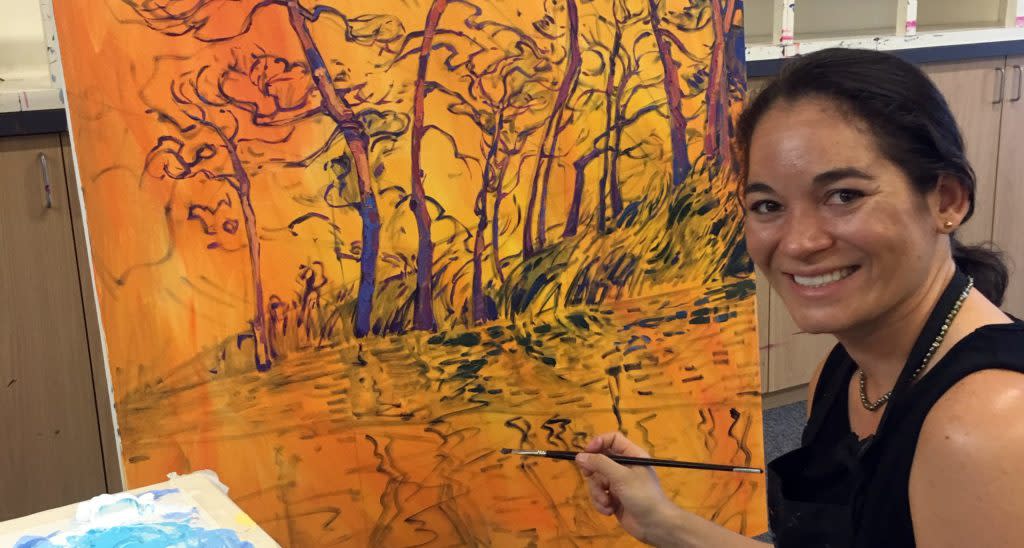 Featured Artist Erin Hanson
Choosing the 200-plus artists is not something taken lightly. There is a tough and thoughtful vetting process to make sure the best people possible are brought in.
"This year we had a virtual jury that helped choose all of our artists," said Events Director, Kelly Batterson. "The nine jurors were selected from around the world and really elevated the criteria for artists to be considered, which gives our patrons remarkable art to enjoy."
From oil paintings to glass sculptures and musical performances and locally sourced food items - there is something for everyone to enjoy at the festival along The Waterway beginning at 2099 Lake Robbins Dr.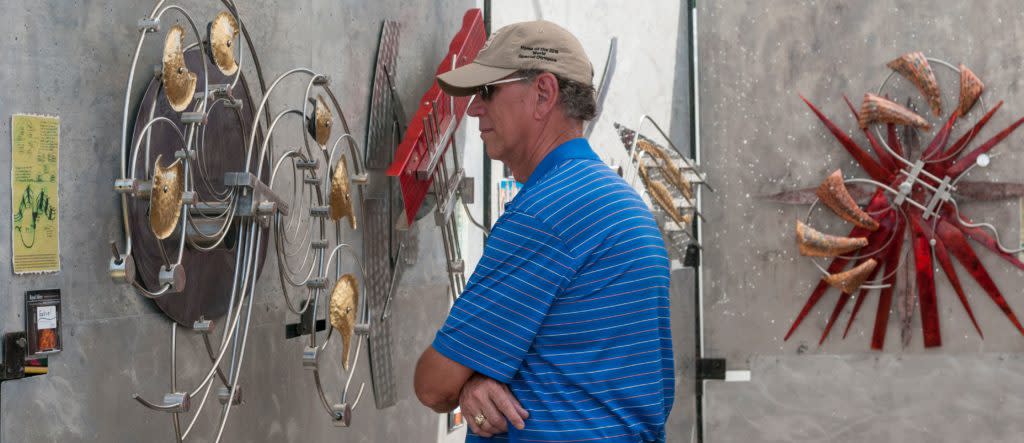 Festival goers can immerse themselves in the art of their choice
"It is an event for art lovers, art enthusiasts, people who enjoy music and outdoor art activities and great food, wine and craft beer," said Batterson. "The artists exhibiting sell their art from the lower price point to the very high-end so there is something for everyone. There is an abundance of art to be appreciated along the two mile stretch of land overlooking the peaceful waterway."
You may see images from The Woodlands. Hanson says her previous visits to The Woodlands has inspired her own work. She has created beautiful painted scenes from our area featuring the trees and waterways around town. Her painting called "Woodlands Rhythm" shows a colorful sunset in between tall, towering trees. Other inspirations include "Motion of Light" and "Winding Light."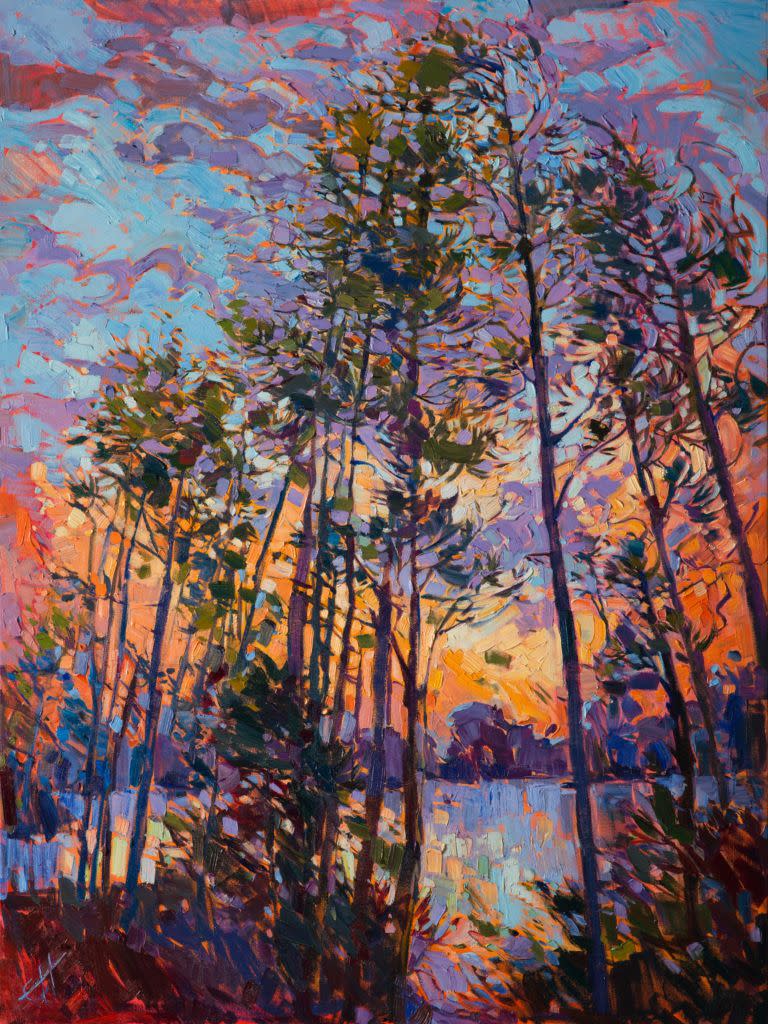 Woodland Rhythms by Erin Hanson, 2018 Waterway Arts Festival Featured Artist
"When I come to The Woodlands I stay for a week and I explore the area," said Hanson. "The wildflowers in this area are just amazing. We don't have flowers like that in California. I also love the dawn and sunsets."
Erin hopes her paintings help people enjoy the world around them.
"I hear people tell me, I didn't see the colors in the trees or the mountains like that until I saw your paintings," she said. "Now, when I look at nature I see more colors and the real beauty."
Organizers of the festival have worked really hard to make this event something everyone can enjoy.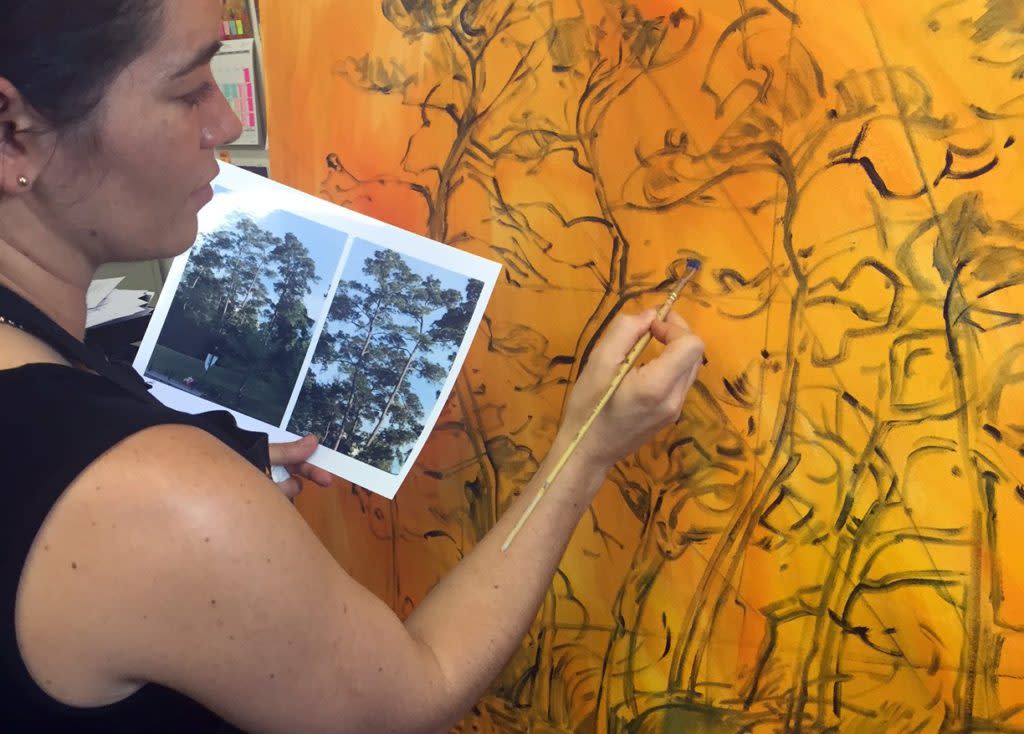 Hanson shows the beginnings of a painting that is inspired by her previous visits to The Woodlands
"There will be performances by John Cooper School's Aerial Silks, you can watch amazing chefs creating culinary magic at the Art of Food Stage," said Batterson. "Our young art lovers can buy $5 art pieces from the Early Inspiration Gallery and there will be amazing live art demonstrations and plenty of cool masterpieces to be made by young artists in The Woodlands Children's Museum tent."
Batterson says this popular festival is just proof of the growing and thriving arts scene in the area.
"This includes contemporary art galleries to the Inspire Film Festival that just wrapped up last month and the growing public art displays like the Art Benches in the area," she said. You can keep up with all arts related events and happenings on The Woodlands Arts Council website.