Summer is officially here! If you're looking for a place for the kids to run and play while cooling off this summer, check out these areas that are sure to be a splashing good time! A great thing about all of these spaces is there are plenty of restaurants that you can dine-in or order to-go for a picnic while the kids play.
Waterway Square 31 Waterway Square Place
Treasures from Grandma's Purse is located in the heart of Waterway Square! It's typical for the area to have live music and entertainment on various weekends throughout the year, making it a perfect hangout for parents while their children splash in the dancing waters of the interactive water feature. Grandma's Purse also doubles as a work of art, created by nationally acclaimed artist Dixie Friend Gay. While splashing in the water, kids can search and find all the hidden treasures that have fallen from Grandma's Purse.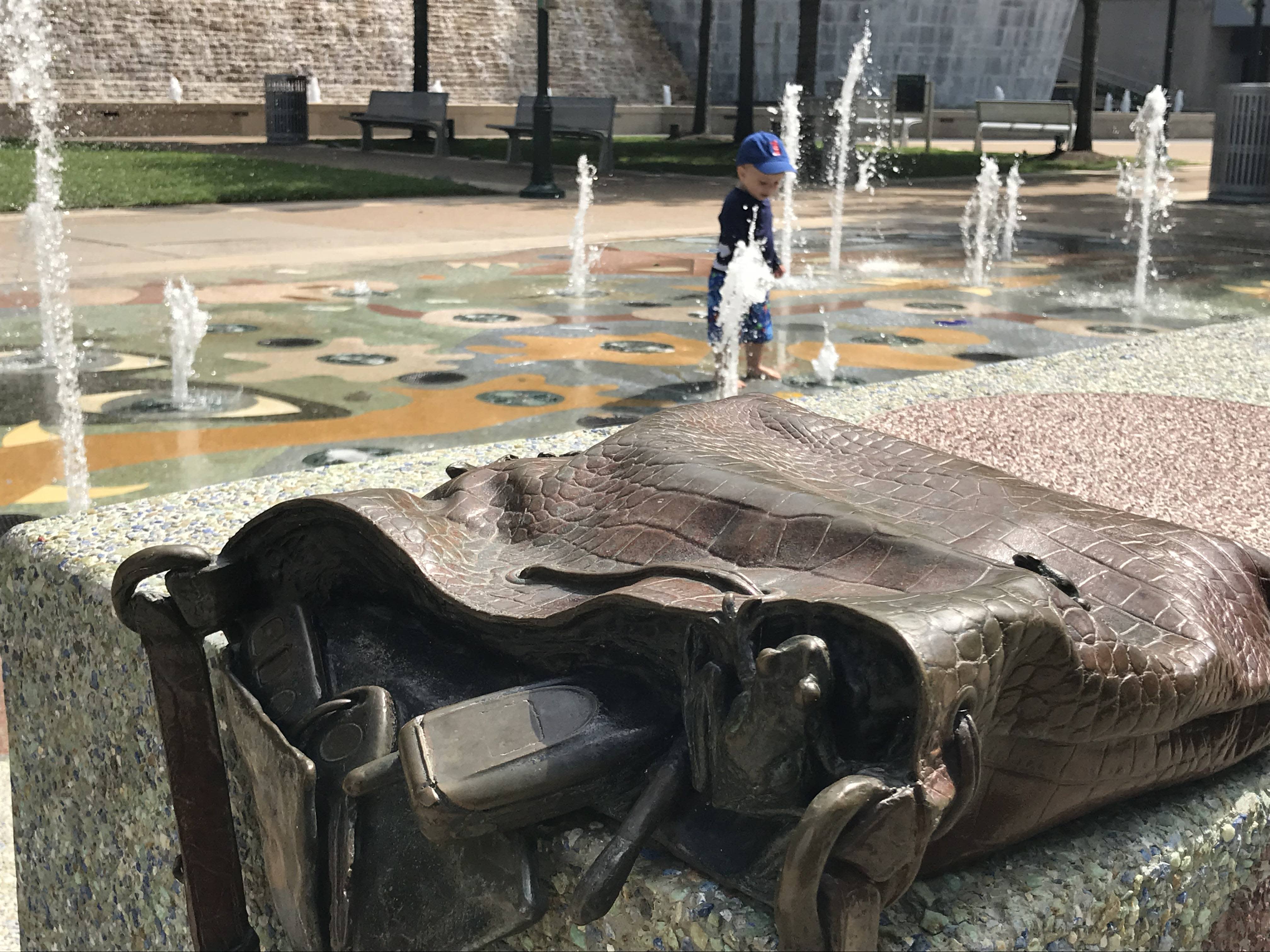 Market Street 9595 Six Pines Drive
Another great area for kids to cool off is the splash pad at Market Street. Mom and dad can take turns shopping while children can continue playing uninterrupted! Located in the center of Market Street at Central Park it's easy to get to and surrounded by several shopping and dining options. Throughout the year Market Street hosts many events including concerts and car shows to keep the adults entertained while the kids play. Here are a few more tips to enjoy your trip to Market Street.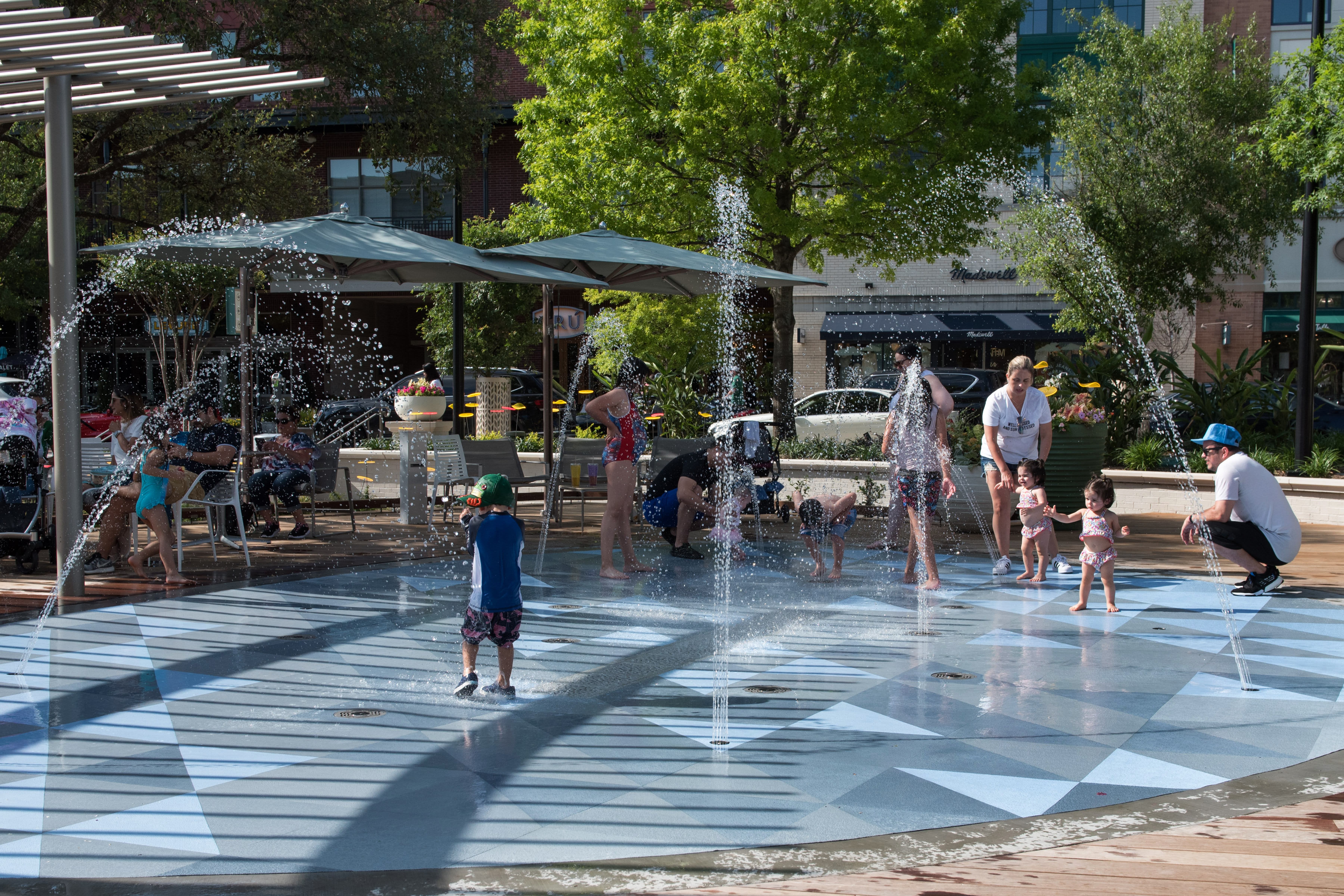 Village Green 26400 Kuykendahl Drive
If you are near the back of The Woodlands, or you just finished a hike at The George Mitchell Nature Preserve, head over to Creekside Park Village Green! The area offers a shaded space with seating to get out of the sun and plenty of room for the kids to run, play and cool off. Along with the splash pad, there's also an all-weather turf field that has become a popular place for a game of catch or flag football among families. With an H-E-B grocery and several eateries nearby, Village Green is a perfect picnic spot to splash and play. Insider Tip: There are also occasional family movie nights on a big screen with bring your own seating on the lawn.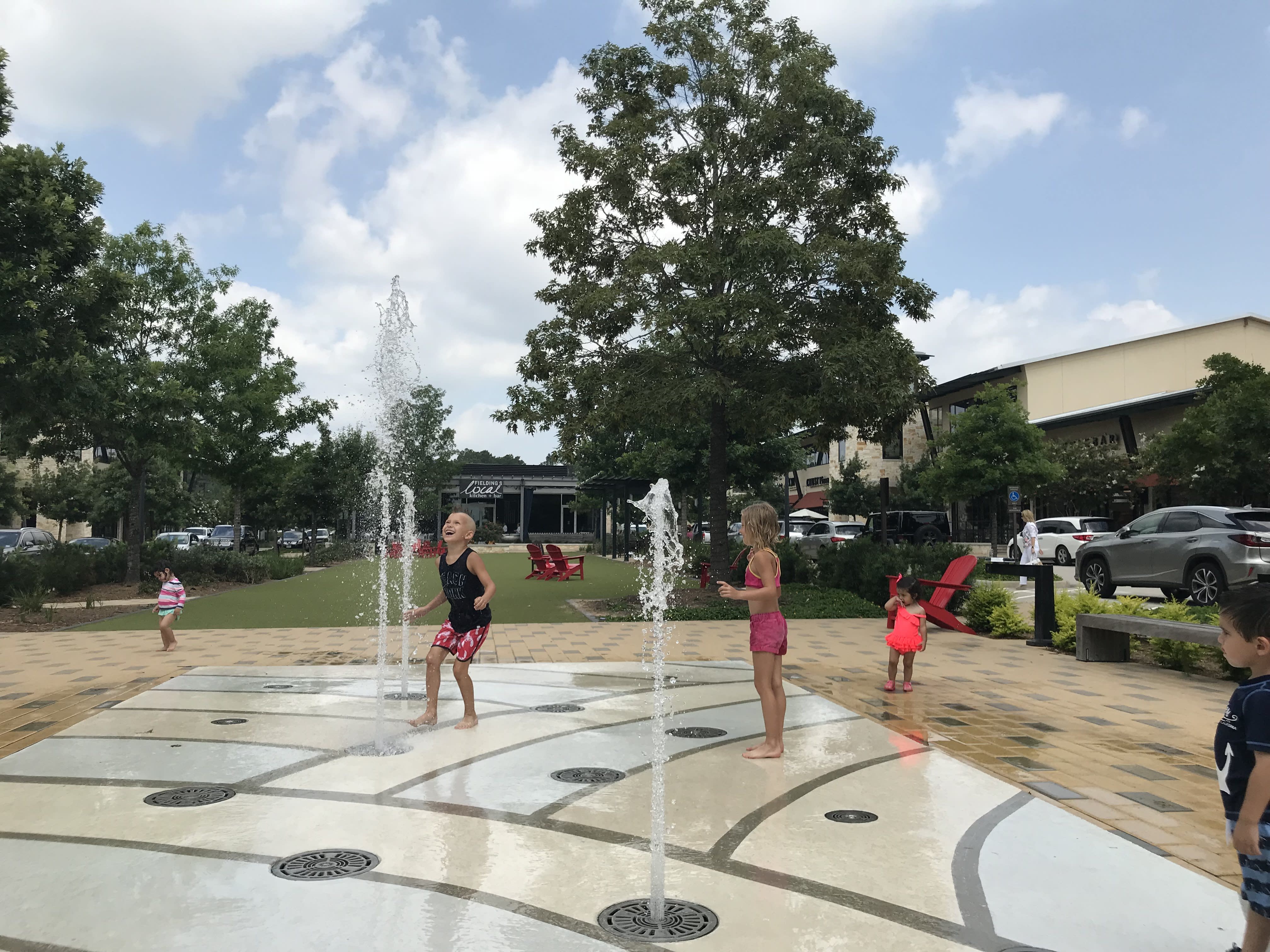 Art Bonus: Check Out Other Art by Dixie Friend Gay
If your interested in looking at a few more works by Dixie Friend Gay, go on a short walk west of Grandma's Purse along The Waterway and head through the tunnels at Waterway Avenue. Both walls of the northern side of the waterway are lined with mosaic art with a Woodlands nature theme.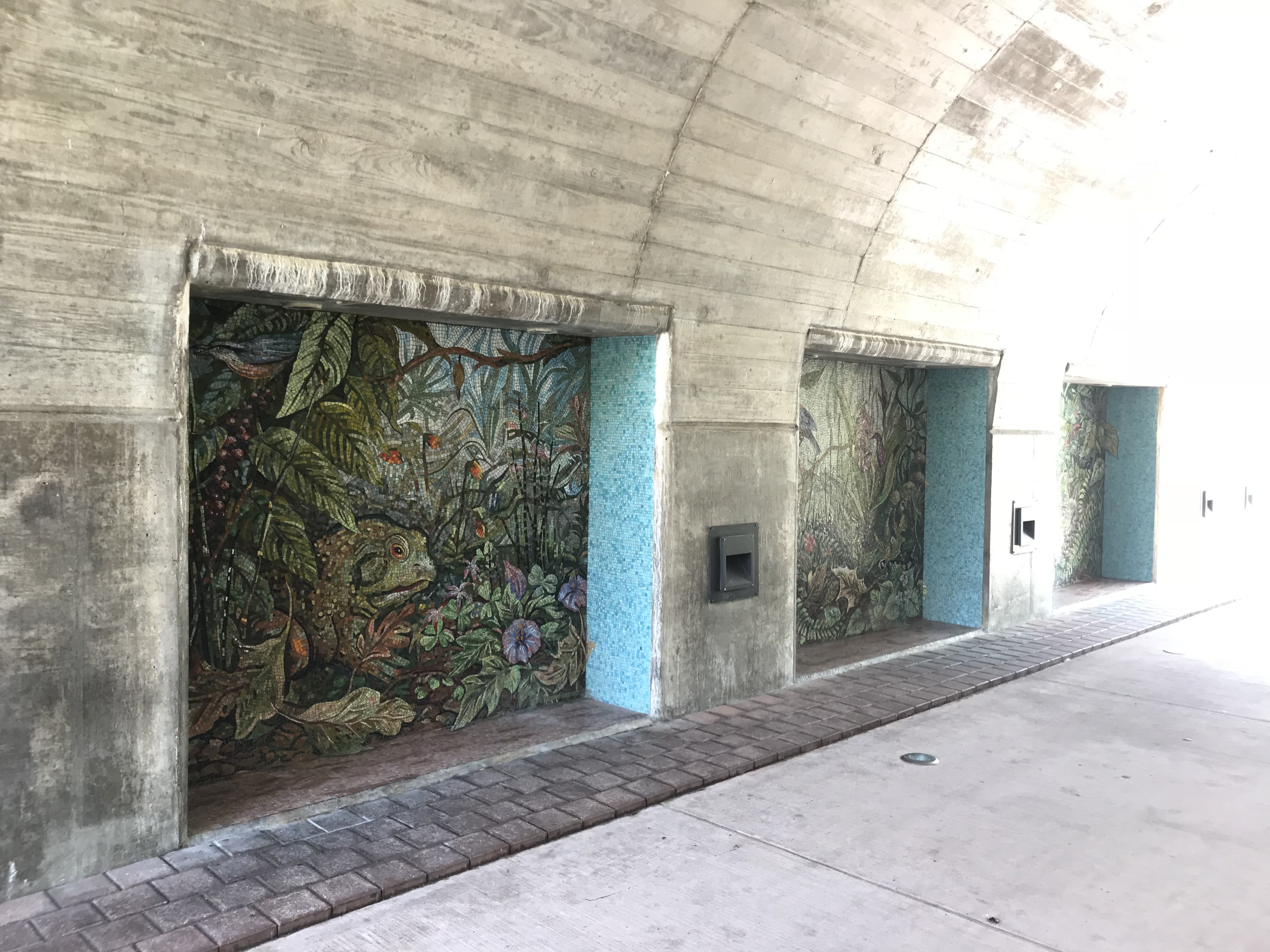 That's not all, the entire lobby of a public stairwell (between Grimaldi's and Nick's Fish Dive and Oyster Bar), at Waterway Square, is a 700 square foot work of art. The space gives off a feeling of being inside the earth, with layers containing hand-made fossils and precious stones, showing each layer sediment on top of another. The piece is appropriately named Strata.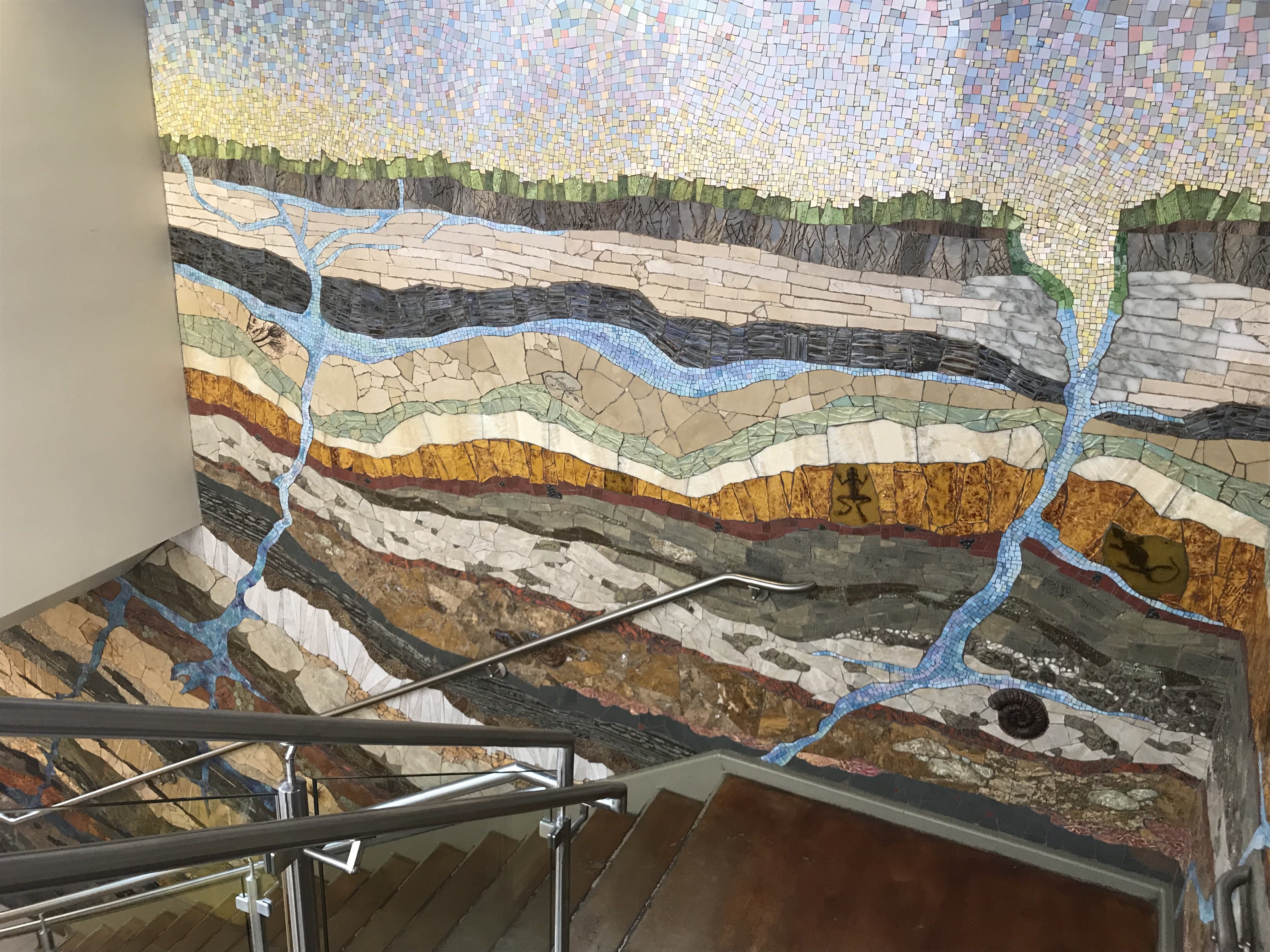 We hope you enjoy these places to cool off and have fun.
Plan your stay in The Woodlands and make memories for a summer to remember.